This is an archived article and the information in the article may be outdated. Please look at the time stamp on the story to see when it was last updated.
7PM Update: I will be doing a Facebook Live at around 7PM going over some of the snow totals. Radar below shows the heaviest stuff shifting away from KC BUT there has been some redevelopment farther west of Topeka near Manhattan that will need to be watched in case it sneaks into the area a few hours from now. It's not as solid an area as what moved through already though.
At 6PM…temperatures continue to come down. we're down to 8° officially @ KCI with a wind chill of -10
The snow reports thus far look like this…through 6:30.
Some snow totals as the snow lightens up from KC westwards…there is some additional snow farther west that bears watching. JL pic.twitter.com/hrnADHzxWp

— Fox 4 Weather KC (@fox4wx) December 18, 2016
More reports will come in later tonight…
No changes at this point needed for the temperatures overnight…just brutal and IF your pipes tend to freeze…take the proper precautions.
You can track the current conditions with this map…again the temperatures are in RED.
By the way…in Texas we used to refer to these types of fronts as "Blue Northers"…look at the contrast in temperatures…and this is as of 6PM.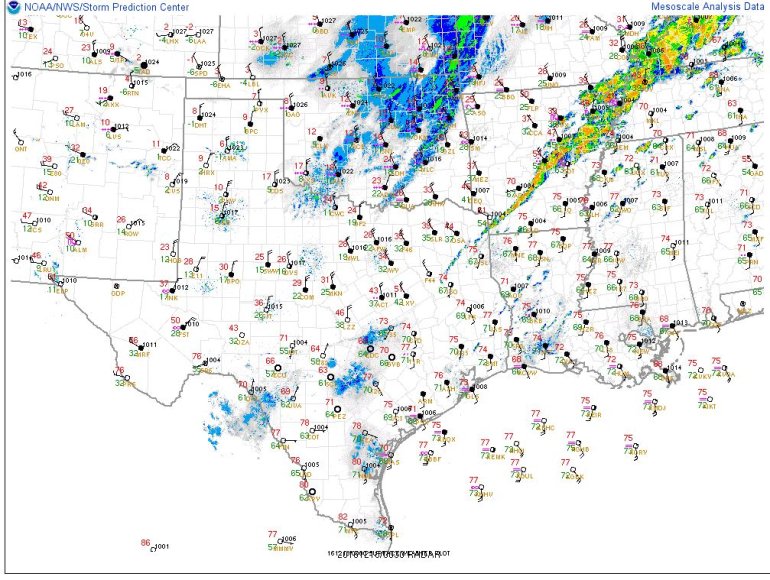 That's it for now…
Previous discussion…
2PM Update: Snow is starting to increase in the area. The better snows are still west of KC and also towards our north. Radar will be shown in the discussion part of the updated blog. Road conditions have improved since this morning for many areas…although still a bit dicey on the north side. Expect conditions to deteriorate later this afternoon into this evening. Temperatures are also dropping quicker as well. Wind chills are near 0°
Forecast: (2PM Update)
Today: Snow, at times moderate will continue through the afternoon and into this evening. No changes at this point are needed to the 1-3″ forecast with a dusting-2″ likely farther SE of KC. I still expected a band of 3-4″+ snows somewhere just towards the north and NW of KC (perhaps the far NW side of KC towards or north of Platte City>st Joe>Atchison>Kearney>Chillicothe.
Tonight: Snow ending as snow showers this evening then clearing and bitterly cold with lows 0-minus 5°. Some may be colder north of KC. Wind chills well below 0° tonight…even as the winds slowly fade by daybreak.
Sunday: Sunny and cold! Highs around 10-15°. Sub-zero wind chills in the AM for tailgating. Be prepared for this if you're going to the game.
Discussion: (2PM update)
Let's start with local radar…
The better snows have been falling in a line from near Topeka > St Joe > Maryville and there should be some moderate snow going on up there as I type this.
As you see from the regional radar below there is the main show still towards central KS and moving towards the NE…that is some significant snow.
The 1PM surface map shows the cold air pushing south in a big way…we're into that air mass now and it cntinues to get colder and colder
The temperatures are in RED. The Omaha area was around 10° when the blog was written this morning. Now their down to about 5°. Here in KC here is how things have been going since 12AM
This is a downhill trend I can't get behind…@KCIAirport JL pic.twitter.com/SPdduzt6di

— Fox 4 Weather KC (@fox4wx) December 17, 2016
That main area of snow will get to the KC metro around sunset and linger for about 2-3 hours. It's that time frame that we should get our 1-3″ of snow in KC proper…
Be safe and use common sense on the roads today/tonight.
Another update will come out early this evening…
JL
Previous discussion…
I've been posting a lot of information on twitter already this morning including road conditions-closings/accident and various other updates as well. Follow me @fox4wx for additional details before our next newscast tonight at 5PM.
As far as the weather goes…messy. We're waiting on snow which won't get here for a few more hours…it's still well west of here as of this writing (8:45am). Here is the regional radar via Penn State.
The snow this morning is still out in western KS but will spread eastwards towards lunch. Let's check in with the HRRR model for updates today. That will all be snow moving this way.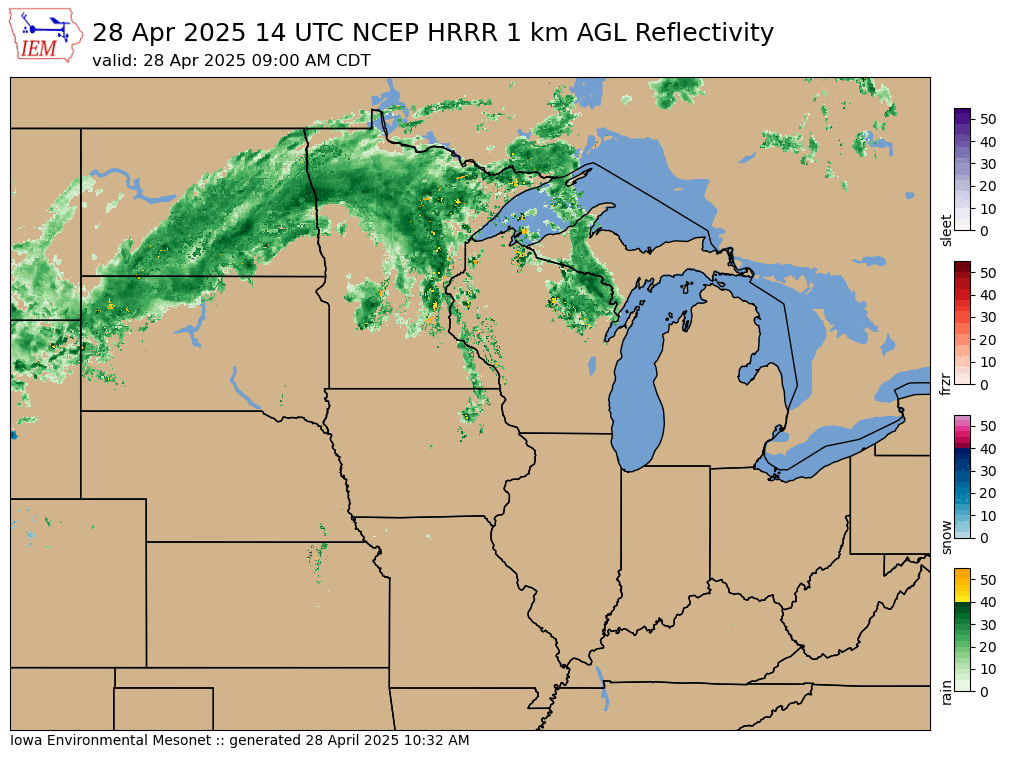 Interesting to note that it was taking the 1st band of snow to the NW MO area into mid afternoon before another moderate band comes through during the middle of the afternoon. The snow fades away before 8PM it appears for KC.
The latest model data…
The NAM model still giving us about .15-.25″ liquid…around 1.5-3 ish" of snow (in case it's a bit overdone).
The HRRR model shows about the same with a very noteworthy band of heavier liquid towards the NW of I-35.
and finally the RAP model…also indicated this heavier potential…somewhere nearby…perhaps just NW/N of metro KC.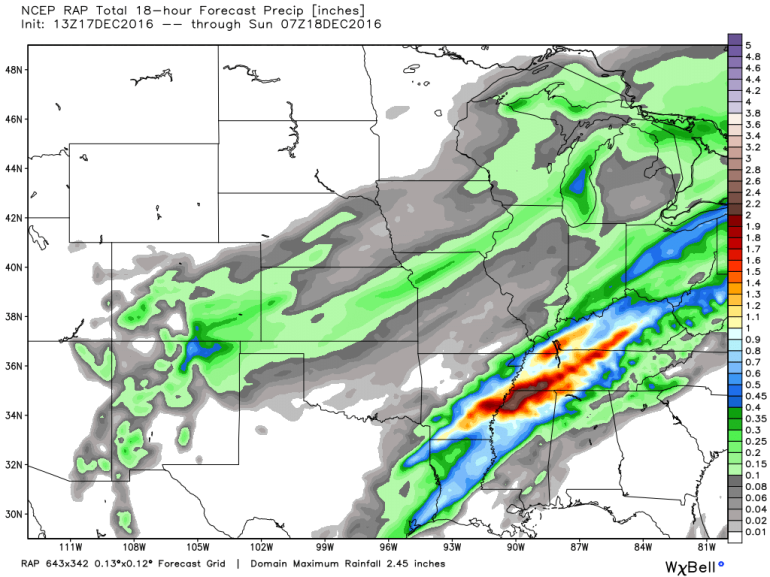 again doing all the conversions…and accounting for potential snow ratios that will be higher than usual (see yesterday's blog)…this is what I showed during the morning newscasts…
Corrected tweet…forgot to add the 1…snow timing for accums start around 12PM from NW to SE)…lingers through 7PM. Snow in KS already pic.twitter.com/kTGnlrL288

— Fox 4 Weather KC (@fox4wx) December 17, 2016
Well see how that pans out…I do think there will be a heavier stripe somewhere int eh area…obviously a shift of 25-50 miles will make a bigger difference but at this point I think the deeper snow will be N/NW of KC as outlined above.
Other issues:
Cold temperatures…the 8AM surface map..showing the temperatures in RED looks like this…
Omaha is about 10° with single digits from I-80 northwards…that cold air is pouring south as I type this.
Wind chills as of 8AM are brutally cold north of the KC region (and no picnic here either)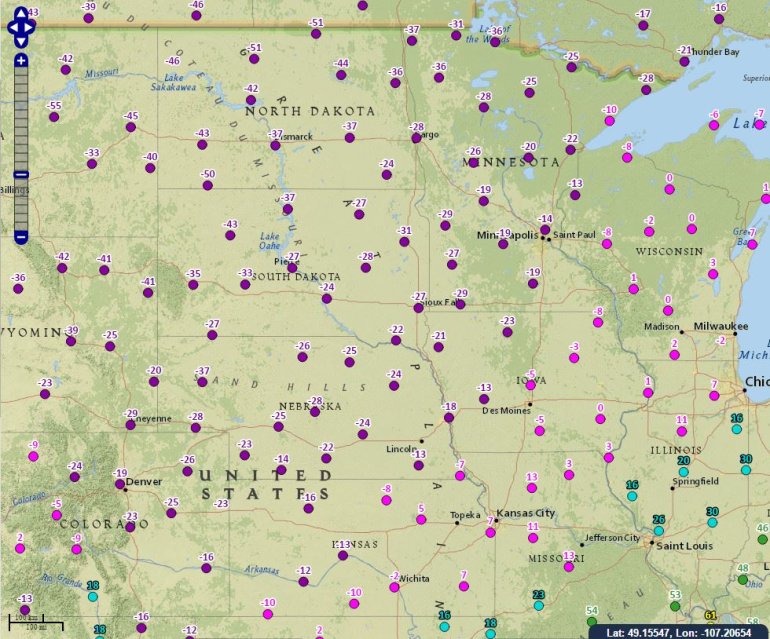 By 12AM tonight/early Sunday…the HRRR model is forecasting these wind chills for our area.
Just brutal…worth noting that frostbite on unprotected skin can occur in about 30 minutes with that scenario overnight. Please remember your cats and dogs as well with this cold weather…they're affected as well.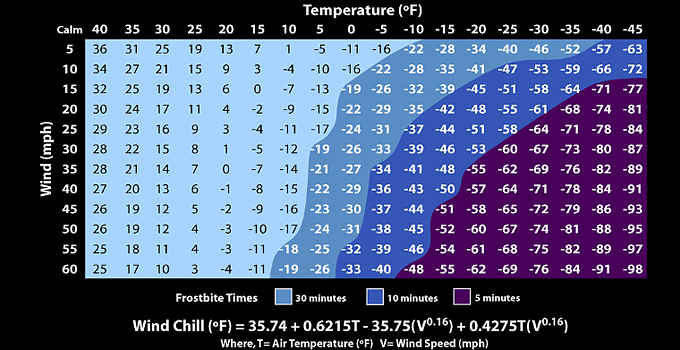 What about next week?
Well after another chilly (but not as brutal Monday) we really start melting the snow on Tuesday. By Thursday the only snow left may be in the shaded areas as highs will be in the 40s from Tuesday>Thursday.
No other snow systems are expected through Christmas…so unless there is a Christmas miracle the chances of a White Christmas remain at 5% in my opinion.
That's it for now…more updates coming out as the day and especially the afternoon unfolds.
Our feature photo is from yesterday in northern MO on 36 highway east of St Joseph. Some cars were stranded for 7-8 hours up there with the roads closing. It was taken by Alex Morris
Joe