This is an archived article and the information in the article may be outdated. Please look at the time stamp on the story to see when it was last updated.
Good afternoon. Another hot day in the KC area as today will be the 39th day with temperatures 90° or above. That is the most since 2012. On average we have 41 in a calendar year…and after tomorrow the chances are going to fade away for awhile as a decent for August cold front moves into the region to start the weekend. This also will be the last weather blog for a few days since I'll be taking some time off into Monday.
Forecast:
Tonight: Fair skies and mild with lows near 70
Friday: Mostly dry during the day…warm and humid with highs near 90°. Rain chances go up tomorrow evening/overnight into Saturday early morning. The potential is there for some decent rains (over 1/2″) on average…with some potentially getting over 1 1/2″…but who gets what remains to be seen. The better potential for higher totals appears to be, once again, in northern MO.
The weekend: Clearing Saturday and nice Sunday. Highs near 80° with lows into the 50s(!)
Discussion:
Let's start with the 90°+ topic. I've referred to this numerous times in the past…and today is a good day to catch up, if for no reason aside from the fact that after tomorrow it may be awhile before we get there again.
So, if we include today…we'll be at 39 days…as you can see from the graphic above that's the most since 2012.
If we break down this into another category…the number of 95°+ days…interesting results (since 200)
We've had 8 this year…average going back into the 1880s is actually 16! It's really going to be hard to get there with September coming sooner rather than later + a cooler weather regime setting up for awhile.
So it hasn't been overly hot for prolong stretches but yet we're running 36th out of 129th in terms of average temperatures from 6/1-8/17. so at this point at least…summer is falling into the top 30th percent of warm KC summers (again through 8/17). We may actually drop some with the cooler (not overly hot) weather moving in over the next 5+ days.
So let's talk about the front that will be changing the weather for the weekend. It's now moving through the northern Plains…and in the following surface map for 12PM…you can see the front marked by the pronounced wind shift towards the NW. Also note the temperatures in RED. There are some midday 50s up there…that's a good shot of cool weather!
That front will be arriving tomorrow evening in KC…interacting with the surface moisture (dew points in the 70s) and should be a catalyst for thunderstorms to develop and move this way.
Now comes the tricky part of this process….how much/heavy will the rain be? That can be problematic because of the timing of the front..the longer it takes to get here into the metro…the higher chance that the heavier rains may fall NW/N of KC proper…and we're left with something but again not enough.
It's now secret that many parts of the metro are getting awfully dry right now. I really noticed it the other day driving around the area from north to south. Northern parts are still looking pretty good…but once in JOCO…areas that don't have irrigation are really starting to turn brown. So hopefully we can catch up a bit.
Model data shows rain arriving sometime Friday evening…odds favor near or after 10PM in KC. This should be a 6-10 hour window or so for the potential of rain. The one model that is extremely excited about the rain is the NAM model at least for KC and points north and NW.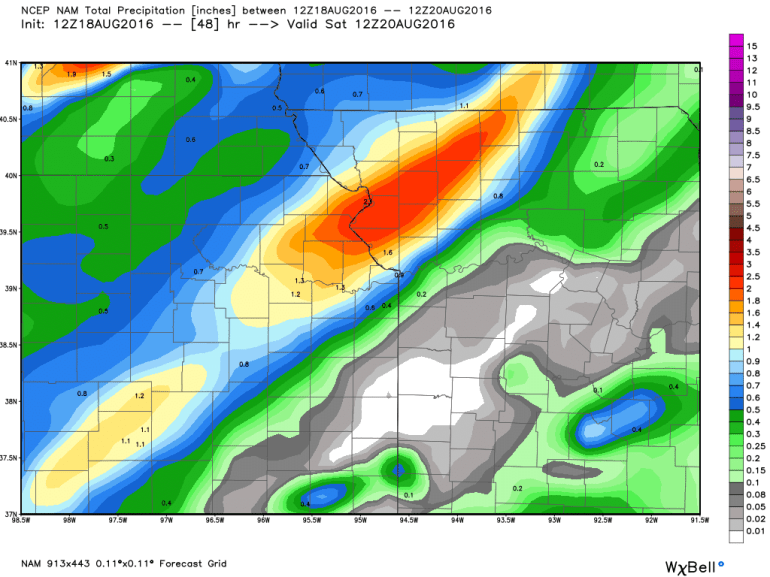 What bothers me though is that IF the front slows down a bit…the best instability will be fading tomorrow night into Saturday early AM. That means the storms should not be as strong locally and potentially they "rain their best rain" NW of KC…and some of our model data is picking up on this potential.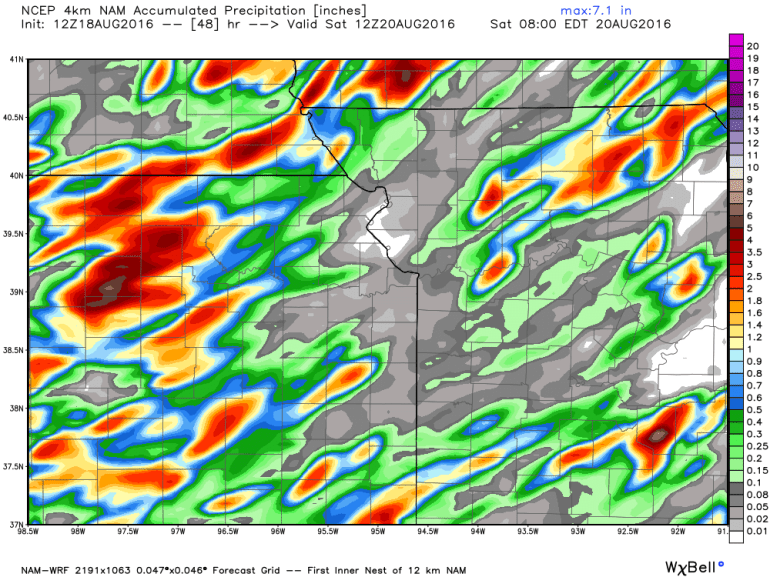 Now a solution like this would stink for many wanting the rain. The GFS forecast plays it somewhat in between.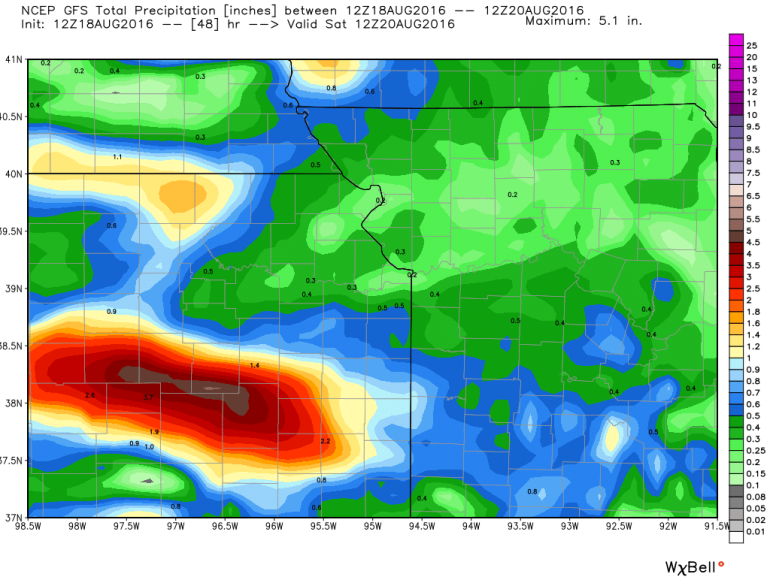 The GFS forecast brings the front through in the wee hours of Saturday morning…I don't like that because it too would then focus the best rains away from KC proper.
So we need the front to be here quicker and to play with the instability in place when it arrives. Obviously that creates potential issues for outdoor events Friday night…Royals…HS Football etc.
What does appear likely is that everything blows through by daybreak Saturday and while we may have lingering cloud issues we should be clearing out as the day moves along and the cooler and drier air flows in on strengthening NW winds…it's going to be like a mid September day out there!
Lows will also be impacted and there is strong potential for Lows Sunday AM to be close to 55°! We haven't been in the 50s since June 7th! Again free A/C from Mother Nature…although the ragweed counts are increasing markedly so for those who suffer from allergies…maybe you still want to keep the windows closed.
Have a great weekend!
Joe