This is an archived article and the information in the article may be outdated. Please look at the time stamp on the story to see when it was last updated.
Thought I'd start this blog with a rip down memory lane. It was 12 years ago today that parts of the area were devastated by a then F4 tornado that ripped through Wyandotte county and into Platte county. Also other tornadoes affected Platte and Clay county as well. It was our last "real" significant outbreak of tornadoes in the KC area proper. Since then…not so much. More on that in the weather discussion. 2 years ago we had snow in the forecast for today's date. Pretty crazy stuff, even for KC, in early May.
Forecast:
Today: AM showers possible…amounts of rain won't be all that significant. There may be some thunder towards the SE of KC. Radar in the discussion. After the morning chance fades in teh next few hours…most of the day should be dry for many areas from KC southwards. Highs in the 80s.
Tonight: Renewed storms are possible in N MO starting later this afternoon/evening. Odds favor those storms staying in N MO at this point. We'll need to watch for any outflows the storms may generate however. Lows in the 60s
Tomorrow: Mostly dry, windy and warmer with highs near 85°
Discussion:
Let's briefly revisit May 4th, 2003.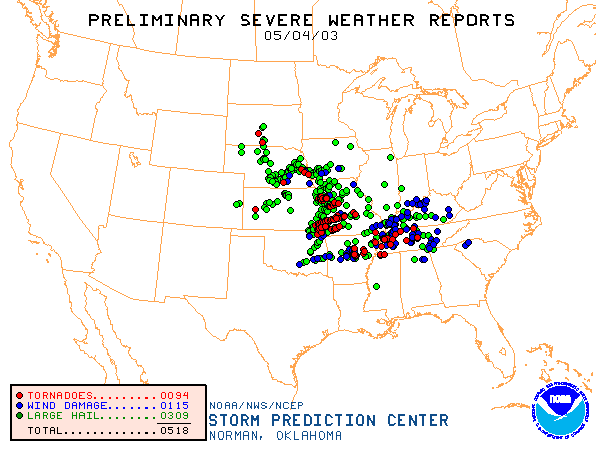 Many remember that date vividly. I'll never forget the feeling of seeing a developing large tornado on SkyFox and being on the air at the same time. I'd never covered something like that in the past and by looking at the size of the twister you could just tell that whatever it hit, it would destroy.
It started out by the KS Speedway which I think was still under construction then…and got bigger and bigger. Then it cycled again into Platte County where it maxed out in strength in far eastern Wyandotte county. It was one of several tornadoes in the KC area…other devastating tornadoes hit the Plains states including a particularly bad tornado in Pierce City, MO in SW MO.
Here are a few links to various videos of the storms…from home video to chaser video.
https://vimeo.com/65409367
Yet things could've been so much worse…
Actually even in the following days there were additional tornadoes…Lawrence was hit on May 8th. An apartment building was hit hard by this one.
I think there were tornadoes around the Sedalia area as well.
So here we are in early May…coming into the heart of severe weather season…and at least so far things are going rather "quietly". Obviously it can change on a dime and last night in SE NE there were some powerful storms with large hail and perhaps some brief funnel clouds. Today the main concern would be towards the IA border where strong storms may re-fire later on and produce hail 1″+ and potentially 60 + MPH winds.
There is a front up there,,,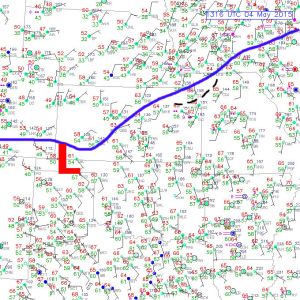 It will probably stay up there and retreat and fall apart tomorrow however…so with it up there, the worst of the storms will remain across N MO. Last night the storms brought 1-3″ of rain to parts of far N MO…tis' the season for those kind of things to happen in the region and we can go from a rain deficit to a surplus in the matter of a couple of hours around these parts.
Meanwhile I still think WED has the best chance of the KC area getting more widespread rain. This is the day I've targeted since late last week…as a disturbance comes up from the SW and passes west of the area. Now it's a matter of seeing how things set up and where the best storms/rain comes together in the Plains later Tuesday and Tuesday night as it moves towards the NE towards our area.
From there dicier chances develop again later in the week. Odds are favoring some storms over the next weekend…and potentially some severe weather as a somewhat stronger upper level disturbance comes out into the Plains states. We'll need to watch Saturday and Sunday for this a bit more closely as the risk of severe weather on a more widespread basis may be developing near the area. Later Saturday into Sunday especially has my eye. Whether stuff forms near us or we get whatever has formed moving through from the west…again remains to be seen.
We won't go through the entire month without some chances of severe weather here in KC…
Have a great day!
Joe