This is an archived article and the information in the article may be outdated. Please look at the time stamp on the story to see when it was last updated.
A pretty chilly morning out there as temperatures have tumbled into the upper 20s and lower 30s through the region. The coldest has been across north central MO where many upper 20s were reported this AM. KCI (officially for KC) dropped to 30°. Chillicothe tumbled to 27° and St Joseph dropped to 25° (their weather station is in a low lying area that typically is considerably cooler than the city itself…same as Lawrence which dropped to 29°. Here are some other lows through 6AM or so. There are a few places that dropped another couple of degrees or so.
So the month has now trended colder than average thanks to the last few days. You may remember that about a week ago we talked about how this would be a colder week. In reality though, we're only about 2/10's of a degree below average and while I thought the month may end up colder than average it may be very close. That's because we're going to slowly work our way out of these chilly temperatures and start to see some moderation into the weekend and for at least a day or two next week before a storm sweeps through the region and re-ushers in some chilly temperatures. Here is a recap of where we've been so far this October. Click on that graphic to make it larger!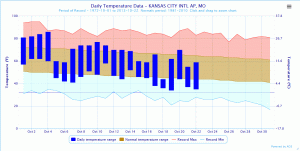 The energy in question for the next storm is actually wayyyy off the western Aleutians and more towards Japan right now. At least that's where the main storm is right now…a piece of energy will break off of this storm and eventually cross the N Pacific Ocean over the weekend and then move in to NW Canada. Here is a satellite picture that goes as far west as the sea Of Japan…which is where the storm is now.
So yes where talking about something that's thousands of miles away and with that said there are still many questions about what will happen with this storm as it moves into the USA Monday and Tuesday of next week.
1) How far west will this storm dig? The EURO is a bit faster with kicking this storm out, while the GFS keeps some of the energy more towards Las Vegas for an extra 24 hours…so timing is still an issue. 2) How much moisture will be brought up ahead of this feature? 3) Where does the storm eventually kick out towards. The EURO seems way to far south, keeping it all the way down towards Texas, whereas the GFS opens up the storm and brings it through the Plains states.
I wanted to post the 12Z (morning run) of the GFS model for next Tuesday morning…showing a possible solution to the next storm. Click on this image to make it larger. A storm would be nearby and a front would be approaching the area. SW flow ahead of the front aloft may help to slow the progression down…but make no mistake that is some cold air to the north of here just waiting to move down the Plains states.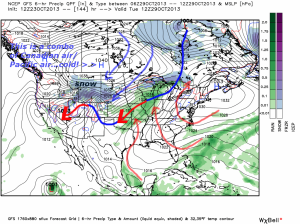 Here is the forecasted temperatures for the same time, again off the GFS model…a large contrast between single digits in the N Rockies to near 70 closer to the southern Plains…there just has to be a significant storm when you have this type of contrast.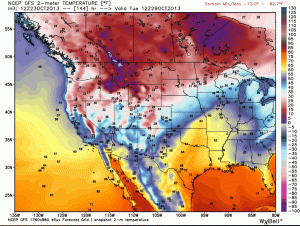 Again this will change somewhat over the next 5 days…but I think you get an idea of the potential here. Should be an interesting set-up early next week.
So at this point I'm comfortable saying at least there will be a storm "of sorts" moving through the region. That's about it though. We should get a decent rain out of this…and there is potential for a better than decent rain but a LOT would have to come together for that to happen.
Meanwhile the World Series starts tonight on FOX 4. The 1st 2 games are in Boston and it will be cold. They've been very mild for awhile but it looks like temperatures will be in the 40s for both tonight's and tomorrow's game.
The coldest it has ever been at Fenway Park for #WorldSeries: 48 deg(2004& 2007)…tonight should fall to 46! #cold via @WXmel6

— Ginger Zee (@Ginger_Zee) October 23, 2013
The good news is that it will be milder when they come to St Louis over the weekend with temperatures in the 50s for gametime on SAT-SUN and it could be warmer on MON as well.
Speaking of warmth, we will have a chance to warm-up too over the weekend and into at least Monday of next week. Depending on how things evolve maybe even Tuesday as well. Eventually though we'll get a decent+ shot of cold air come in from whatever storm moves on by…sending temperatures down again heading towards Halloween.
That's about it for today…have a great Wednesday and I'll update the blog again tomorrow afternoon.
One final note..one of our bloggers noticed an issue with getting the comments to work. We've replicated that issue in-house and have reported it to WordPress. It may be a Firefox issue so try making comments using IE and see if that works for you.
Joe