This is an archived article and the information in the article may be outdated. Please look at the time stamp on the story to see when it was last updated.
Good morning…breezy and mild out there today with less wind than yesterday…so overall a typical late spring day.
Forecast:
Rest of today: Mostly sunny and warm. Winds will be from the south at 15-25 MPH…not as bad as yesterday's gusts to about 40 MPH but still pretty windy. Highs 85-90° in the region.
Tonight: Fair and mild. Breezy but the winds will start to drop off towards daybreak. Lows in the mid 60s again.
Wednesday: Mostly sunny and warm again. Lighter winds tomorrow…highs in the 85-90° range
Discussion:
For those who are relatively new to the weather blog…I have a rule that I don't blog unless I have something to actually really write about. Today I almost didn't blog…not because there isn't any interesting weather coming…but because everything I blogged about recently is playing out as expected…so I don't have much to update. So I may take a "blog day off" tomorrow should things continue to play out.
Something that I've noticed over the last few weeks…when conditions are favorable for us to see much higher dewpoints…they haven't really materialized so far. Today our dewpoints will again be around 60° (creeping up to somewhat uncomfortable levels). With what is expected to happen over the next few days…our dewpoints should approach or even exceed 70° but odds are this won't happen. This lack of higher dewpoints is also playing a role in the toughness for many areas to get extra rainfall.
Here is the 8AM surface map showing the next weak cold front off towards the west of the area…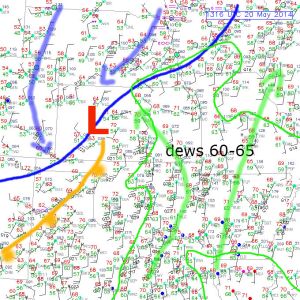 That blue line is the front which will move into the region tomorrow. The problem is that the air aloft will still be warm…as a result we'll be capped for tomorrow with just a chance of some scattered storms in the evening if the cap can break down in spots.
With the front languishing along the I-70 corridor…I'll be curious to see how high the dewpoints will get…because a persistent south flow + a languishing front typically means moisture pooling. Which typically means very juicy surface air with dewpoints usually near or even above 70°. Hopefully at least we can get 65° dewpoints to become more apparent through the region.
In terms of storm chances…I absolutely hate it when a forecaster sticks in rain for 5-7 days in the longranger…but once or twice a year it's necessary and this will be one of those times. Begging tomorrow night and into the weekend there will at least be the chance of t/storms in the region because of a combination of the aforementioned cold front that will change to a stationary front along I-70 (give or take) then turn back to a warm front as it retreats northwards over the weekend.
Plus there is the upper level storm that will be hanging around through the Plains region into the end of NEXT week. That thing will play a more vital role in whether or not we get rains next week in the area. As I wrote about the other day…it's possible some get over 3″ of rain in this set-up and it's also possible to likely that some get well under 1″ of moisture. Predicting who get's what at this juncture is fools gold I feel. Suffice it to say that there will be opportunities for some locally heavy rainfall over the next 5+ days in spots. Whether that's around the KC area or towards Wichita…or towards Oklahoma City…remains to be seen.
The model data will be somewhat useless because each day's storm locations may influence what happens farther down the road with various outflow boundaries serving as new foci for additional storms to develop in the heat and moisture. The flow aloft appears to be rather weak…so what storms that do form will dump potentially locally heavy rainfall, but since they will move slowly, they could rain themselves out unless there is some sort of disturbance acting like a trigger to the atmosphere.
The good news is that the cap will be weakening quite a bit on Thursday and shouldn't be much of a factor in prohibiting convection from forming after tomorrow and into the weekend.
I don't think it will rain all 5+ days…and at this point I think there will be PLENTY of dry time over the holiday weekend coming up…but the risk of additional storms through the area is still there, probably more on a scattered basis.
I won't bother to post model forecast maps for rainfall because the models handle these situations poorly and I don't want anyone to get overly excited about the prospects, but there is some consensus that N MO gets more rain than elsewhere with teh GFS model out to Saturday forecasting 1-3″ of rain along and north of 36 highway with 1/4″-1 1/4″ rains from I-70 southwards towards Paola. We'll see.
Have a great day!
Joe