This is an archived article and the information in the article may be outdated. Please look at the time stamp on the story to see when it was last updated.
Good afternoon. A sunny but still very cold day as the snow cover is still impacting the temperatures and will do so through tomorrow. A weak front has moved through the area, basically switching our winds back towards the NW. It was another cold morning as well, as some areas easily dropped well below 0° again. At least the winds aren't adding much to the cold temperatures.
Forecast:
This afternoon: Sunny with highs 20-25°
Tonight: Fair skies and cold but not as cold with lows near 10°
Sunday: Variable clouds with highs around 30°
Monday: variable clouds and breezy with highs around 40°
Discussion:
The snow field is rather extensive through the Plains today…thanks to the system a few days ago. Pretty much everything you see on this picture is snow cover…
It's really my favorite way to show you snow from a satellite perspective. You can make out the various rivers/streams/lakes. Even weird snow patterns towards the south Plains of TX…south of Amarillo towards the Lubbock area…notice those west>east bands of snow.
A closer up view into the KC area…reveals this.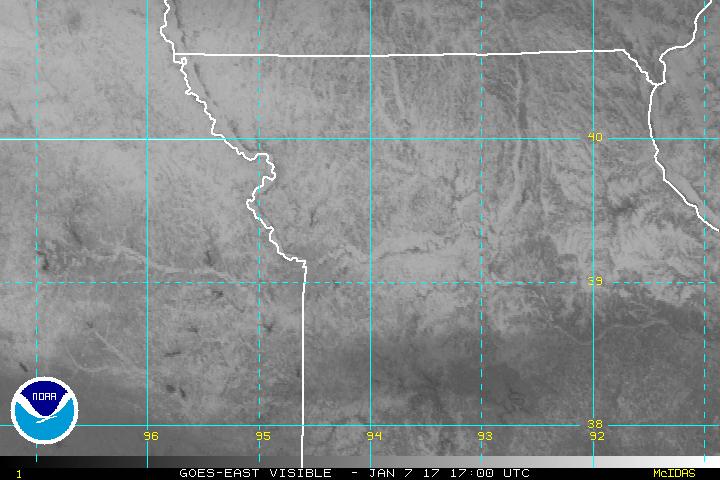 Right now about 65% of the country is covered in snow.
This is more snow on this date than on any date going back through at least 2004!
I'm not expecting to add anything worthy when it comes to the snow situation to the KC region for a while…at least into Thursday.
Elsewhere…blizzard conditions will be developing towards the New England area today and tonight as bands of heavy snow + strong winds hit SE MA hard. Boston may see between 6-12″ of snow…and the Cape Cod area could get over 12″ of wind blown snow. The storm created a LOT of ice in the deep south. AL especially has been hit hard. Snow was also common from NC through VA and into MD>NJ. Radar via Penn State shows the current situation.
The darker blues represent the heavier snows…
Here is a view from Woods Hole Inn in MA
Meanwhile out in CA…another onslaught of moisture is turning into flooding rain and also heavy mountain snows
I can't even keep track of all the different colors on this map…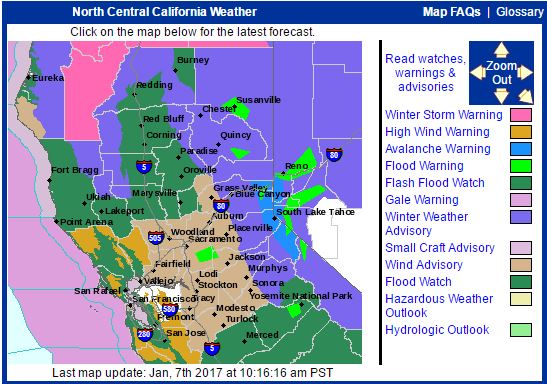 Meanwhile farther north…ice and lots of it.
This map says it all. Large population in red will see significant ice storm. Treacherous travel, falling tree branches, & power outages. pic.twitter.com/BShF9A0tXe

— NWS Portland (@NWSPortland) January 7, 2017
This appears to go on for most of next week.
The rivers are running fast and strong right now, especially in central and northern CA.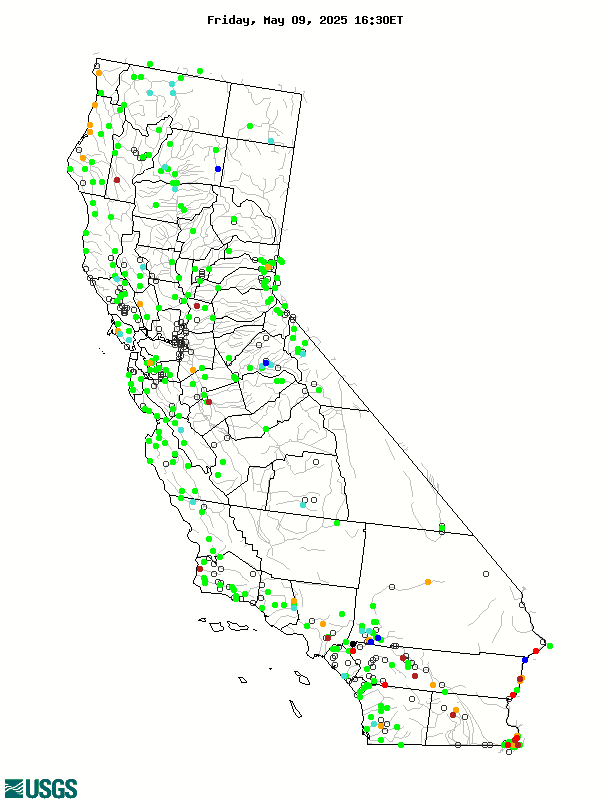 Squaw Valley has had around 83″ in the last week…more coming.
Meanwhile up at the Mammoth Mountain ski village…
Meanwhile some sort of wintry weather is still possible next weekend. The GFS argues against it right now…but the new EURO is still doing something…and the Canadian model is also bullish. Like yesterday it's wayyy too early to get into that prospect…again just writing about it now so you know it's at least a possibility. The concern would be a warming (above 32°) atmosphere above a layer of sub-freezing (below 32°) near to surface air. I don't like that combination. Again it's only a modeled storm. Then by Sunday it gets cold again through the atmosphere and changes everything over to snow. Hmmm what's happening next Sunday?
Our feature photo comes from James Weatherly…nice shot of our beautiful city under a white blanket today!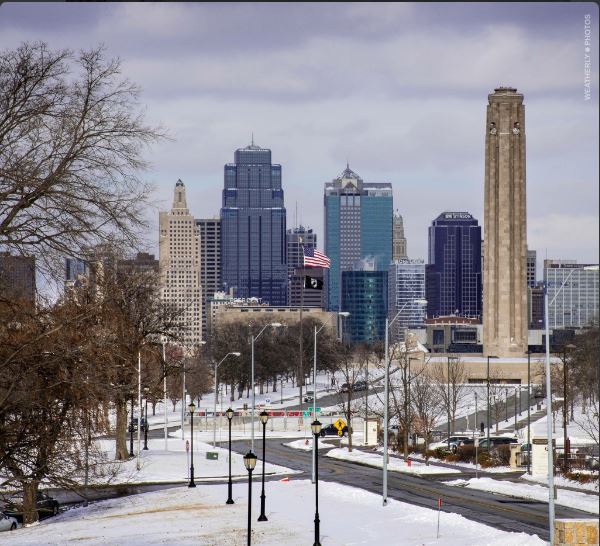 Have a great weekend and stay warm!
Joe