This is an archived article and the information in the article may be outdated. Please look at the time stamp on the story to see when it was last updated.
Wow we're already almost 1/2 way done with the month and it's flying along…and while spring technically is still about 5 days away…it's felt like spring now for quite some time and today will be no exception. Last night there were some rather strong storms across parts of N MO with some areas picking up almost 1″ of rainfall…the seasons seem to be changing…although chillier weather is on tap heading towards the weekend.
Forecast:
Today: Variable and becoming windy this afternoon with mild temperatures again and highs around 65°. Temperatures may be closer to 70-75° farther east of KC. There may be showers in the region after 2PM so be prepared for that. There also is a chance of some severe weather in MO but the chances of that happening appear to be well NE of the KC area and more towards the Kirksville and Springfield, IL and north area. Should those showers form and move through, the temperatures may actually droop into the 50s with the rain.
Tonight: Clearing and breezy . Lows dropping into the upper 30s
Wednesday: Mostly sunny and cooler with highs closer to 60-65°.
Discussion:
As I mentioned, we're now about to the 1/2 way mark of the month…and boy has it been warm. Yesterday I played golf and we were swarmed by all sorts of tiny bugs…have no idea what they were, but there were a ton of them…and if they were sensitive to the cold…they came through the winter with flying colors since it really wasn't all that cold at all. The other day I mentioned that this was the 2nd warmest start to the month of March…well after the last couple of days of warmth…we're now up to #1! That's pretty impressive almost at the 1/2 way mark.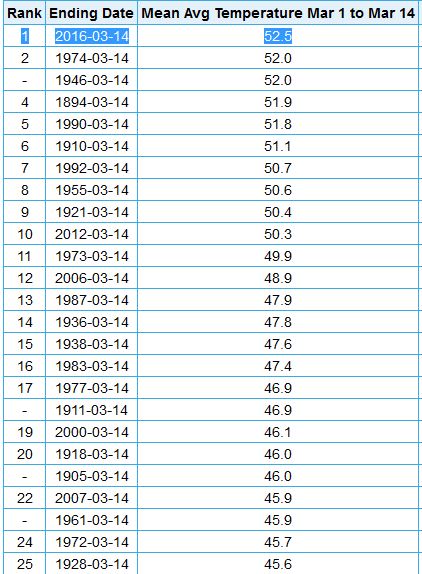 Not sure the next couple of days will change that a whole lot either. We'll take a hit though to that after the weekend. For those wondering…it's the 24th driest start to a year in KC weather history as well…
Of course the vast majority of that has been rainfall and you're backyards will vary in totals compared to the "official" measurements at KCI airport…
Meanwhile today's weather is interesting in the sense that farther into the spring season given the same type of storm and a slower evolution of the playout of the weather…this would be a volatile spring severe weather scenario. Without getting into the upper level features there is going to be a seasonably strong area of low pressure near the I-70 corridor with a well defined warm front extending towards central IL. The ENH abbreviation means "enhanced"
and the tornadic risk appears maximized roughly in that areas as well…
Here is the forecast map off the RAP model for 4PM today…
Typically with those features that far east…we wouldn't see any rain here locally but since the air aloft will be getting colder and colder and with surface temperatures closer to 65° as this happens this afternoon, there will be a pretty significant change in temperatures from the surface upwards…that helps to create rising air and that's why you can get rain even when the surface features don't line up correctly in this type of situation.
After this afternoon the rain chances look pretty minimal for awhile…hopefully we'll get another drink of water via Mother Nature.
In addition to all this happening the stronger winds, especially on the KS side SW of KC will bring down some VERY dry air from the middle part of the atmosphere which will send dew points crashing…ours will be dropping but notice the forecast map for dew points this afternoon in parts of KS…where dew points may be 5° or less…that's impressive as well.
This week is also severe weather awareness week. The plan is to set off the sirens in many areas at 1:30 this afternoon. Although I wonder if that is still the plan with the incoming weather. Regardless, don't be surprised IF you hear the sirens at 1:30 on a TEST basis.
Via @NWSKansasCity due to the threat of severe weather in NE MO the #tornado drill in MO and far eastern KS has been POSTPONED to 3/17. JL

— Fox 4 Weather KC (@fox4wx) March 15, 2016
NEW date is 3/17 at 1:30 PM
Areas farther west into KS outside of KC will hear them closer to 6:30 or so this evening. Remember the sirens are OUTDOOR warning sirens, they're NOT meant to be heard inside nor are they meant to be heard while you're sleeping, especially IF you're a heavy sleeper. IF you live near one of the sirens, sure you can hear them when your inside many times, but for those who live away from the sirens or don't hear well to begin with…they should not be relied upon. Seek other ways of getting severe weather information whether it be on TV or through the use of apps on your cell phone or the various reverse 911 systems that cities or counties are setting up. Also weather radios can be valuable especially for when you are sleeping. It's really tough to sleep through that alarm in the middle of the night. Click on the link provided for additional ideas.
Anyway, today is a good reminder that severe weather season is upon us now…we've already seen some impressive tornado videos from AR and OH in the last couple of days…you get the feeling that there will be some big tornado days this year. we've been pretty lucky around these parts (mostly). I think since we haven't really had a "big one" since 2003, many have let their guard down a little (or a lot) so let's be a bit more vigilant this year just in case.
Have a great day!
Joe