This is an archived article and the information in the article may be outdated. Please look at the time stamp on the story to see when it was last updated.
Good afternoon. It's a breezy mild day in the KC region as any small shower activity from the morning has shifted towards eastern MO this afternoon. Temperatures are now in the 70s and with the record being 81° last tied in 1995…there is a chance we could get there this afternoon. Near 90° weather is likely further west towards Manhattan. Not bad at all…and sort of symbolic on the last day of winter in the area…or lack of winter.
BREAKING weather update…4PM. We shattered our record of 81°. At 4PM it's 86° and still climbing a bit. One of the warmest March days in KC weather history.
It's almost as if Mother Nature wanted to laugh at winter in #KC one last time…hottest March days on right side pic.twitter.com/HyCnvzYV6h

— Fox 4 Weather KC (@fox4wx) March 19, 2017
---
Forecast:
Tonight: Fair skies and very mil with lows near 60°
Monday: Despite a front pushing through and a north wind…a well mixed atmosphere should respond to the dry air in place and the March sunshine. we warm up to 75-80°
Tuesday: Cooler and grayer with a few showers possible. Highs in the 50s (seasonable)
---
Today marks the last day of winter in the area. Spring starts before daybreak on Monday and really, thinking about the winter that was…it really wasn't. We often show you stats from meteorological winter (DJF) but astronomical winter went like this (not including today)
It's actually possible with today's data that we could go up another slot in this. Winter began on 12/21 and ends tomorrow…so I used the 1st day of winter and the last full day of winter for this. The problem is over the years the days/dates of winter vary a day or two from start to end so we can't say this winter was the 5th-or 6th warmest by date. IF you dig up all the season start and end dates and compile that…I'm guessing though we'd still be int he top 10.
Most people think that the 1st day of spring means equal days and nights all over the hemisphere. That is NOT the case. For Monday the sun rises in KC at 7:21 AM and sets at 7:30 PM.
The "reason for the seasons" is that the earth isn't perfectly upright or straight up and down in orbit around the sun. It's tilted at about 23.5°.
The image above shows that on the equinox, Monday, the sun's rays are hitting both the northern and southern hemisphere equally. As we move towards the 1st day of summer though the rays are more directed at the northern hemisphere than the southern hemisphere. They transition to winter…while we go into summer.
So as we head into Summer the days here get longer and longer. How much each day?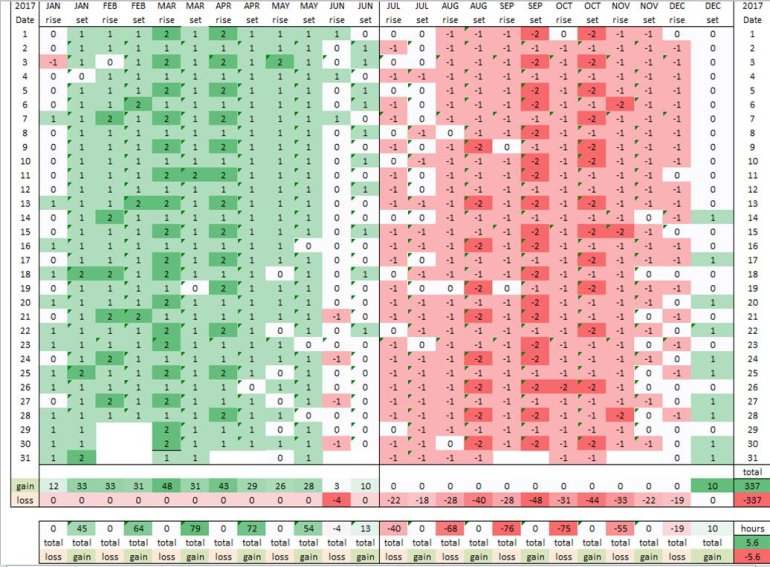 Another way of looking at this is in a broader range…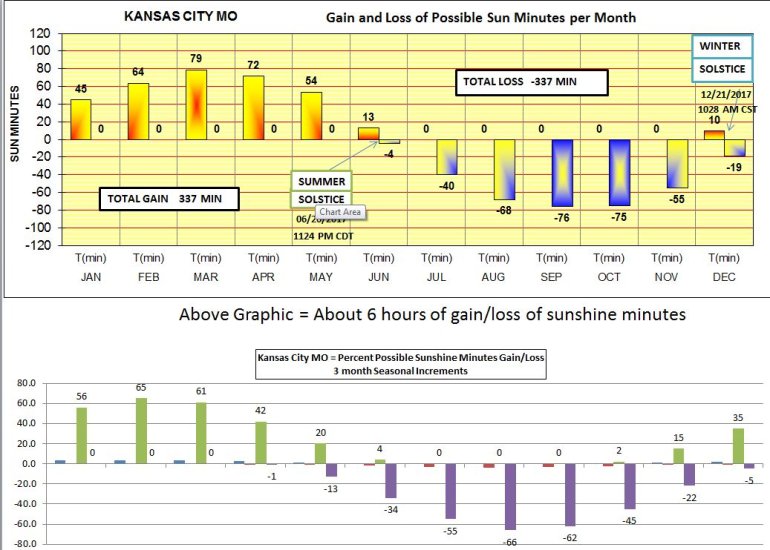 So this month we gain about 80 minutes of daylight. It's the most daylight we gain all year long.
So know you know…by the way summer 2017 starts on June 20 at 11:24 PM
[protected-iframe id="64ab21230838dc570299bd65626dd492-28016812-27967000″ info="http://free.timeanddate.com/countdown/i5mzo8o3/n1991/cf111/cm0/cu4/ct0/cs0/ca0/cr0/ss0/cac000/cpc000/pc66c/tc66c/fs100/szw320/szh135/tatTime%20left%20to%20Event%20in/tac000/tptTime%20since%20Event%20started%20in/tpc000/mac000/mpc000/iso2017-06-20T23:24:00/bo2/pd2″ width="322″ height="137″ frameborder="0″]
As far as the weather goes…nothing really exciting for a few days at least. We will cool down Tuesday and Wednesday. There may be some light showers in the area on Tuesday…odds favor under 1/4″. Odds favor some more rain towards Thursday and Friday as a system comes out of the Rockies. There will be some warm air advection storms in the region on THU and come Friday as the main upper level storm comes out into the Plains…there is a chance of storms with that…not sure about the severe weather risk, because the instability locally is a question mark. The models are starting to get more aggressive with the rainfall heading into early April. Today's GFS model was suggestive of 2-3″+ of rainfall in the next 16 days.
Our feature photo comes from Kalynda Baumgarden in Liberty, MO
Joe