This is an archived article and the information in the article may be outdated. Please look at the time stamp on the story to see when it was last updated.
Thought we'd start this blog with a staggering statistic. Did you know that in St Joseph, MO…there has been 11″ of moisture this year…that is so dry for them…that this is the 2nd driest start to a year up there. The year that beats this us 1988…when they had 8.18″ of moisture through the 26th of July. This is astounding to me. Yes…since reliable records have been kept (going back to 1914)…it's drier now that it was during the dust bowl years in St Joseph. Is it any wonder why parts of northern MO is in "extreme" drought status right now?
Meanwhile in KC…parts of the Metro are under extreme drought status as well. Today's rain actually helped just a bit as some totals were near 1/2″ in parts of the Metro south of I-70…mostly in SE JOCO and western JACO, MO. So beggars can't be choosey. Many areas north of I-70 really didn't see much of anything. A few hundredths or so seems to be about it. KCI had a whooping .01″ while…yes St Joseph had nothing.
---
---
Forecast:
Tonight: Gradual clearing and pleasant with lows in the lower 60s
Friday: Partly cloudy and OK for late July. Dew points will be very manageable and the highs should be around 85°
Saturday>Sunday: There will be a chance of rain over the weekend. Right now chances are tough to time out…but some sort of disturbance or two will come through KS and move through the area. With this set-up, depending on the timing of the rains…highs may struggle to get above 80°. Again the timing of the rain will be worked out better tomorrow. I'm not satisfied with any of the model forecasts and they typically will not handle these west>east/northwest to southeast  moving waves well at all.
The bottom line though is I expect below average temperatures till perhaps next THU or FRI(!).
---
---
Discussion:
Lots to visit about today…let's start with astronomy. If you keep an eye on what I've been doing with my Facebook feed (Joe Lauria Fox 4 Meteorologist) you know I've been putting information in there about some of the planets that have been more pronounced lately. Saturn was pretty cool next to the moon a couple of days ago. Also of note has been Mars.
You may have noticed Mars…becoming more and more apparent, mostly in the southeastern sky after about 10PM or so. It's been brighter than normal…and also just a pinch bigger than normal. Why is that?
Well Mars is coming into "opposition". This is actually kind of cool because tomorrow night (FRI)…the sun…Mars and Earth will be in opposition. This means that they will be "lined up". Now what happens a couple of days later (on the 31st) is even more interesting. Mars will be as close the earth as it will get until the year 2035! it will be as bright as it was back in 2003…so this doesn't happen all that often. As a matter of fact Mars will be 35.8 million miles from Earth on the 31st. Taht's why you may have noticed Mars getting brighter and brighter in the sky.
Also note that there is a lot of #fakenews running around…showing Mars as being HUGE like the moon or close to it. This is nonsense as usual…you will notice it being brighter over the next few nights…and it has gotten a bit bigger in the last month (from our vantage) but the brightness factor is the main thing you notice…twice as bright as it was a month ago!
By the way…Mars was in the news yesterday as astronomers think that water may be just beneath the surface of Mars.
OK so that's one astronomical note…now something else cool is going to happen tomorrow afternoon. That is the longest lunar eclipse this century.
[protected-iframe id="1f3bde983ff8592da4500588262f9721-28016812-27967000″ info="//assets.nationalgeographic.com/modules-video/latest/assets/ngsEmbeddedVideo.html?guid=00000161-2e2c-d164-ad7b-6eaf805d0000″ width="640″ height="360″ frameborder="0″ scrolling="no" allowfullscreen=""]
Here's the problem though for us…it's happening during the day…which means we CAN'T see it by going outside. So what is a person to do? Well watch our facebook feed tomorrow afternoon. We've attained the ability to show you this through FB so that you can check it out if you want or perhaps you want to jump on an airplane…like now…and head to where you can see it.
The folks at timeanddate.com show where the eclipse will be maximized.
So yes…not even close for us.
Also remember that a lunar eclipse is different that the solar eclipse we saw last August. A lunar eclipse occurs when the earth passes between the moon and the sun…while a solar eclipse is when the moon passes between the earth and the sun. A lunar eclipse is perfectly fine to look at…the solar eclipses shouldn't be viewed with the naked eye.
So again…keep an eye on fox4kc.com and our FOX 4 News Kansas City FB page for additional details tomorrow afternoon.
So now that astronomy lesson is over with…
Onto Meteorology…
Let's start with tonight and tomorrow (7/27) in weather history…and we're only going abck to last year. Remember the terrible flooding at 435 and the State Line region? Yup…that started with heavier rains at around 9PM…then the rains went crazy and since the soils were already pretty saturated…it didn't take much to create devastating flooding.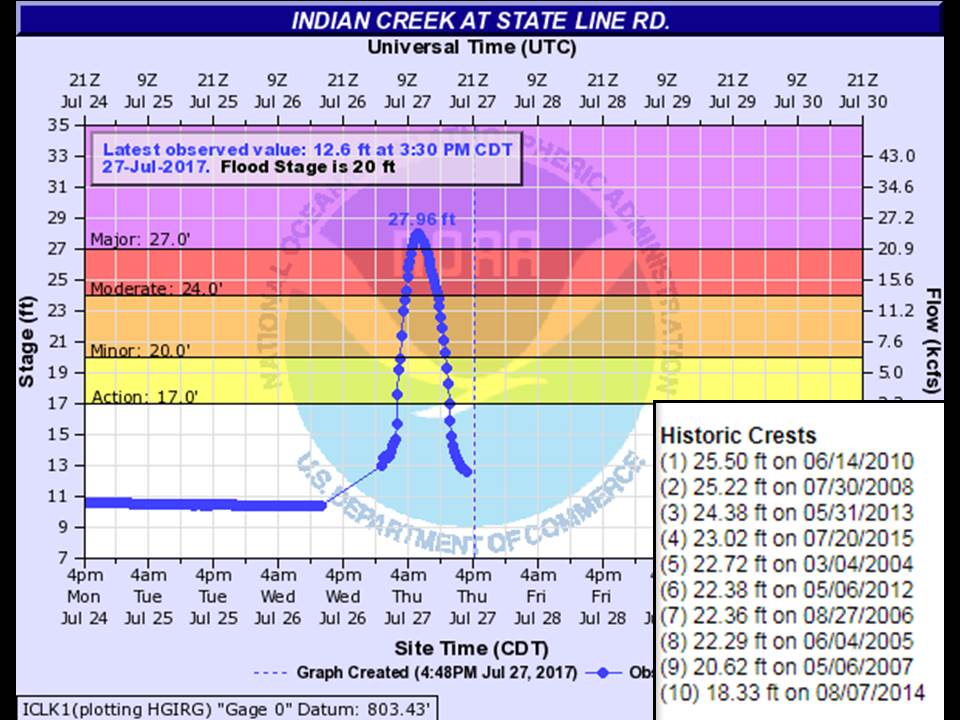 Indian Creek set a record at State Line Road as did Tomahawk Creek at Roe Ave.
Here is the full write up from the NWS in Pleasant Hill…
Quite the contrast to the way I started the blog…again that St Joseph stat I started with…that really is amazing. Only 11″. Some areas down south last year…had 5-8″ of rain…almost a years worth for St Joseph right now!
As far as the weekend rain chances go…bear with us on this one. The problem is that several disturbances will be forming and moving through the Plains…sort of like the one that moved through late this morning. Where the disturbances form…and how well they hold together as the rain moves along will sort of dictate the rain chances here. Odds favor quite a bit of cloud cover, regardless of the rain situation, and with the clouds and the cooler air mass in place…it's going to be tough to get to near average highs…which considering this is now the hottest time of the year…that's acceptable.
This can be a potentially wet set-up heading through Monday and perhaps Tuesday…just depends on how these waves (which don't exist right now) evolve and move on through. One wave will then affect the next potential wave…so it's sort of like herding cats at this point. Again bear with us as we work on the timing of the weekend chances and refine them more on Friday.
My suggestion…don't cancel any weekend plans at this point BUT I'm not promising perfectly dry weather for the weekend either.
Enjoy the cooler weather…note the upper 50s>lower 50s this afternoon for highs in far northern MN.
Graphic via OK Mesonet
Our feature photo is from yesterday via Elizabeth Tuttle out on a morning run.
Joe