This is an archived article and the information in the article may be outdated. Please look at the time stamp on the story to see when it was last updated.
I think we need to figure out a memorable name for what just happened yesterday…something that conveys the rareness…the uniqueness…the unusualness (sp?) of the events that occurred. A blizzard isn't that rare in late November in the northern Plains…but as I'll show you in the discussion…for this area…it's never happened before..at least going back some 70 years or so. It was more or less well forecast for…it's not as if it was a surprise…and while there were some moments yesterday that I kept waiting to see some bigger snow totals coming into the forecast center, in the end for many areas the forecast amounts were pretty spot on. My "surprise" was the southern part of the Metro overdoing the snow totals…there was a little pop right at the end of the storm…
A big thank you to all that tuned into FOX 4 yesterday morning…I thoroughly enjoy that type of coverage and forecasting over the coverage of severe weather…and to me at least one of the most interesting and fascinating things about the day overall was how everything was going to change so quickly. I'm sure that when some woke up at around 6AM or whenever…and still felt the almost 50° air outside…they were thinking that the weather people were wrong again…it just shows you how things can change.
It also shows you how the weather enterprise has come so far in the last 20 years. Advances in model data and pattern recognition allows better notice that "something" can happen. I can't speak for others on this one…but it was last weekend that I talked about something to pay very close attention too for yesterday. Now did we know there would be a blizzard from 7+ days out in KC proper with certainty…no…but there was a set-up for "something" to happen and that's the message that was conveyed…and honed in on through the week. I fully realize (and I don't think we'll ever change that perception) that there is a segment of the population that think we're always wrong…hey it comes with the territory…and you know I constantly remind viewers/readers that what we try and do on a daily basis is often to "predict things that don't exist"…the fact that a week or so away from an event we can sometimes (not all the time) say…"hey let's watch out for this day" is still incredible to me.
---
---
Forecast:
Today: Mixed clouds and sunshine…cold with highs in the 20s
Tonight: Depending on the cloud situation…we may tank with the snow cover. The record low…and it's an old one…is 8° set in 1898. This can be tied or broken IF we stay clear long enough.
Tuesday: Should be mostly sunny and still cold with highs near 30°
Wednesday: A bit better…but this snow cover will temper expectations I think…highs in the 30s
---
---
Discussion:
So many things to recap…
Was it a blizzard? It appears so…even technically. They will go back and look at the data from KCI and other places that has the data necessary to determine this…but it was according to what I looked at…but first what is a blizzard from a technical standpoint?
2/2…A blizzard means that the following conditions are expected to prevail for a period of 3 hours or longer:
Sustained wind or frequent gusts to 35 miles an hour or greater; &
Considerable falling and/or blowing snow (i.e., reducing visibility frequently to less than ¼ mile)

— NWS Kansas City (@NWSKansasCity) November 25, 2018
So the way to dig into this is by looking at what happened (at least at KCI) and see how it met the criteria or did it fail?
From about 12:35 PM>3:40 PM virtually every observation (with the exception of a few minutes around 1 pm) all met the definition/criteria of a blizzard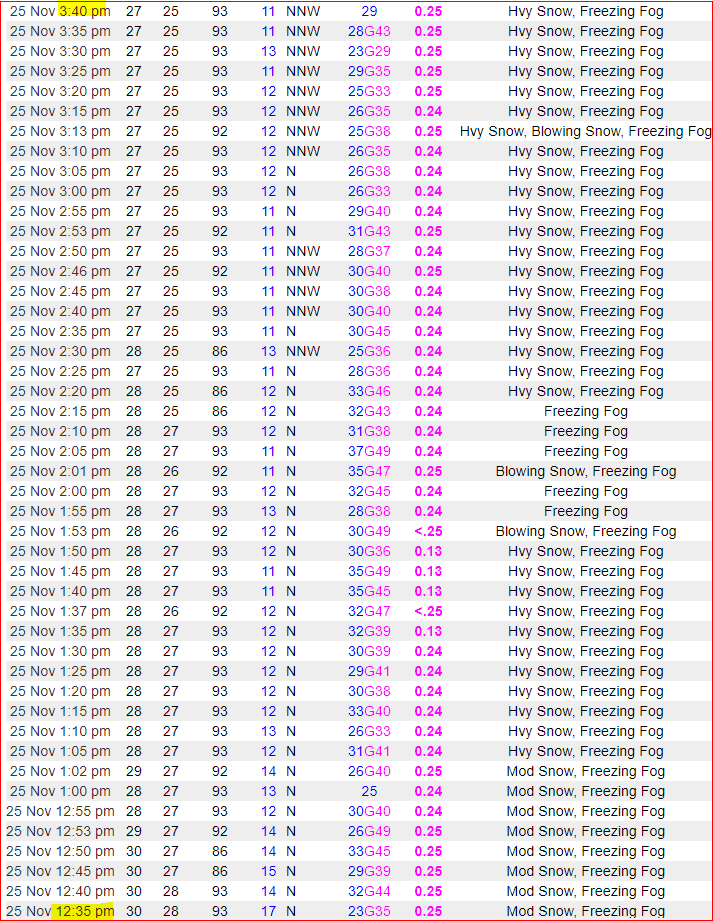 In reality we were mostly there too earlier and a bit later in the data too.
It's NOT easy in November or any other time of the year for KC to be officially in a blizzard. Remember the last one…back in late January of 2011…I seem to remember that we "technically" didn't meet the criteria in a review of the data afterwards.
There can be cases where what happens in one spot…KCI (official reporting station for KC) isn't representative of the area. So can you have a blizzard at KCI…and not say…Olathe? Technically by the definition above…I guess so. So let's look at Olathe.
Yup…I think we're good there too. What about Lee's Summit?
Now it starts getting a bit murky…there are more than a few obs in there that show under 35 MPH gusts…but the freezing fog obs are wrong…that should be all snow obs.
Again all this will be reviewed I think.
Something like what happened yesterday (in November) can be considered unheard of . Look at this research that I came across and check out the relationship to KC…in November at least. It's actually a real interesting paper IF you want to learn more about blizzard frequency.
…and based on the original study you can take that back to 1950…map is number of blizzards 1950-2000 in November. (Shwartz and Schmildin 2002) pic.twitter.com/qKElLl6CRu

— Tom Niziol (@TomNiziol) November 26, 2018
I'd be curious about that November blizzard in eastern KS…I may reach out to the NWS about that one.
We officially ended up with 5.8″ of snow..which was a record for the date…not too hard to do in November really and the 2nd highest snow total ever for November in one day.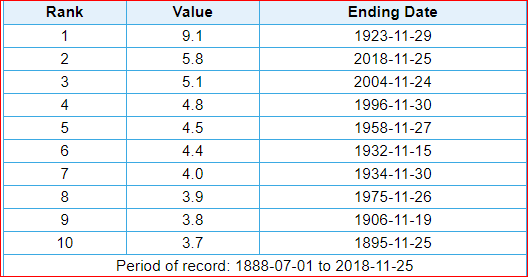 That too is pretty impressive.
We're now at the 2nd snowiest November in KC weather history going back some 130 years
Now I know what you're thinking..is there a connect to all that snow in NOV compared to how winter shakes out…well allow me to enlighten you.
Total snow in the winter of '23-24: 37.1″ (additional snow after NOV): 
1898-99: 38.6″
1975-76: 21.8″
2004-05: 13.3″
1932-33: 26.5″
1906-07: 18″
1934-35: 10.7″
1958-59: 30.4″
1996-97: 29.2″
6 out of the 9 years were above average snows…1 year was average and two years were below average.
Now we average 1.2″ in November and our current 30 year average for the snow season (October>April) is 18.8″. We average .2″ in October as well
So let's dive deeper and see what happened the winter AFTER all the November snows above…1st let's subtract 1.4″ (OCT>NOV average) from 18.8″ and use 17.4″ as a base for DEC>APR snow totals. Then I needed to go back through those years above and see what happened in October as well (remember the 1996 October Surprise?)…and let's see what happened that winter in addition to what happened in OCT>NOV.
The answer is that there isn't really an overwhelming signal that this means a more snowy winter is coming! Of the 9 data points above…there were 5 winters that had more than an additional 17.4″ of snow…and 4 that had less. The winters of 1958-59 and 1923-24 were the whiter winters…while the winters of 1934-35 and 2004-05 were the browner winters for snow.
Regardless though…this is the 4th snowiest start to the season in KC weather history…so far at least.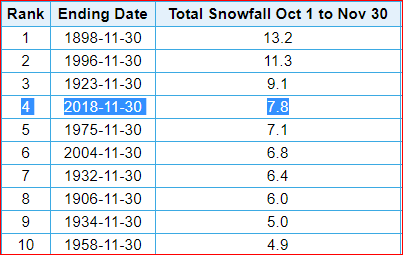 There is another storm on Saturday that needs to be monitored…odds are though the rain will be the predominant precip type despite the fact that the storm is taking another favorable snow track. The difference this time though is the colder air is moving away above the surface and there isn't any cold air rushing into the storm…BUT…
It's NOT set in stone because IF this turns into another dynamic type storm…it can "create" it's own cold air pocket on the north side of the track. Guess where some data indicates KC will be located in relation to the storms track. Yup on the north side. I can' rule out some sort of winter component somewhere nearby depending on how things play out.
OK that's enough…and that's enough for a couple of days…so many blogs and so many of you have been reading. The blog stats have been amazing to see. When threatening weather comes this way…YOU seek out the blog…tens of thousands per day…especially with snowstorms. Every day somebody comes up to me now and say they read the blog…that's fantastic!
Melly has the feature photo of the day…
Joe