This is an archived article and the information in the article may be outdated. Please look at the time stamp on the story to see when it was last updated.
An Excessive Heat Warning is in effect for the area starting Wednesday. Today, while hot, will not be that out of the ordinary for the KC area. Temperatures yesterday popped into the lower 90s and we should be in the 90-93° range again today. Clouds that are to the west of the area may filter a bit of the sunshine and as I write this blog there is some nice rain falling in northern KS but odds favor this activity NOT making it to the KC area. There may be some lighter showers though across far NW MO and NE KS this morning.
---
Forecast:
Today: Partly to mostly sunny and seasonably hot with highs 90-93°. Heat index today should be around 95-100°.
Tonight: Fair skies with lows 70-75°
Wednesday: A bit hotter with highs near 95°
Thursday: Hot and humid with highs 95-98°
Friday and Saturday: These should be the hottest days with highs 95-100°
---
Discussion:
KCI is the "official" weather station for the KC region. St Joseph covers NW MO. With that said there are about 6 other weather stations that are relied upon for consistent and quality controlled weather reports around the KC area. There are others of course, but the period that that've been going is shorter.
I bring that up because occasionally there are weird statistical anomalies that show up. Usually it's rain or snow related. During the seasons sometimes there is a lot more rain across the northland than the southland due to storms…or snow storms etc. Temperatures though are a bit more uniform as a whole. Over the course of a month or year…the averages are pretty consistent whether you look at the airport in Lees Summit or KCI or in between. Many years ago I did an internal research project showing the downtown KC airport rain 2-4° warmer than KCI did and does to this day. This is more connected to the heat island effect than anything else. That isn't surprising. As concrete and buildings and the terrain gradually changes farther north with development…KCI over the coming decades should gradually get hotter over time.
I bring up that tangent to point out a weird stat…KCI hasn't hit 100° since September of 2013…some 1400+ days ago. Interesting but not. Downtown KC has hit 100° 5 times from 2013 through today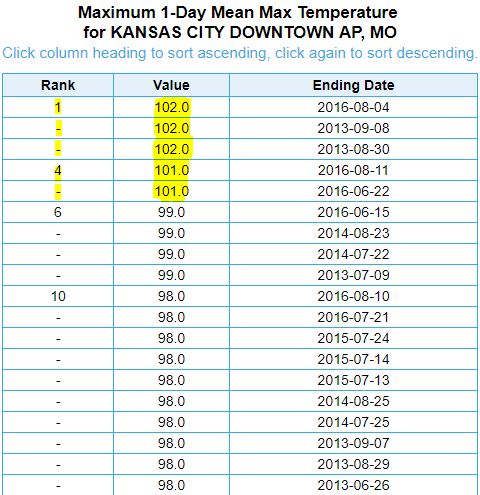 Meanwhile look what happens up at KCI…
This isn't exactly shocking news I don't think. As a matter of fact from 2000 through today KCI has hit 100° or higher 70 x's including their hottest 107° (in that span) on 8/22/11.
Now in Downtown KC given the same time frame things are a bit different. From 2000-today the Downtown Airport has hit 100° or higher 95 times including their hottest of 109° (in that span) on 8/2/11.
Again though remember that KCI is the "official" station of KC.
As we go farther northwards…St Joseph, MO has hit 100° or higher 3 times from 2013>today and 38 times from 2000>today. That is sort of interesting to me…quite the discrepancy from KCI to St Joseph in that regard. Their hottest was 106° on 8/25/03
For a comparison…Lees Summit has hot 100° or higher 1 time from 2013 through today and 50 times from 2000>today including 109° on 8/2/2011.
Down at JOCO Executive Airport towards 151st and Quivera that haven't hit 100° from 2013>today (99° once) bit have hit 100° or higher 52 times from 2000>today including their hottest in that span of 110° on 8/2/2011.
So now you know.
We should get a break in the more intense heat (by 5+ degrees) on Sunday and Monday of next week before the intense heat potentially returns to the region next week…in time for Training Camp for the Chiefs up in St Joseph, MO. later next week. we'll see how that holds (or doesn't into the 1st week of august when things really get going up there).
Our feature photo comes from Mark Schierholz of storms back on the 13th towards the Lees Summit area…thanks Mark!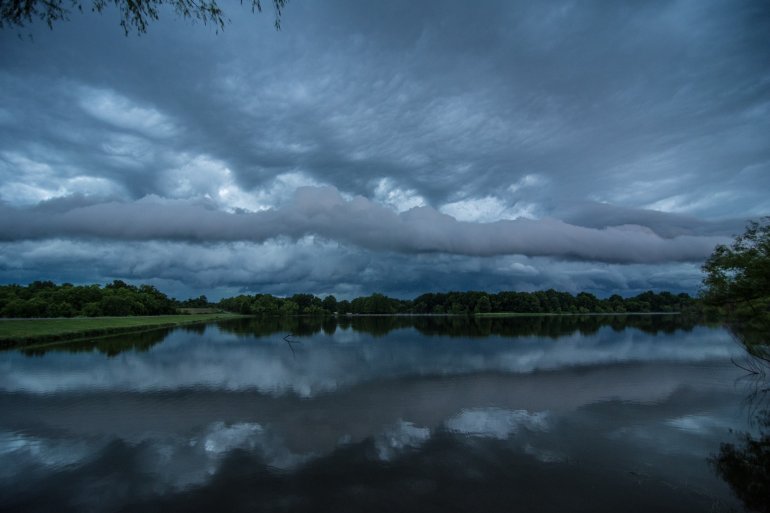 Joe