This is an archived article and the information in the article may be outdated. Please look at the time stamp on the story to see when it was last updated.
For those that missed yesterday's weather blog…amidst all the craziness with the Chiefs easy afternoon victory, feel free to take a look back on yesterday's blog for a discussion and lesson regarding how blocking weather patterns in different parts of the hemisphere will be playing a role in the cold weather shots coming down the pike. It's a bit more complicated but if you're a weather geek maybe you'll learn something. Meanwhile the reason why the featured picture of today's blog is a rollercoaster…well let's just say temperatures will be going all over the place over the next 10+ days.
Forecast:
Tonight: Mostly clear skies and after an evening drop in the temperatures, we should level off and then rise towards 12AM or so. Readings by daybreak should be in the 15-20° range thanks to SW winds pushing away the low level cold air in the region.
Monday: Partly cloudy and milder (actually really just seasonable) with highs 35-40°
Tuesday: Once again we head back down another cold shot of air. The main push of the coldest air will be off towards the NE of the KC area, but temperatures Tuesday will be steady or falling through the 20s for the day. Winds NW at 15-25 MPH in the AM then lighter winds in the PM…this next cold shot will move away Tuesday night.
Discussion:
I was having a long discussion with Rob C and Nicole this yesterday morning about how I'm getting itchy for snow in KC. By the end of the discussion I think they thought it would be a good idea for me to enter a 12 step program about this. Actually Rob suggested an 18 step program! As my long time blog readers know, I enjoy the snow. I especially enjoy the challenges and stresses of snow forecasting which is one of the reasons why I have little to no hair left on the top of my head.
It started when I was younger and continues to this day. I grew up in the NY area and we would get some pretty decent snowstorms. The nor'easters were especially amazing to watch. This was back in the 60s-70s when we had so little technology. When I used to intern at WCBS-TV in high school, what passed as technology then would be laughed at today, but it's all we had. We did have some primitive computer modelling. Obviously we didn't have the internet. We also had a UPI machine that printed out satellite sectors that I would then outline the states with and we would put that on the air. It's amazing how far we've come since then…especially in the ways we can access all this data and the ways YOU can access the SAME information. Pretty darn cool if you ask me.
I'm not exactly sure why I went off on this road down memory lane, but like I said I'm getting itchy. Snow in KC hasn't really been worth a darn these last couple of winters (so far). The 1-4″ snow we had in the area a few weeks ago was nice I guess…but really all it was was an appetizer to a main course that never came.
Hey I get it, most people, not all but probably the majority hate the snow and/or don't want to deal with it. Some have to work in those conditions, many hate driving in it (I do too) and there are lots of other reasons why people dislike it. I get it. we did a twitter poll yesterday and the majority easily were fine with the lack of snow so far this winter..
OK tweeps in the #KC area…

— Fox 4 Weather KC (@fox4wx) January 9, 2016
Like I said, I get it totally…I really think the other reason why I like it is because for at least a day or so it makes things bright and pretty looking. After that though, I don't like the after effects of the yuck from the salt/plowing/ice.
Snowfall in the Midwest has been all around the KC area it seems…north/east/south/west. Here is a look at the snow totals so far this snow season.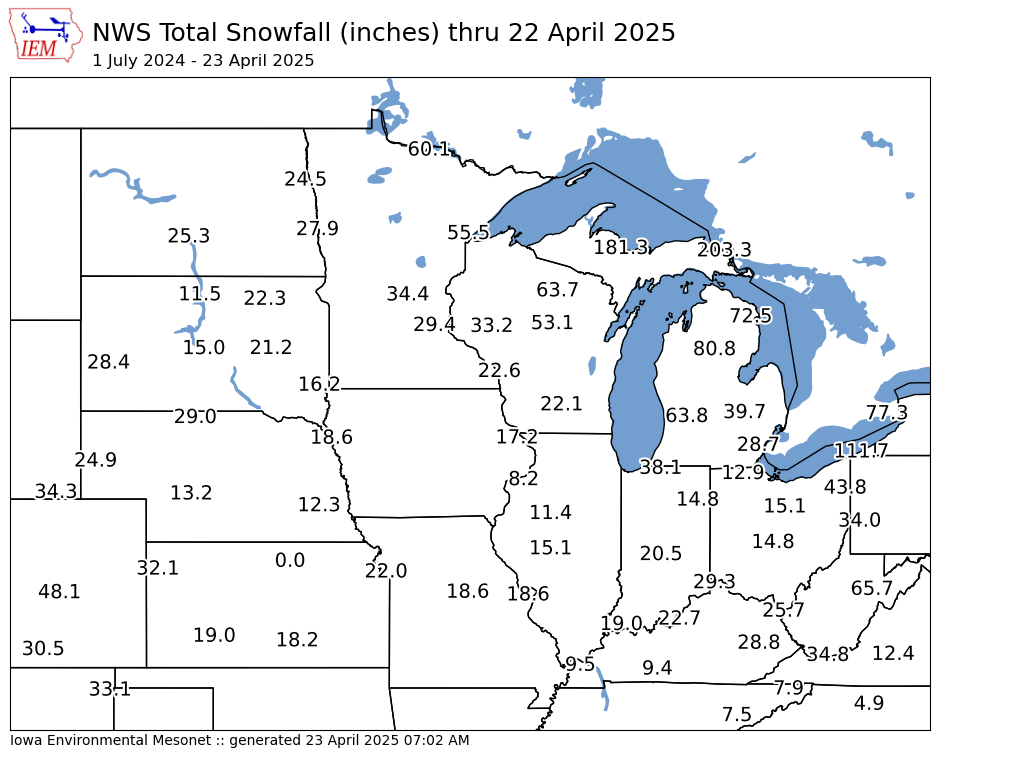 St Louis is another city that has gone lacking. The storm yesterday produced 7/10's of an inch there and underperformed. It was heavier though west and SW of St Louis, as a matter of fact you can see a nice snow outline on today's visible satellite picture.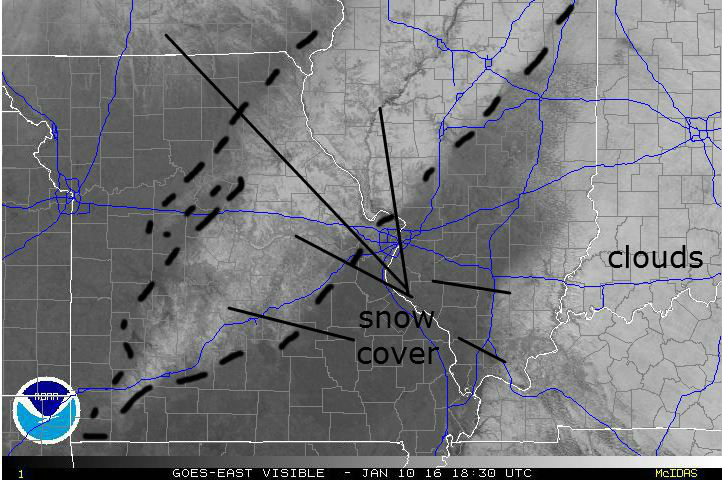 Columbia, MO had 4″.
Visible satellite pic & snowfall amounts from January 9th, 2016. #snow #stlwx #mowx #ilwx #midmowx pic.twitter.com/DVl2ZMwH7d

— NWS St. Louis (@NWSStLouis) January 10, 2016
So here we are with all the cold weather (for now) we could possibly want…but really no strong indications of snow showing up for the next 4+ days.
It's a cold day out there! "How cold was it this morning?", you ask. Well, here's the answer. Brrr!!! pic.twitter.com/qkTmtC88x8

— NWS Kansas City (@NWSKansasCity) January 10, 2016
What is interesting, like I wrote and showed you yesterday is the fast movement of the cold air masses zipping in and out…another is due on Tuesday. Notice though on the GFS forecast for surface temperature anomalies, that the main brunt of the coldest air (compared to average) is more towards the NE of the KC area…the purple-y colors are the coldest temperatures compared to average.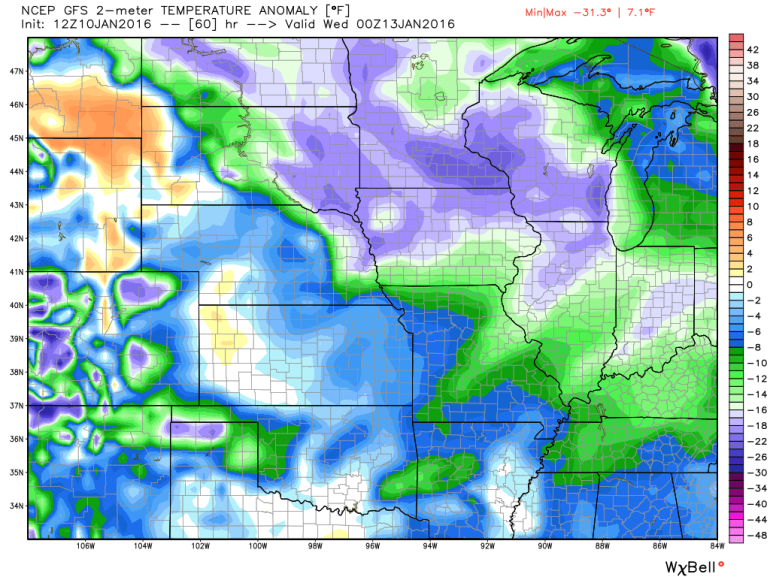 Notice though what happens on Thursday…we could make a run towards 50°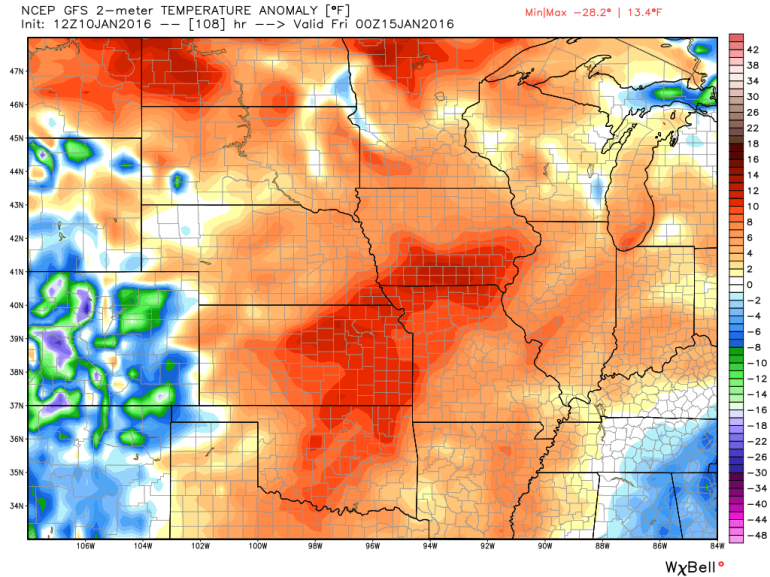 Then notice over the weekend another drop…
So up and down we go…
Now about that snow…it appears we'll at least have to watch next weekend for potential…that is connected to a series of storms off the Pacific coast and out towards the Aleutian Islands. Satellite pictures below are via Rutgers University…
Actually the wind energy that will be creating the future disturbance in question is closer to the Asian coastline. It's just barely entering the loop above in the middle left side…that is what is forecasted to turn into a decent impulse that will potentially shape our weather next weekend. it will sharpen up a dip in the jetstream that will come ashore in central CA on Wednesday afternoon…then we'll see what happens from there. There are also various interactions with other areas of spin in the atmosphere that will take place as well on it's journey through the Pacific Ocean. So we're a long ways off from figuring this out.
Also on the table for NEXT weekend is an EVEN colder air mass coming into the area. At face value the latest EURO model is suggesting sub-zero lows next SUN and potentially NEXT MON AM. Highs may only be in the single digits. The air mass next weekend is about 10°F colder than the air mass today…something to really pay attention too. Remember we got down to +2° this morning…
I can show you the forecasted snapshot temperatures off the Canadian model…this would be for NEXT Sunday AM.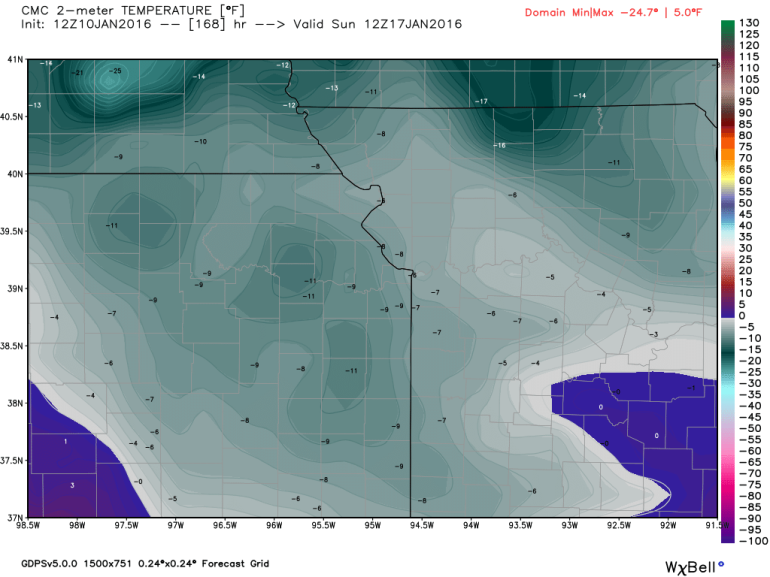 It's doing that without any snow on the ground. The model appears to have too much cold air into the Plains next weekend
There are rules in play that prohibit us from showing certain EURO model maps, and if you see some out there on other blogs/social media odds are they are the very low res map products that have POOR snowfall accumulation schemes. I can though relay the details of the higher res EURO model data and basically it's forecasting lows of 0° to -5° lows next Sunday and anywhere from a dusting to 4″ of snow in the western MO and E KS region with the snow coming on Friday afternoon. Other web sites contain much lower resolution data so beware of the overzealous maps that you may see out there.
The EURO model for KC again has a 1-4″ solution for next Friday…previous incarnations of the model runs have had 3-7″, 2-5″, and no snow going back through the model runs…obviously way too early to get your worries or my hopes up…considering whatever may affect the region is closer to Asia than California right now.
Have a great week and let's watch next weekend for our next potential significant storm…it will be warming up rather nicely ahead of it…and we've been down that road a bit already this winter.
Joe