This is an archived article and the information in the article may be outdated. Please look at the time stamp on the story to see when it was last updated.
Good afternoon…
Bright sunshine but deceptive sunshine is filling the skies across the region today. The good news is that starting tonight the core of the cold weather is moving away and from here we start to moderate…and it will last for at least a week!
Forecast:
Tonight: Not as cold as earlier this morning (6°). Temperatures will drop initially this evening, perhaps into the teens, then level off and perhaps even go up a few degrees by daybreak.
Tomorrow: Finally some moderation. Temperatures will pop into the 50s during the afternoon with SW winds of 10-25 MPH.
This weekend: Warmth continues as highs will be well into the 50s (maybe some 60° readings). Sunshine is expected for most of the weekend. Perhaps some high clouds on Sunday. Even for march, not too bad in the wind department either.
Discussion:
I think the visible satellite picture is pretty interesting this afternoon. I sent out this tween earlier this morning…as a way to explain for those who dive into the models that the modelling was going to be too cold, because it thinks there is snow all over the place.
Models may tend to underplay temps…why?…they think we have widespread snow on ground in #KC area…we don't. JL pic.twitter.com/aM5UiDlXH7

— Fox 4 Weather KC (@fox4wx) March 5, 2015
Now take a look at the afternoon shot…notice how the snow cover is quickly melting away to nothing…yet the models may take a couple of days to resolve this lack of snow cover…
The change in TX has been stark in the last 6 hours as of this writing.
Southern Plains #okwx #txwx #snow no match against strong March sunshine. #Snowbgone pic.twitter.com/AR8lFg3szW

— Greg Carbin (@GCarbin) March 5, 2015
By the way…quite the snow storm though the OH and TN Valley region and up towards the NE part of the country. Parts of KY had almost 2 feet of snow!
Meanwhile here in KC…the biggest 1 day snow this year has been 2.6″. Get this…the following cities have had more one day snows this year…Amarillo, TX, Lubbock, TX, Oklahoma City, OK, Tulsa, OK, Little Rock , AR, and Huntsville, AL. Dallas came sooo close…they had 2.5″ yesterday. There are more obviously in places you'd not expect…but it's been one of the seasons for snow lovers in the KC area.
Overall Dallas had 3.5″ from the storm…there were some 6″+ totals in N TX…
March 4-5, 2015 ranks as the 4th heaviest March snowfall event for #DFW #dfwwx #txwx pic.twitter.com/YiYbxSoCRh

— NWS Fort Worth (@NWSFortWorth) March 5, 2015
The snow has moved into the NE part of the country
Southern NJ into Central VA are getting pounded right now…the rain snow line is to their south…and often near the rain>snow transition is where you can get some real heavy snow rates…
So with all that going on…our weather here is about to get very dull for awhile. The cold shots of air will not be plaguing us for the next 7+ days…temperatures will be moderating and while there will be occasional wind direction changes that could make some impacts in the temperatures every couple of days…no more brutal cold shots are expected through next THU…after that we'll see as a path to colder weather may come again after that.
Take a look at the forecasted surface temperatures for several 5 day periods (GFS ensembles)…the 1st graphic is for the next 5 days (and is influenced by the really cold air on top of us now) then there is the 5-10 period and then the 10-15 day forecast via WeatherBell Analytics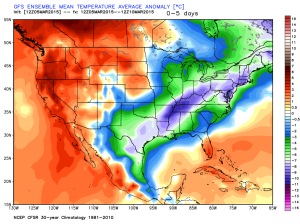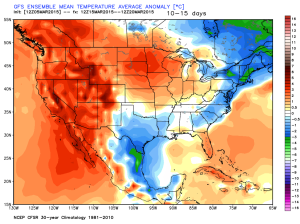 You can clearly see how temperatures in the northern and western plains will be running warm…We're into it as well obviously…and really it's a matter of how warm can we get next week as a day or two running towards and above 70° is certainly looking promising from this far out…obviously high clouds and other factors can play a role in that situation…but it does look MUCH better!
The GFS was very bullish in bringing another strong and cold airmass into the area later next week…the EURO never did that…and today the GFS went with the EURO solution…so again increasing confidence in a spring week next week. There are suggestions that we could cool down, perhaps next weekend.
Oh and there may not be a drop of rain for the next 7+ days!
Joe