This is an archived article and the information in the article may be outdated. Please look at the time stamp on the story to see when it was last updated.
Good afternoon, actually not too bad out there.
We're a few degrees cooler today compared to yesterday's 92° and we should have a rather nice Sunday as well. Lots of sunshine is expected and the "relief" in the form of drier air will be enjoyable, especially at night and into the morning hours.
The dew points are going to be "OK" through Monday then the thicker air will gradually come up again and set the stage for another uncomfortable week+ of weather.
Oh and when a meteorologist finally breaks down and starts watering (1st time this year)…you know it's going to stay dry, too. I HATE watering but the grass had just about turned dark brown in spots…and that can't be good.
---
---
Forecast:
Tonight: Clear and pleasant with lows 60-65°
Sunday: Hot but not too humid by July standards with highs near 90°
Monday: Hotter but again not overly humid with highs 90-95°
Tuesday: Getting muggy again with more heat and highs in the mid 90s
---
---
Discussion:
The forecast in a nutshell…
It seems like we're repeating the same heat over and over again. We are getting an expected break this weekend but overall the pattern is very hot and increasingly humid. The run of not getting to 100° at KCI will again be in jeopardy this week perhaps. It will be worth getting there sooner rather than later because it's getting old talking about something that just about everywhere else has managed to do since 2013.
The good news as we start the blog is that there is actual summer humidity relief again today in the region. The dew points are down to the low>mid 60s in the area at 11AM…with even drier air to the east of here and with the east and SE flow…the dew points may come down a bit more during the day today into tonight.
The numbers in green are the dew points (red the temperatures) and you can see east of here dew points are in the 55-60° range.
[protected-iframe id="83e64589ea0728873401bf762597aab5-28016812-27967000″ info="https://embed.windy.com/embed2.html?lat=36.173&lon=-92.900&zoom=5&level=surface&overlay=wind&menu=&message=true&marker=true&calendar=&pressure=&type=map&location=coordinates&detail=&detailLat=39.288&detailLon=-92.884&metricWind=mph&metricTemp=%C2%B0F&radarRange=-1″ width="650″ height="450″ frameborder="0″]
via windy.com
Actually the area of high pressure that's responsible for this humidity break and is now in the eastern Great Lakes region…
was a record breaker of sorts for the highest MSLP or mean sea level pressure readings. In other words the barometric pressures were unusually high for the month of July! (yesterday)
A record strong high pressure system for July brought delightful weather to the Upper Midwest/Great Lakes yesterday. Below are the records set for July based on hourly surface observations & the time matched WPC surface analysis. Pressure records website: https://t.co/2js98cy0vq pic.twitter.com/hhAFRyCovO

— NWS WPC (@NWSWPC) July 7, 2018
There really isn't a lot to say about things overall..yes to getting hotter again…yes to getting more humid towards the middle of the week and yes (or no) to the rain…really a no.
As the hot air generator rebuilds into the middle part of the country our threat of rain more or less disappears. Sometimes there can be small little weaknesses in the dome allowing a few random storms to pop up…but overall it's dry.
The upper air pattern through the week will be characterized by another dominating ridge through the western 2/3rds of the country. It will divert the jet stream up into Canada (not unusual) and allow the hotter air to just sort of fester in the Plains.
I think we're more or less locked into this till at least next Friday and perhaps into next weekend. There are some model suggestions that a cold front may dip into the area FRI or SAT…we'll see.
Our feature photo comes from Kym Whitney Lane in rural Saline County…taken on Thursday of a nice rain shower at sunrise too!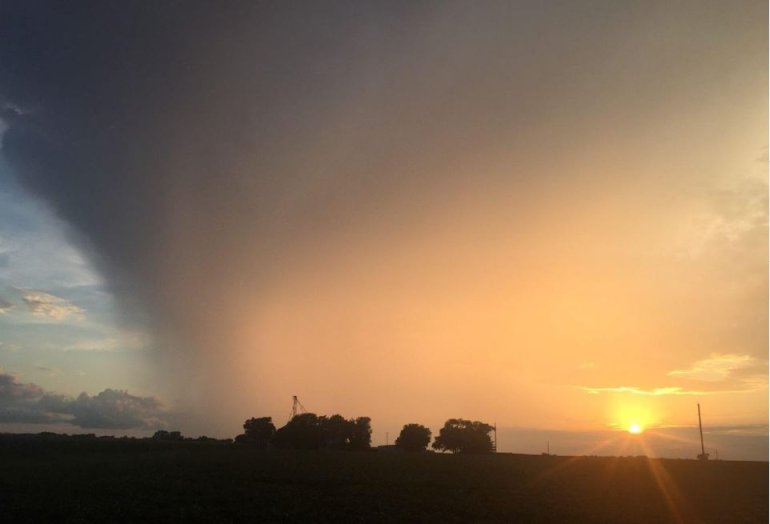 A note for those who have read the blog all the way through…one more blog tomorrow then I'm on vacation. I will have my computer with me this time though so I will cobble together a blog or two…but not for a few days…there really isn't anything to write about anyway at this point.
Joe