This is an archived article and the information in the article may be outdated. Please look at the time stamp on the story to see when it was last updated.
Well it actually feels like January again out there…it's been a nice stretch of mild weather…and we're about to go through the Thaw Part 2 over the next week or so. There are growing signs of a slap-down coming to end the month but that is a long ways away.
Forecast:
Tonight: Clearing skies and chillier with lows 20-25°
Tomorrow: Sunny AM then increasing PM Clouds. Highs near 50°
The Weekend: Dry with mild temperatures. Highs both SAT and Sunday should be well into the 50s.
Discussion:
Well it took the cloud cover to keep temperatures closer to average today. The clouds though will move away overnight and we should see sunshine at least for the 1st part of Friday.
As the colder air mass moves away temperatures should start to recover again. We've already had 7 days with highs of 50° in downtown KC. The average over the last 100+ years is 6.4. We're easily going to eclipse that over the next week with what's coming.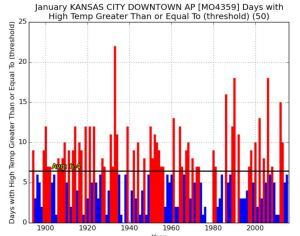 and we may up with close to 14 or so…maybe more. Not too bad at all for the month. after being some 6-9° below average about a week ago…we've flipped the coin and are now only about 1° below average for the month and with what's coming next week it's hard to imagine us not finishing the month comfortably above average again.
If you're wondering where the snow is…here you go…another record breaking storm in the books for the Texas Panhandle…
Wondering what the snowfall totals are in the Panhandles? Look no further! Thank YOU for the reports/photos! #phwx pic.twitter.com/qPy8AOcZO9

— NWS Amarillo (@NWSAmarillo) January 22, 2015
I used the concept of the following graphic as an idea for relating the amount of snow they've had in Amarillo (17″ overall since late fall) to KC (4.7″.
#Amarillo, TX has seen more #snow in January than #StLouis, #Boston & #Juneau combined! Image via @nwsstlouis #TXwx pic.twitter.com/r6sPGO25xl

— The Weather Channel (@weatherchannel) January 22, 2015
So basically in a nutshell…they've had more snow than KC, St Louis, and NYC combined with plenty of room to spare. For snow-lovers it's painful to watch from afar.
The thing about it is that with the Thaw #2 on the way…it will be impossible for us to get any snow till perhaps the end of the month. It's also possible we could make a strong run at another record high temperature. Next Wednesday is on my radar with a record high temperature that stands at 65° set back in 1917. It's always tough to predict record highs from about a week away. Any ripple or significant wind shift in a very fast flow will eliminate the opportunity…but I have a feeling we'll at least be talking about this potential over the weekend. The record high on THU the 29th is 63° set in 1919…something else to watch.
A glimpse at the latest EURO model forecast suite really doesn't show any locking cold weather for the Plains…everything just comes in and out rather quickly in terms of the cold.
Moisture wise…something needs to change or else KC will have it's 7th driest January in it's history. We're holding onto .12″. St Joseph will tie their all-time driest January with a trace of moisture…the graphic below shows the forecasted moisture through the next 6+ days…
And the beat goes on.
Joe