This is an archived article and the information in the article may be outdated. Please look at the time stamp on the story to see when it was last updated.
Well we knew it would rain…we knew there would be a ton of it, and we knew it would come down fast and furious at times and create some localized flooding…all of that panned out but there may have been too much rain for some as amounts that are being reported are easily over 4″ in places…it was an impressive two round rain that hit the region…the 1st round was ill-timed around rush hour yesterday that complicated the commute home…the second was around late news time that packed a secondary wallop and topped off the rain gauges in the region. Wow…and impressive!
Forecast:
Rest of today: I expect most areas to be stuck in the yuck for awhile this morning into this afternoon and we may not break the clouds till later today. Temperatures will struggle in the 70-75° range through this early this afternoon before popping to around 80°+ later this afternoon when the sunshine returns. Winds will be from the NE-NW at 5-12 MPH. There may be drizzle/sprinkles as well this morning.
Tonight: We should clear out overnight and I'll be watching for some fog formation should we clear out totally and drop to 66-68°. I think the game will be fine at this point.
Tomorrow: We should have a decent day with highs in the mid 80s.
Discussion:
No forecast is perfect and yesterday's wasn't. The one thing I think I didn't forecast correctly was the exact timing of the rain (from Tuesday nights forecast). It came in about 3-6 hours faster than I thought. This doesn't shock me (that the timing wasn't perfect) because as I mention to you often, forecasting rain to a 3 hour time-frame that hasn't even developed and for that matter the clouds to produce said rainfall don't even exist…isn't easy to do. We knew that as the afternoon went on the rain chances would increase and into the night the chances would start to peak out…but that heavy rush-hour event was a couple of hours early in my book. Also the amounts were underestimated for some (from MON-TUE) with some now easily over 4″.
With that said and with a new daily rainfall record at KCI yesterday of a whooping 3.47″ of rainfall (record was 1.77″)…lets show you some other totals…we'll start from the north and work our way southwards…
On average there were 2-3″ with 4″ high totals coming in a some areas…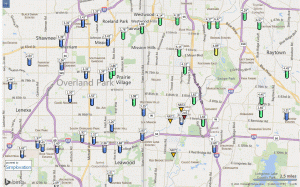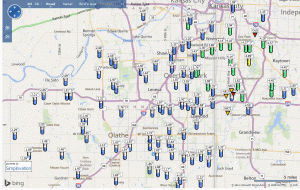 For those who aren't represented on the maps above…there are a bunch of you…use this link to a google map application to see how your totals stack up against others…the highest total I see is about 4.9″ from the SE part of Independence, MO.
Here is how the doppler saw things…one thing to notice is that often the rain misses some folks (or many) during this time of the year, bit this time most areas got beneficial rain, although you can see from above how areas down I-35 didn't get as much as others.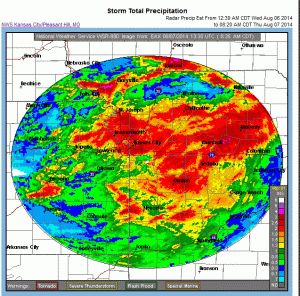 How about some perspective…yesterday's record rain of 3.47″ for 8/6 was more rain in one day than Phoenix, AZ has had all year (1.05″), Tuscon, AZ's rain total for the year (2.50″), Reno, NV 2014 total (3.23″) and San Diego's 2014 total (2.89″)…it was almost within 1/10″ of Los Angeles total for 2014 (3.57″)!
We continue to be in a very weak flow aloft, that helped to allow the storm clusters that formed yesterday move slowly and that helped to get us all that rainfall in many cases…also the atmosphere was loaded with juice and with temperatures into the lower 90s, even mid 90s on the south side, we were all set-up for a big event.
This flow regime will be present over the next several days, and that means we need to watch for other disturbances to get generated and wobble to the east or east-south-eastwards and threaten part of the area. There may be another complex of sorts of Sunday…and I need to watch SAT just in case for some areas. The bottom line is that we're not done with the rain and a rather active flow pattern will continue to be primed to generate these types of storm clusters through the middle of the month and then some. With this said…tough to see how temperatures get much above average for some time. We should have a prolonged period of below to near average temperatures through mid month…as my thoughts about the statistical correlation between strongly cool July's and cooler than average August days are going to come to fruition I think. Let's see if we can heat up a bit more towards the last 10 days of the month.
Finally this morning there is Iselle which has prompted rare hurricane warnings for parts of HI (the Big Island). See my blog from Tuesday for the rarity of these storms in the HI chain. Iselle is managing to keep her act together despite conditions not favorable for living so long. It's been sucking in a lot of dry air and moving over cooler waters…but yet it is the little engine that could and even perhaps strengthened a bit yesterday.
As of this writing there is still a predominant "eye" feature to the hurricane…
and when the sun comes up out there (they are several hours behind us) the satellite images should be interesting to watch…
The storm is still a few hundred miles to the ESE of the Big Island…
A hurricane warning is in effect for the Big Island for the 1st time in 22 years, and IF it's a hurricane when it makes landfall, that will be a 1st for the Big Island itself. Other islands int eh chain have been hit by hurricanes but it's unusual. The last I think was the devastating Iniki that ripped through Kauai from the south in the early 1990s. Landfall is expected later this evening or into Friday morning.
As of this writing some of the far outer bands of the storm are near the east coast of HI…
With the mountainous locations there, and the flow of air running into and up the mountainsides, the rainfall will be copious for the Big Island especially.
More on the hurricane tonight on the newscasts…
Joe