This is an archived article and the information in the article may be outdated. Please look at the time stamp on the story to see when it was last updated.
Good Wednesday morning…a chilly start to the day in the region and a struggle to warm up during the afternoon. My attention is focused o the snowmaker coming on Thursday. Beyond that the forecast is unseasonably cold into next week…and the potential still exists for a record low to sneak into the area…perhaps Friday morning and then again on Saturday morning.
---
---
Forecast:
Today: Variable clouds and chilly with highs only in the mid 40s
Tonight: Mostly cloudy and cold with lows near 30°
Thursday: Thickening clouds…perhaps snow showers in the  AM…then some mixed precip transitioning to snow in the afternoon and evening. Temperatures should be close to 35-39°. Snow likely for several hours Thursday night. Accumulations look to be a dusting to 2″ in the region.
Friday: Be alert for slick roads in the morning in parts of the area…especially untreated parking lots and sidewalks. Temperatures may tank to near 25° near or after sunrise (if we clear out fast enough before sunrise) then struggle to get out of the 30s during the day. There may be a few snow showers/flurries, especially on the MO side, as well
---
---
Discussion:
Well you're aware of the snow scenario for Thursday. 1st a bit of historical perspective on accumulating snows on the 9th of November.
Obviously accumulating snows don't happen often…about 10 times in 130 years of records. Really anything more than a trace is even rarer…only twice in the last 130 years. Odds are tomorrow evening we'll make it 3 times. It may not be a lot though for many of you, especially up north…but I'm still concerned that there may be slick roads Friday morning with the snow expected to stick Thursday evening and the cold air to be a factor in the chilling of the roads overnight.
I'm having a tough time seeing how we're going to warm up much tomorrow as well. There should be some precip in the area during the morning (not for all) and with the dry air chewing on the falling snow/chunky rain…it will evaporate and help cool the atmosphere down a few degrees, so in the end a very minor warm-up is expected. This dry air will out up a fight for awhile in spots…but eventually will be overcome. Then we should see an uptick to the snow in the mid>late afternoon through the evening.
Whatever warm-up we do get though will be helpful because what does fall will have a real tough time sticking, especially during the daylight. As I mentioned yesterday some exposed surfaces…like car tops..decks etc may see some sticking snow. It will be important to watch the bridges and overpasses as well as the day moves along…but at this point whatever impacts there are during the day look to be minor at least through 4PM or so. Then let's pay attention to the evening hours especially.
The main issue is Thursday night after sunset. Temperatures will be near to below 32°…snow will still be falling and the roads will slowly drop off from a temperature standpoint so what falls, depending on the road treatments, will start to stick. In and off itself that's not too big of an issue…but since this is the 1st one of the season (on a weekday) and there will be more folks out and about compared to the event that wasn't that impact-full in the Metro back in October…this could still create some issues, especially on bridges and overpasses. Should we get more than 1″ of snow (which is possible)…untreated roads themselves may have issues and that could play a factor in some school cancellations in parts of the area IF that plays out.
What does fall then, even if it melts, will need to be watched for refreezing for Friday morning…especially on untreated surfaces.
In terms of the amounts…still tricky and I continue to watch our position in relation to the jet stream flowing above us..I still see a favorable set-up for perhaps some locally enhanced bands of snow to set-up. The latest NAM model has trended up with amounts of liquid…although perhaps it's a bit too aggressive on the south side, since it's cranking out close to 3/4″ of liquid south of I-70. IF we just look a the model data for roughly 6PM tomorrow into 6AM Friday…this is the amount of liquid it's cranking out.
So about 1/4″ of liquid…
Now you allow for some melting for a few hours…and perhaps you can crank out 1-2″ of snow.
So I continue to want to keep the range of dusting to 2″ in my forecast thoughts and not downplay things too much at this point.
IF the snow is sticking in the afternoon tomorrow, especially on the grassy areas…IF the snow rates are hard enough…there is certainly some upside potential to the 2″ in areas of the region and that would lead to more issues obviously.
Jet stream induced snows can be surprising and I'm not letting my guard down because of that. When parts of the region are in favorable quadrants of the jet stream aloft you get more lifting that what you might think…and I've been harping on this for the past few days as you well know.
The new NAM hi-res data is out as well…and I'm focusing on the amount of liquid that will be cranked out from 6PM Thursday to 6AM Friday…the best window for accumulations would be 6PM>12AM Friday morning.
Again somewhere in the .15-.25″ liquid…convert that to snow…even using a 10:1 ratio and allowing for some additional melting and again 1-2″ would be possible from that data. You can also see the "banding" that the higher res model is trying to indicate. See the areas that have slightly enhanced totals stretching from the ENE to the WSW? That is a yellow flag to me as well.
That data also indicates that we'll be fighting off and widespread coverage of snow because of dry air in the lower part of the atmosphere through most of the early afternoon at least.
Snow timing for the end of this the event would probably be 10PM>1AM or so from west to east. So there really isn't a lot of time for sticking snow to fall.
The premise through all of this is that the snow really doesn't stick that much on the ground through 6PM. Again, and this is being stressed…IF the snow sticks well in localized areas before sunset…accumulations could be over 2″ in localized areas.
Then the focus will be the cold air that will be near record territory cold on Friday morning (clouds may be the saving grace but it may be close).
another note for Friday afternoon…I don't think we'll be this cold BUT here is a look at the coldest high temperatures for the 9th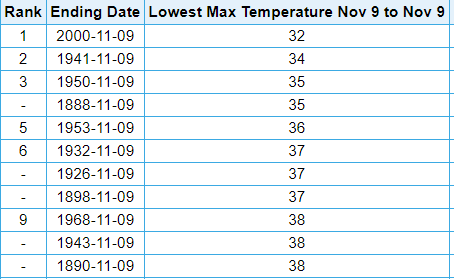 and Saturday morning..perhaps more likely but still may be close. Here are the coldest low temperatures for the 10th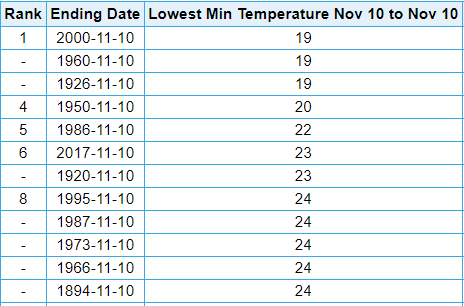 Our feature photo comes from Terri Quintero‎ and was taken a a couple of days ago in Kessler Park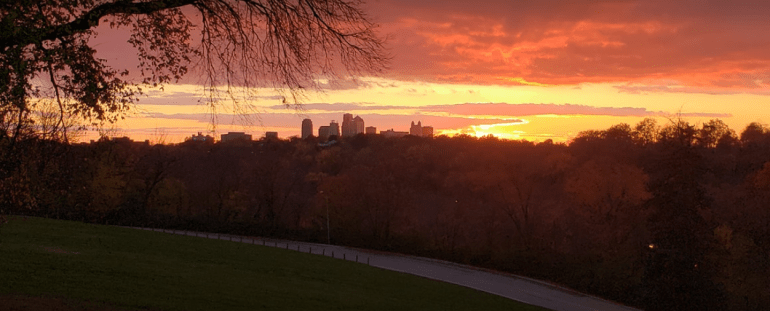 Joe