This is an archived article and the information in the article may be outdated. Please look at the time stamp on the story to see when it was last updated.
Good Tuesday morning…wet out there for about half of us this morning with more flooding rains in the region…although once over the state line…on the MO side things aren't as wet to start the day. Through 7AM KCI has had another 1.3″ of rain and it was still going. Olathe was closing in on another 1″ of rain…while farther east…not so much. There are many aspects of this weather blog to go through as we have more rain…a severe weather threat…and Michael which is on a strengthening trend in the eastern Gulf of Mexico…and heading towards the Florida Panhandle. That one storm would normally consume the blog today…but with our weather being a bit chaotic…we'll mostly focus on us.
---
---
Forecast: (5PM Update)
Tonight:  A quick evening end to the rain…with a few isolated storms/showers possible overnight into early Wednesday. IF you have evening plans in KC…the severe weather risk will be zipping away. Lows will tumble into the 50° range tomorrow after daybreak behind the cold front which moves through around daybreak or so.
Wednesday: Blustery…drier and much cooler with highs in the 50s
Thursday: Some morning frost is possible with recovering highs into the 50s. It will again really feel like fall!
---
---
Discussion:
So much to talk about including the ongoing rains this morning…how much has fallen over the last few days and the severe weather risk this afternoon especially.
First though a big thank you to all who have sent in some very robust rain amounts over the past couple of days. Some great pictures as well. I thought though I'd help out all the rain observers out there with a recommendation. Many of you have been dumping rains of 5″+ out of your gauge. The gauge simply got filled up and overflowed. As a result. some are underestimating how much actually fell with this multi-day rain event. This is especially a nuisance IF you forget to empty out the gauge one day OR if it's pouring and you don't want to go read the gauge. I get that!
So I thought this morning I'd make a recommendation for you. There are many great gauges out there…wireless included. One of the weaknesses of wireless gauges is that IF the rain REALLY comes down…they sometimes can't keep up. In many situations…they're just fine…during heavy tropical downpours sometimes they, as well under-report because of the method that they use internally to measure the rain.
So in some ways…it's best to go old school for this aspect of weather measurement. This is my recommendation.
It's the rain gauge that observers with CoCoRAHS use and report as official totals for their communities. It's the gauge that's now in my backyard.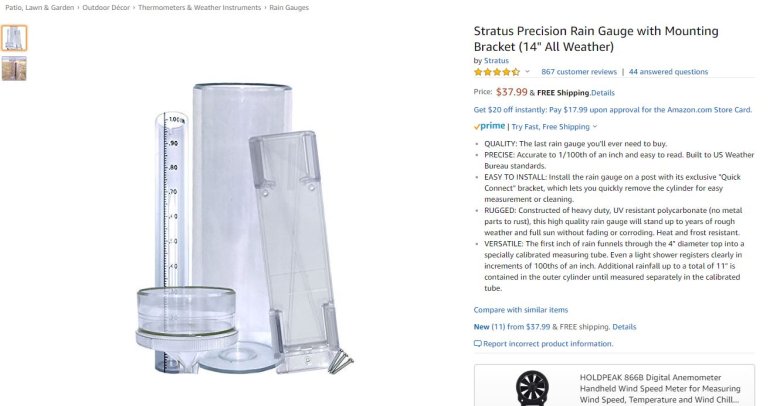 I realize $38 dollars is a lot for a gauge…but perhaps you can time this for a Christmas or birthday present.
What happens is after the 1st inch falls the excess runs into the bigger(!) overflow cylinder. You dump out the inner 1″ cylinder then start pouring the outer cylinder water into the inner cylinder until you fill it up. Dump and repeat.. Yesterday I dumped 7.73″ out of my gauge and it had lots of room for more. It will measure 11″ overall before overfilling.
With 7 day totals like this..that gauge would definitely come in handy.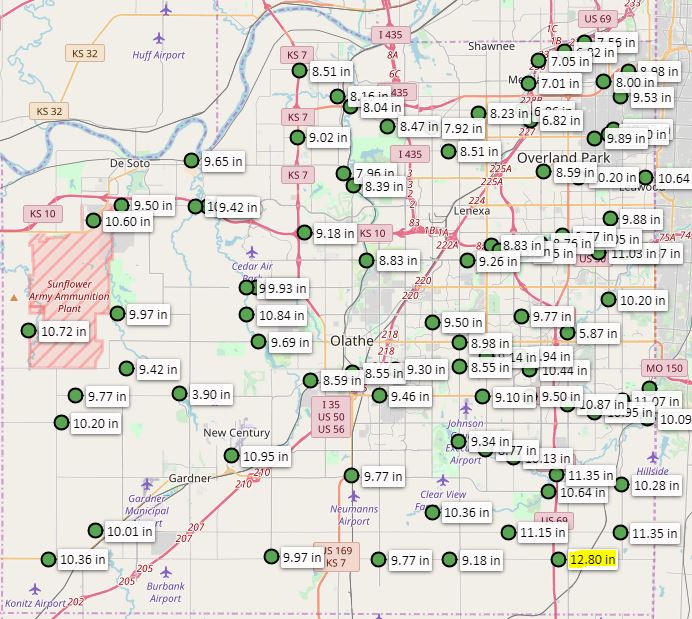 Only a small look into the region…
Doppler estimates are showing lots of white…indicative of amounts over 6″…also again note the minimum of amounts across areas towards the SE of KC.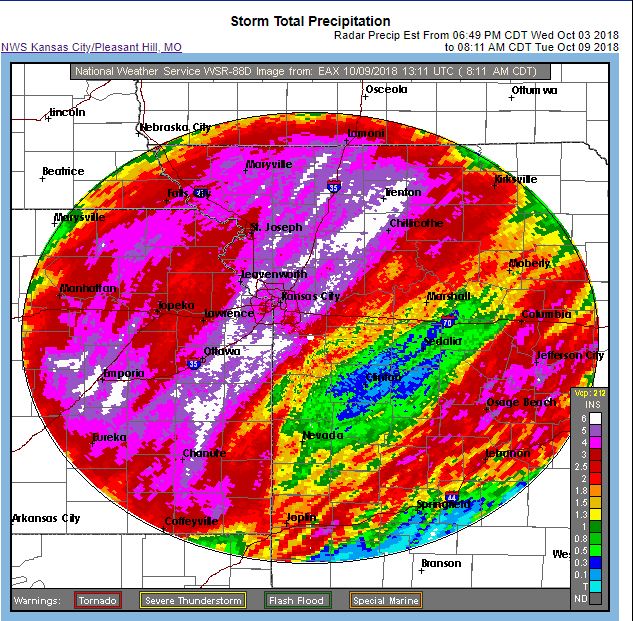 Topeka actually has set the totals higher and perhaps are more useful.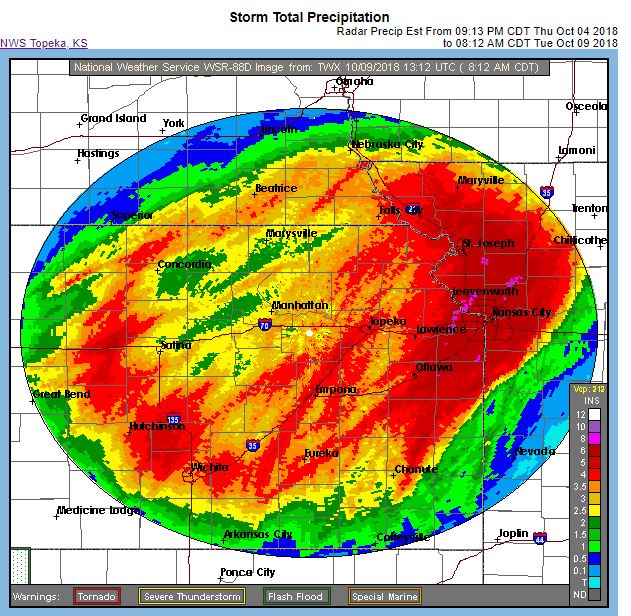 Some 8″+ bull eyes are apparent and these are also underrepresented.
Additional rains will continue to raise creek/river levels due to the saturated spoils and hence the additional flooding concerns.
In the above map counties in dark green are under a flood watch while lighter green colors are warnings. This map will light up with additional colors later today as the severe weather watches/warnings come out.
The latest surface map is a hot mess this morning with some sort of stationary front lurking in the area.
Upon closer inspection though there are outflows galore and a marked air mass difference from east to west. One of the many other aspects of the past few days has been the almost 40° swing in temperatures from KC west to Goodland.
Note the temperatures in RED above…and the drop off towards the west of KC..that air comes our way towards daybreak Wednesday…hence the chillier forecast.
The chaotic wind flow from the state line westwards…complicates the severe weather set-up locally. The ongoing rains that are moving south to north isn't helping the situation either.
This south to north moving rain is farther enhancing the air mass contrast and will prevent the KC Metro area from destabilizing till sometime this afternoon (of consequence). The faster we start drying out the more unstable we can get after lunch.
It sort of looks like we should start drying out later this morning. Then we need to at least get some sunshine locally.
That sunshine could be an issue as well.
So there are some yellow flags to a slam dunk severe weather outbreak in the KC area specifically.
Then the issue is farther east..where there isn't much rain..let's say towards the NE of KC from roughly I-35 eastwards on on the east side of the KC region…this could be more interesting later today because they are going to be warmer…and are drier this morning
As I mentioned yesterday…this might be the focus for stronger storms that have rotation characteristics. The risk of tornadoes is more in the area outlines below.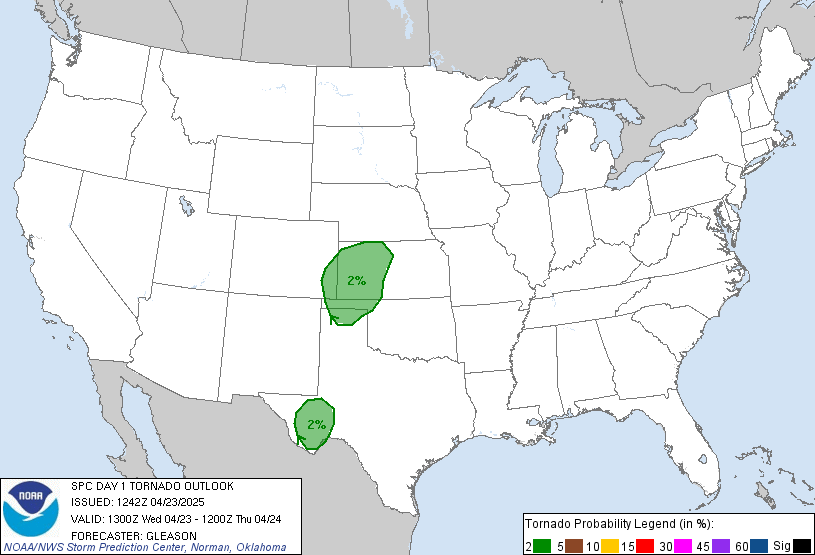 I mentioned yesterday that the low level shear and the low cloud bases will help contribute to the potential of funnels and perhaps even tornadoes. Yesterday in about the same type of set-up there were some funnels (not aware of touchdowns-update…there were 2 brief touchdowns in Nodaway and Sullivan Co) in N MO towards the IA border and there were some corresponding warnings too.
Again though this is NOT a slam dunk…there are a ton of things happening in the Plains states…and towards OK that may complicate the severe set-up locally and regionally at least.
Let's remain WEATHER AWARE FOR THE AFTERNOON.
Meanwhile a brief update on Michael…
It's strengthening…
Here is a close up loop.
There is still some shear and dry air on the western side of the hurricane that the system is fighting…but I'm impressed this morning by what's going on on the northern side of the hurricane near the eye.
There are many aspects of the final landfall that could enhance the expected damage including the fact that the area is loaded with trees that could come down depending on where exactly the core of the storm tracks.
There's actually pretty dense tree cover in the Florida Panhandle, particularly from Apalachicola up to around Tallahassee. This is why Hermine (2016) caused such extended power outages. Peak gust at TLH during Hermine was only 64 MPH. pic.twitter.com/r0lOl3Prj6

— Alex Lamers (@AlexJLamers) October 8, 2018
A somewhat farther east track (more towards Appalachicola Bay) would really enhance the storm surge potential because of the shape of the bay…to over 15 FEET potentially. So those folks want a farther west landfall.
At this writing the storm was at Cat 2 status…the last Cat 3+ to hit that area was Dennis back in 2005
October hurricanes aren't that new for that region of the country either.
Map displaying location of all October continental US #hurricane landfalls since 1851. #Michael pic.twitter.com/0PhwgGyn0n

— Philip Klotzbach (@philklotzbach) October 8, 2018
and you can see how, from a population standpoint that landfall location is a BIG deal in FL especially towards the Panhandle region. There is a lot of low populated areas in NW FL. Right now the track takes the hurricane towards Panama City, FL.
Population density Florida map from 2010. Big Bend area sparse but Tallahassee and Panama City need to keep an eye on this one (not to mention Valdosta and Albany, GA) #Michael #TSMichael pic.twitter.com/Xgz7KVO4tL

— Tim Ballisty (@IrishEagle) October 8, 2018
OK that is a ton of information…but when you write one of the most comprehensive and detailed weather blogs in the country…that's what you get!
Our feature photo comes from Chuck Weldon…lots of flooded farm fields out there!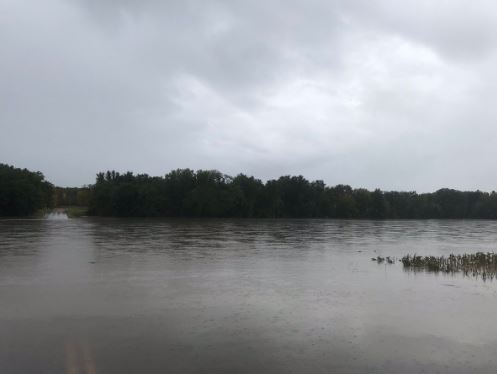 Joe