This is an archived article and the information in the article may be outdated. Please look at the time stamp on the story to see when it was last updated.
Another spectacular day in the region with bright blue skies and no clouds showing up in our skies. Temperatures dropped into the 20s/30s for many areas this morning including 33° @ KCI. Hamilton MO was the chilliest with lows down to 25°. Frosty for many this morning as well.
Forecast:
Tonight: Clear and chilly again with lows in the low-mid 30s for many.
Monday: Sunny and pleasant for November with highs in the lower 60s
Tuesday: Variable clouds, windy and milder with highs in the 60s to near 70°. Winds may gust 20-30 MPH
Discussion:
The main weather feature of the week will be a rather fast moving storm that is going to develop and intensify in the Plains states and change our weather dramatically, in a sense, between TUE and THU. For those who have a home barometer, be prepared to see it fluctuate like crazy over the course of those 3 days. For those who suffer from aches and pains when the pressure drops then rises in rapid fashion this will not be a good week for you so be prepared and be proactive to get some relief.
As of 1PM on Sunday in KC the barometric pressure is running around 30.30″. By Wednesday morning it will be closer to 29.30″ which is a significant drop…then it will be closer to 30.00″ by daybreak Thursday…so there are going to be lots of pressure swings (falling then down then back up) ahead. Some people swear by joint pain and migraines that these changes lead to aches and pains. Scientific evidence is less than convincing by anecdotal evidence from viewers seems rather strong. I'm not going to be a judge of these things, except to just advise you that swings are ahead.
The storm responsible for this change in the weather is just off the NW part of the USA and will be in the western part of the country tomorrow. You can follow the track of the storm as we go up to about 18,000 feet and look at the model data…notice as well the upper level storm that will have little to no effect on our weather tomorrow…tracking right over the KC region during the 1st part of the day Monday. There may be a few clouds with it…but the atmosphere is so dry right now that the system can't produce any rainfall it appears.
Anyway the western storm is the big ticket item here and it's going to be a doozy with VERY strong wind fields developing over the next few days aloft.
It's actually interesting to see how one system really doesn't change our weather (Monday's system aloft) while another will rapidly influence the surface weather.
As the western storm moves into the Rockies it will ramp up a surface low in SE CO…which will strengthen as it moves into SE NE and eventually into the Lakes region by Thursday.
Notice this coming together on the NAM model forecast.
As the surface storm forms, strong south winds at the surface and SW winds aloft will bring in moisture from the southern part of the country. Those strong surface winds will allow the dew points to go from the 20s/30s now into the 60s by Wednesday AM (if not earlier). The problem though for this storm is that this is happening so fast that the moisture may be confined to the lower reaches of the atmosphere…
Attached to the storm will be a seasonably strong cold front that will move into the area Wednesday afternoon. Here is the noon surface map showing the main weather features for Wednesday.
That's a pretty wound up surface low!
So the front will be coming through around lunchtime it appears. Moisture will be in place ahead of the front…at least in the lower part of the atmosphere and strong wind fields will be in place above us. While the surface winds may be 20-30 MPH…the winds at lunch Wednesday around 9000′ or so will be closer to 75 MPH and up at around 18,000 feet will be closer to around 100 MPH! This is impressive wind shear (speed) through the atmosphere. There is some thought to IF we can get convection to fire off in eastern KS and move in towards lunch (it may be before noon though) that the storms, even though the "instability" will be low may be strong enough to generate some gusty winds at the surface.
Here is the thinking…with such strong wind fields above us, again close to hurricane strength winds below 10,000 feet aloft…should storms tap into those strong winds, and should they be able to generate heavy rainfall, that some of those strong winds could work down towards the surface creating severe thunderstorms. I'm NOT sold on this for the state line area at this point (but am watching). My feeling is that the risk of severe storms (like I mentioned on Friday) is farther off towards the east of the KC area (perhaps more towards the MS River region).
Here is what the SPC is thinking at this point…for Wednesday.
Regardless of all this, the storm motions will be VERY fast…on the order of 60-75 MPH maybe…so IF something can develop close to home it would be in and out so fast that whatever rain we get will be minor in amounts it appears.
Once again behind this front coming…there is a seasonable shot of cool air but not a Canadian air mass…nor do I see any real cold air masses coming down the pike at least into Thanksgiving week, if not longer than that. I want to show you 2 maps of the temperatures (relative to average) at the 850 mb level (about 5,000′ above us) and what the maps show is a distinct LACK of really cold air masses forming and dropping out of Canada.
The 1st map is from this morning…so it's more of an analysis…the 2nd map is 10 DAYS from now…notice the lack of "bluish" colors denoting the real cold air.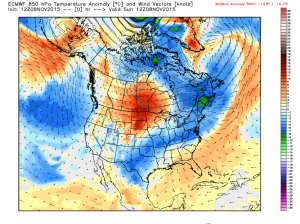 What I really don't see at this point in time is a "hard freeze" heading towards the KC area…sure there are more "frosty mornings coming…but no real intense cold. I'm wondering IF I'll be mowing growing grass into early December this year…
Bottom line to me is that the storm for Veterans Day will probably be remembered more as a wind generator for us in the KC region. It may create snow in parts of the Rockies through the upper Midwest…and farther east fast moving severe storms will be possible.
That's it for today…things may change a bit over the next couple of days as the system out west comes into the US and is sampled better by our weather balloon network.
Joe