This is an archived article and the information in the article may be outdated. Please look at the time stamp on the story to see when it was last updated.
I didn't realize how much people have been reacting to the ice storm potential until I got to gas station last night and saw so many cars waiting in line for gas…the most since the 9/11 tragedy. Judging from other conversations and pictures…the grocery stores packed them in as well…so IF nothing else nobody can say…"well we didn't know it was coming". The questions today are 1) when will it get here in earnest 2) how long will it last 3) how much ice may occur and 4) when will it end. There are probably a bunch of other questions as well. I'll try to answer them in the following blog.
Forecast:
Tonight: Cloudy skies with pretty steady temperatures in the 20-25° range. There may be some patchy areas of freezing drizzle/mist moving through the area. It will be VERY light…but remember, especially on untreated surfaces…small amounts go a long ways to creating slick conditions. Just be alert IF you start seeing stuff on the windshields overnight.
Saturday: Mostly OK. Cloudy and cold with highs around 30° or so. Some could creep a bit above that briefly in the afternoon. At this point…anything beyond a few areas of freezing mist or drizzle is NOT expected through the afternoon.
Saturday night: It's this time frame that we'll be watching, especially towards and after 9PM-3AM Sunday as a large area of freezing rain developing well off towards central KS moves our way. This should arrive before daybreak (if not towards 12AM) Sunday or earlier.
Sunday: The worst of the ice should occur during the 1st part of the day through the middle of the afternoon. Temperatures will edge closer and closer to 32-33° during the afternoon especially and those temperatures will vary in the region. Some may have afternoon freezing rain while others just have plain rain. The majority of the ice accumulations (97%) will occur in this time frame (late SAT night into SUN). The freezing will will end or convert to liquid drizzle later in the afternoon. I still expect very messy conditions on Sunday, especially in the AM…so don't let your guard down yet regarding the ice potential.
Discussion:
I've been trying for the last 24 hours to put a few horses back in the barn. I've sent out some tweets alluding to what has been said and where the information has come from. Clearly everybody in the region is aware of the scenario…today though some are wondering what's going on I think. Where is the "devastating" or "crippling" or "catastrophic" "icemegadon" ice that is supposed to come.
Well it was NEVER supposed to be today…or really Saturday (in terms of any real impact icing) at least in my opinion. Could there be some light glazing…sure…but anything more significant was always going to wait
There is/was an opportunity for some patches of LIGHT freezing mist/drizzle this evening and overnight…that remains true. Be alert for that…but the road treatments should hold up nicely tonight because what falls should be light enough NOT to wash the treatment off the road…same as Saturday (daytime). IF there are any issues in the KC area…they should mostly be on untreated surfaces (IF there are issues at all).
The upper level storm moving into northern old Mexico is doing what was expected. The cold air at the surface has pushed, perhaps, a few counties south of what was progged. That has been beneficial to us because the patches of VERY light ice towards Sedalia and southwards now would've been into at least parts of the KC metro had that not occurred.
We'll have to wait till tomorrow night into Sunday AM for the more serious precipitation to spread into the region.
That aspect of the storm, right now still seems to be on target. Model data is still bullish on a significant ice storm locally. This will NOT be a repeat of 2002…something that I've written about and blogged about for days now. The amounts of ice will not be as heavy…nor with the winds be an issue like back in 2002.
Please read yesterday's blog for more information regarding power issues.
There have been some discrepancies regarding who gets how much however…and that sort of continues today. At this point it appears areas farther north of KC get lighter ice accumulations…while the KC area may get a bit more. More on that in a few minutes.
Our model data shows the amounts of liquid equivalent that when accounting for rain rates and dripping rates…need to be cut by about 20% or so for actual icing totals on horizontal surfaces.
Again for the sake of argument and thinking that the 32° will NOT be reached through at least NOON SUNDAY locally…here is what we're looking at for liquid totals…these numbers will NOT equate to ice thickness though…again as explained yesterday.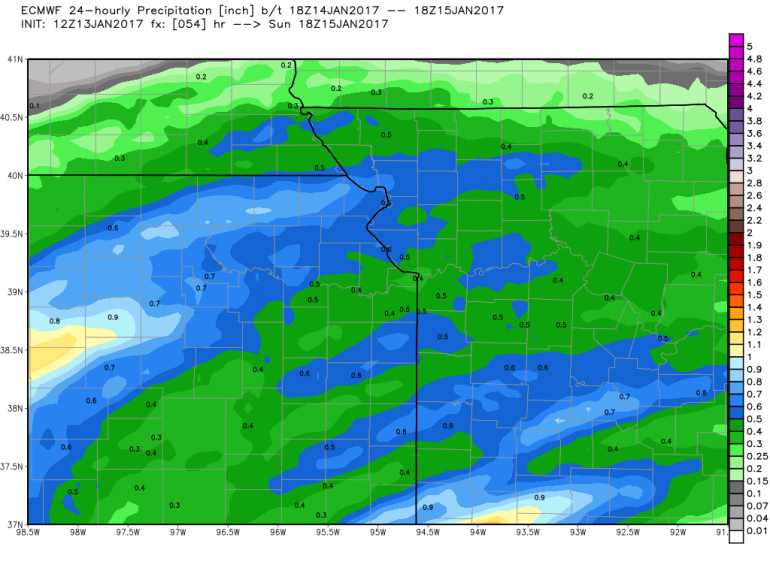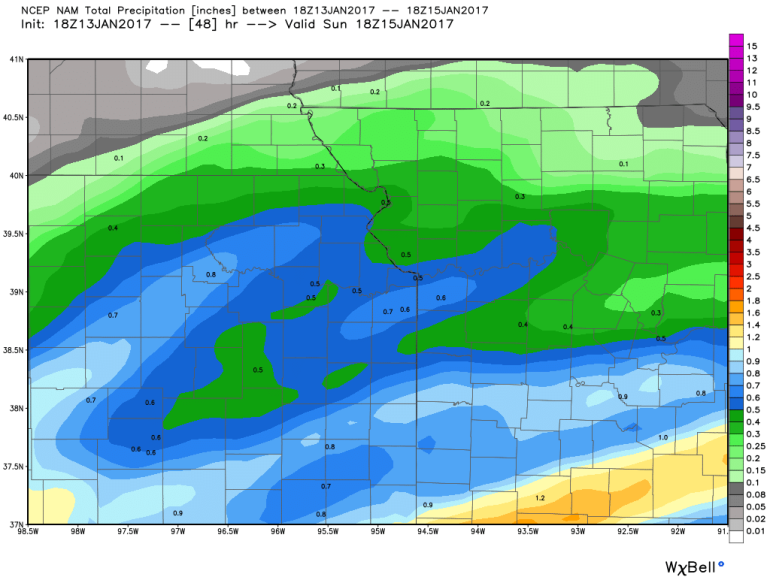 So were still looking at roughly 1/4″-1/2″+ in some cases of ice. This is still a significant ice storm…delayed (by some forecasts) but perhaps not denied.
Ice storm warnings are in effect.
So the bottom line is that the worst part of the ice storm will again be very late Saturday night into Sunday. Normally I'd say kickoff for the Chiefs…but that game has now been moved to Sunday night.
Speaking of which…there may be some liquid drizzle or mist during the game itself. Temperatures will be in the 33-35° range I think.
The storm itself will finally move through and then exit the area Monday into Tuesday. How far north the surface low will get on Monday will play a huge role in temperatures on Monday. IF the storm comes farther up the state line…we could be in the 50s…IF not and IF it stays to the south of the area as the NAM model shows…we may only be in the 30s and 40s.
Regardless we should get back into some pretty decent rain sometime later Sunday night into Monday…
After a coolish Tuesday…we actually have some milder weather coming our way WED>FRI of next week.
Our feature photo comes from Rick Zielinski of a sunrise at Railroad Park in Blue Springs, MO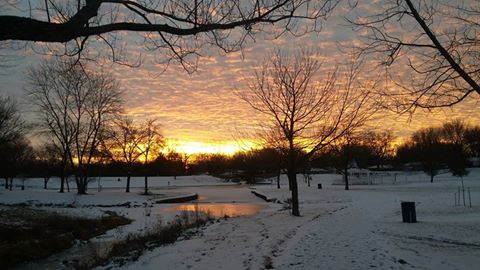 More over the weekend.
Joe