This is an archived article and the information in the article may be outdated. Please look at the time stamp on the story to see when it was last updated.
A messy morning out there today because of the freezing fog…that has now gradually burnt off…and finally we're seeing more afternoon sunshine. Temperatures run the gambit this afternoon. Mid 50s to near 40° as I type this blog up today. Some good news is that, into Saturday at least, we're looking mild. We'll start to transition to colder weather next week. At this point nothing overly cold is in the cards for awhile…just chillier it appears.
Forecast:
Tonight: There should be an expansion once again of the low clouds and perhaps some fog overnight. Temperatures though should remain more steady tonight as opposed to the quick drop last evening. So hopefully it will be above freezing all night. Lows near 35-40°
Thursday: Clouds and a few rain showers, especially on the MO side. Temperatures should top off near 50°
Friday: Clouds and somewhat milder. maybe an isolated shower or two. Temperatures in the mid 50s
Discussion:
Well at least Saturday will be bright and mild. Clouds though will be an issue before hand…and probably after Saturday as well.
The afternoon satellite picture shows still some leftover low cloudiness on the MO side especially with more mid level clouds trying to come up from the south
There is a lot of moisture to the south of the region as you can tell…so with more of a southerly component out there…this moisture will eventually get into our region.
Strangely though there is an upper level circulation spinning across KS right now…you can see it on the water vapor loop but it's broad and diffuse.
It will though sort of "spin" on through the area tomorrow into Friday. With enough moisture we should see at least some areas of drizzle develop in parts of the area, although a lack of mid level moisture means getting much more that drizzle may be tough. Sure perhaps a few patches of light rain…but that should do it. Another circulation off the CA coast will quickly head our way on Friday, followed by another one on Sunday that looks to pass well south of the KC area.
All these disturbances and circulations should create snow…somewhere…anywhere…but alas…nope. Above the surface the temperatures in the atmosphere are just too warm…the real arctic air has been shoved well up towards northern Canada. As a matter of fact…take a look at the GFS model surface temperature anomaly for the hemisphere.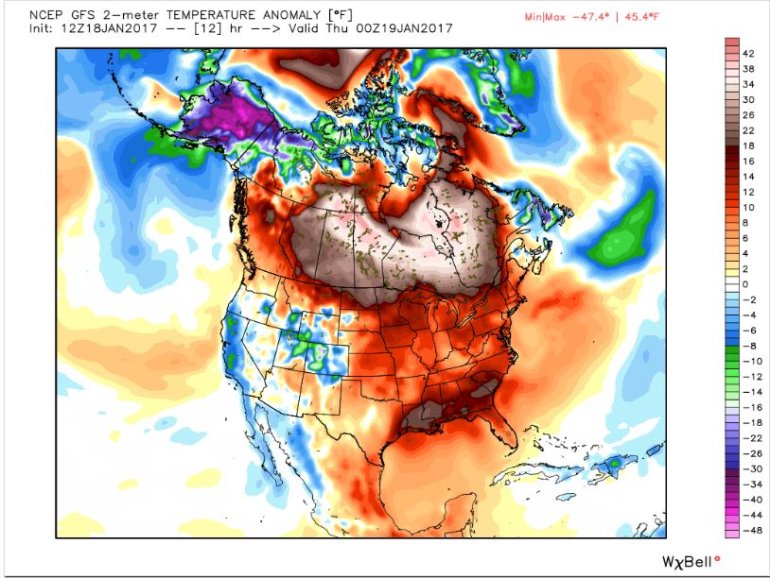 At 1PM…you can see the coldest air well up towards the Arctic Circle…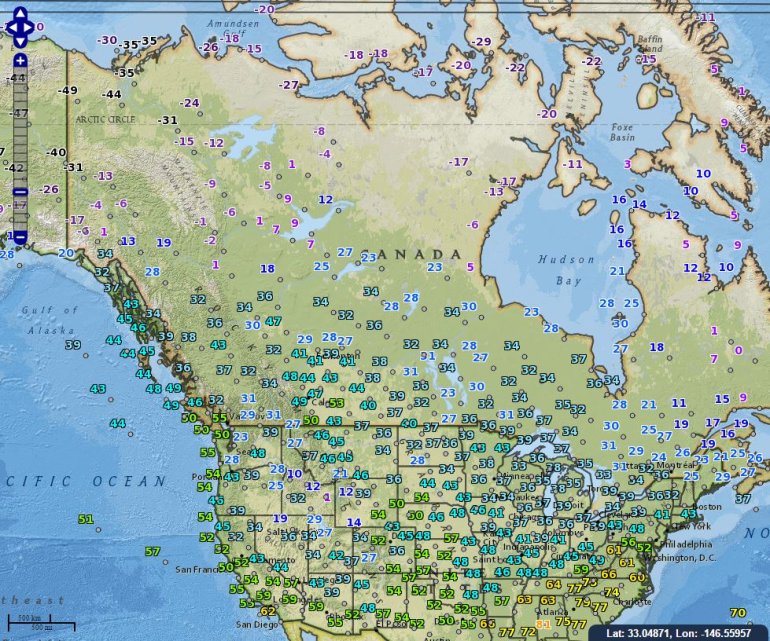 There is some frigid air though up in Alaska…including a -54° reading at 1PM CST.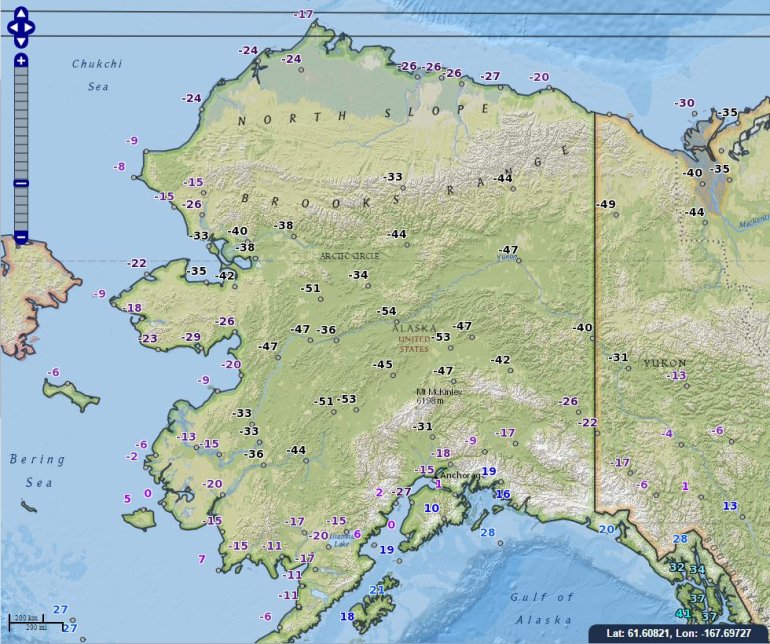 The Fairbanks airport dropped down to -50°F this morning. This is the first 50 below reading at the airport since Jan 29th of 2012. #akwx

— NWS Fairbanks (@NWSFairbanks) January 18, 2017
So where are we going?
Well for snow lovers it's no secret this has been another frustrating winter thus far…and really there aren't great signs of change in that regard. You look at the various model runs and you can see some potential but it appears there's always something not right. This week into the weekend it's a lack of cold air…next week when we get cold again…it will be a lack of storminess after Tuesday. The next 5 days we have all sorts of storms…then we have no storms. Frustrating!
For snow lovers I just saw this come out…this is based on city populations of at least 100,000
Just Updated The Top 25 Snowiest Big Cities in the US. #Anchorage, Alaska & #Lakewood, Colorado on the move. https://t.co/VZRD6DGFNK #snow pic.twitter.com/SD0XDry8t5

— Patrick DeCoursey (@GoldenSnowMan) January 18, 2017
Meanwhile in other news…2016 goes down as one of the hottest years in modern times worldwide according to NOAA. (graphics below via Climate Central)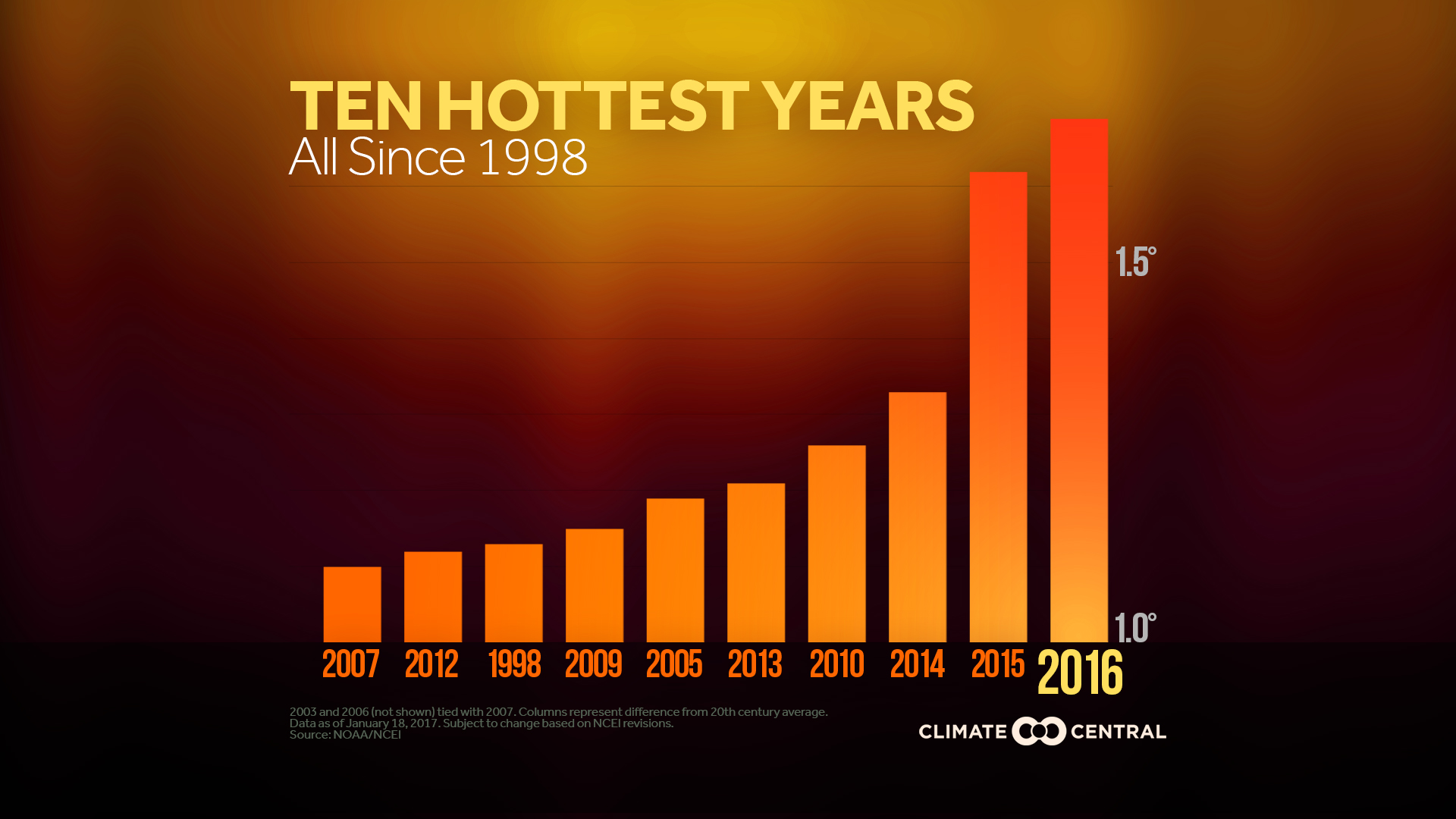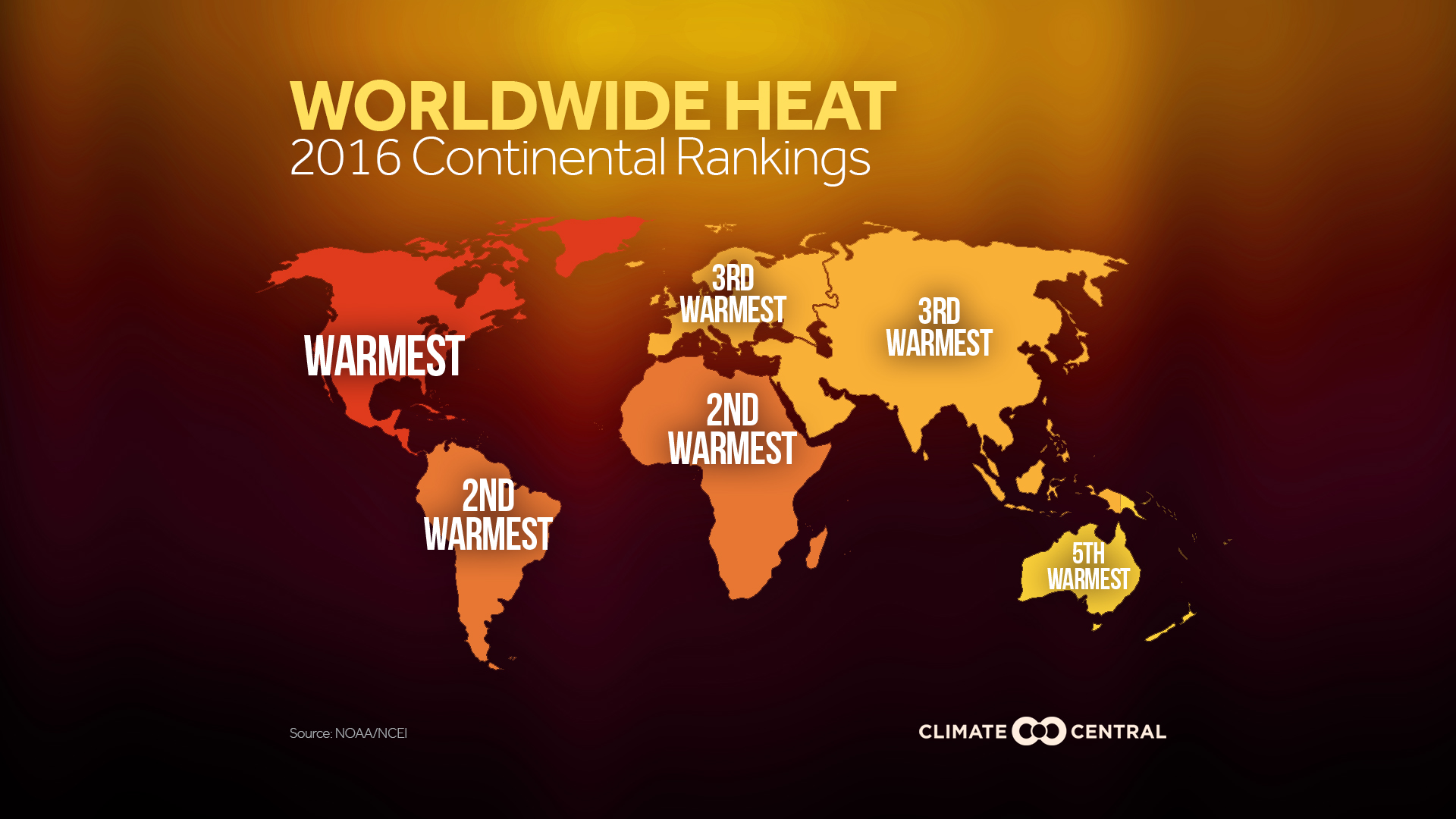 El Nino played a very large role in this but still…it was going to be a warm year even without El Nino.
In KC out year was 2.7° above average. May..August (barely) and December weer the months below average in 2016. Every other month was above to much above average.
Finally…severe weather. Today the NWS in Pleasant Hill released the schedule of severe weather spotting courses that will be conducted through the region over the next several months. These are the 1st ones scheduled. The debut is Monday the 30th in Olathe. I urge you to go to one of these. They're free…typically start at 7PM and are a great way to learn about severe storms.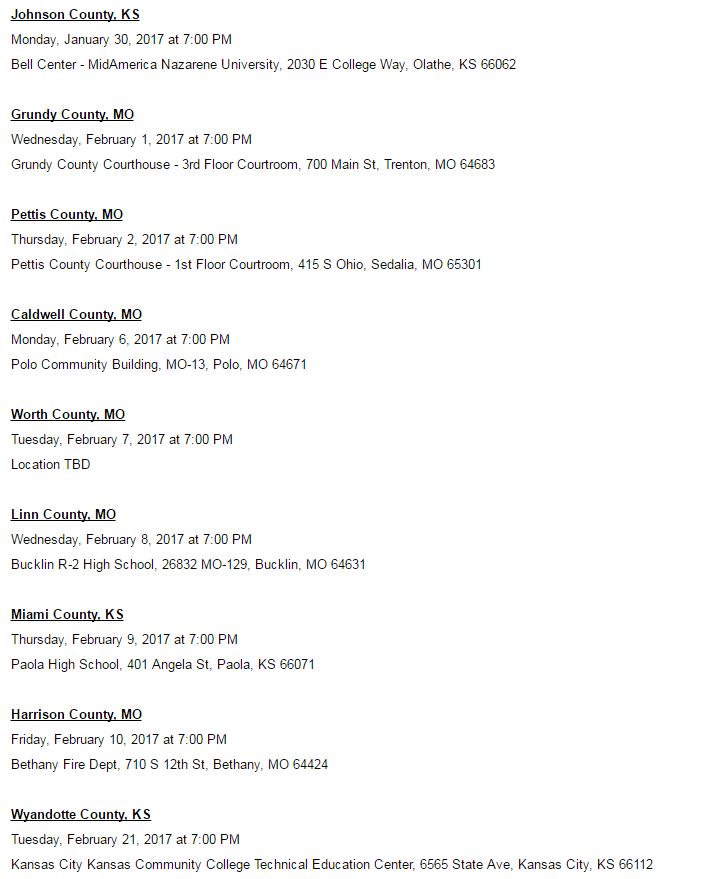 OK that's it for today…sort of a blah day but at least the sun is back out again…for now.
Our feature photo is from Lance Eberhardt…of the heavy frost from this morning. It was a hoar frost.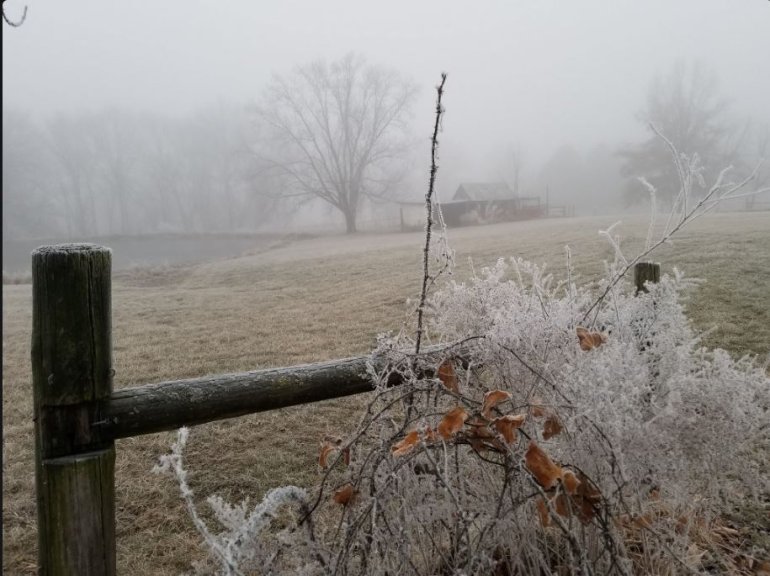 Joe