This is an archived article and the information in the article may be outdated. Please look at the time stamp on the story to see when it was last updated.
My goodness this weather. Another record low temperature this morning. KCI went down to 28°. Yesterday the blog mentioned this chance and sure enough…this April has not been the best April for the area…folks are cranky and I get it…totally. While it was nice to mow the yard for the 1st time yesterday and not sweat like crazy…there just seemed to be something not right about the whole thing. There are no leaves on the trees in my yard…strange for this time of the year.
---
---
Forecast:
Today: Mostly sunny and a bit more pleasant than yesterday with lighter winds. Highs in the 50s
Tonight: Not as cold but still chilly with lows in the 30-35° range. The record is 29° set in 1953…we may get close
Friday: Some high clouds moving in…more seasonable though with highs in the 60s. Breezy SE winds of 15-25 MPH in the afternoon.
---
---
Discussion:
This has not been a nice month. Any nursery or outdoor store has probably seen huge sale declines…not only here in KC but across most of the eastern 2/3rds of the country I'm guessing. It's been nasty cold…locally our weekend weather has been atrocious (this weekend may not be that great either) and it's snowed or been windy…or rained…or something it seems. Check out the bottom map…showing the temperature anomalies…this will auto update later today.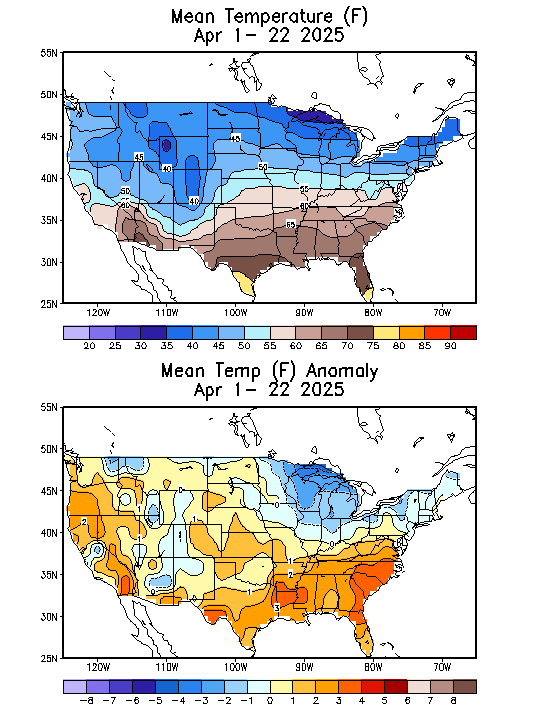 Here is a more colorful map…the core of the anomalies have been across the upper Midwest…but we're into it big-time. Our temperature this month is running more than 11° below average. That's VERY impressive considering we're now 18 days through the month.
Here is a prettier version showing this.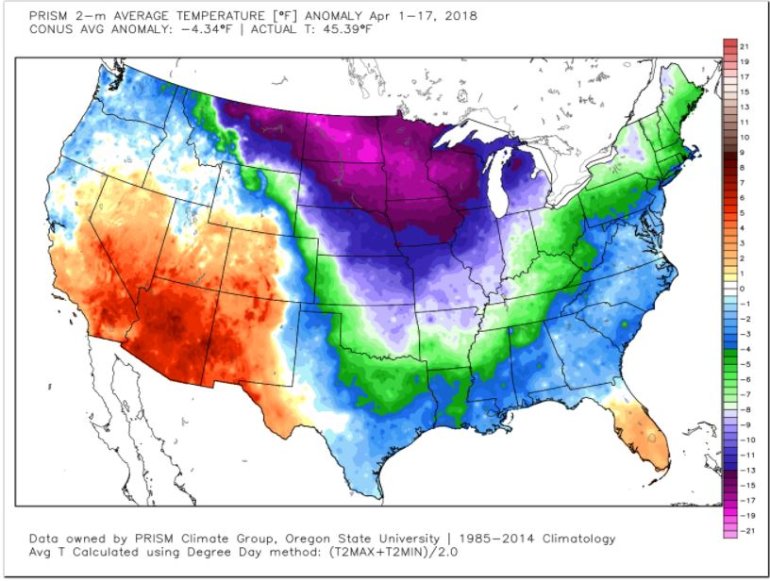 As you know I've been point out for a couple of weeks every so often about how this April ranks in terms of "coldness". Did you know there are 2 ways of looking at this. Some look at the 1st 18 days of the month..come up with an average, and then compare that to the monthly temperature (as if the entire month is finished already). If you do this…you come up with this.
The problem with this approach, in my opinion, is it's not a complete picture. The data being compared to has another 12 days of averages that is being ignored in a sense. Now IF you were to add in the line…"IF the month ended today"…that would be fine and dandy imo.
I like to compare apples to apples and just purely look at, in the case of today's blog, the 1st 18 days of the month. Compare what has happened April 1st -18th (yesterday) with ALL the other 4/1s through 4/18s that I have records for. By doing that you come up with this ranking.
The chart above shows that, at least through the 1st 18 days of the month…there was actually a colder April start…back in 1983!
So let's look back on 1983…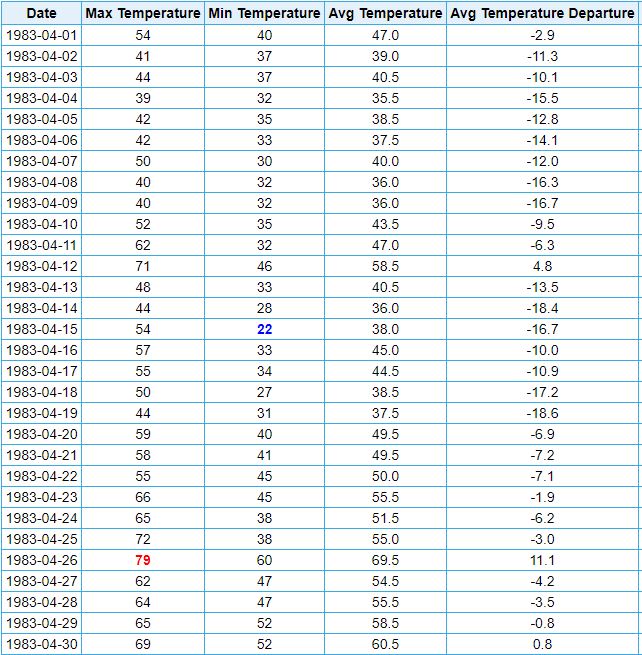 Now let's compare to this April (so far)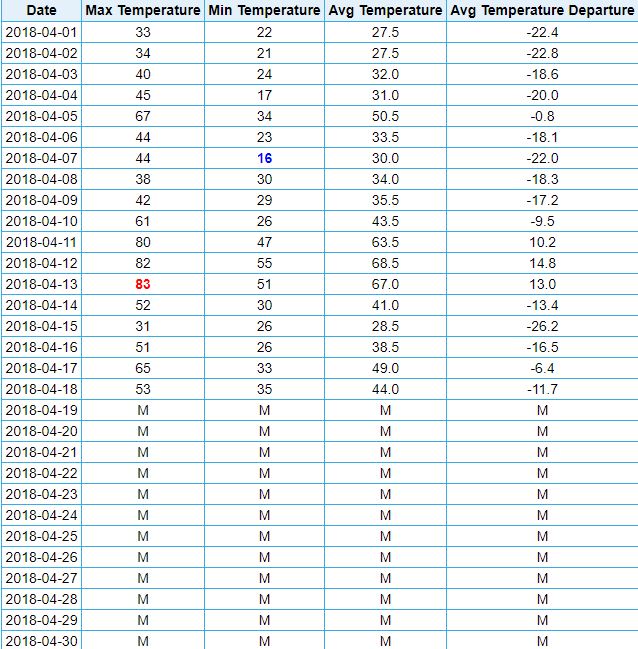 You can compare and contrast those numbers, especially the "departures from average" values to get an idea how the 2 Aprils are similar. In 1983 we started to steady out a bit compared to average for the last week of the month.
Onto the "dryness" of things…again as I've blogged about…it's pretty bad out there to the SW of KC especially and also to the immediate north of KC. The worst is towards SW KS and southwards into the OK/TX Panhandle. Here is a look at the last 6 months of precipitation. Note the "hole" across the TX Panhandle region.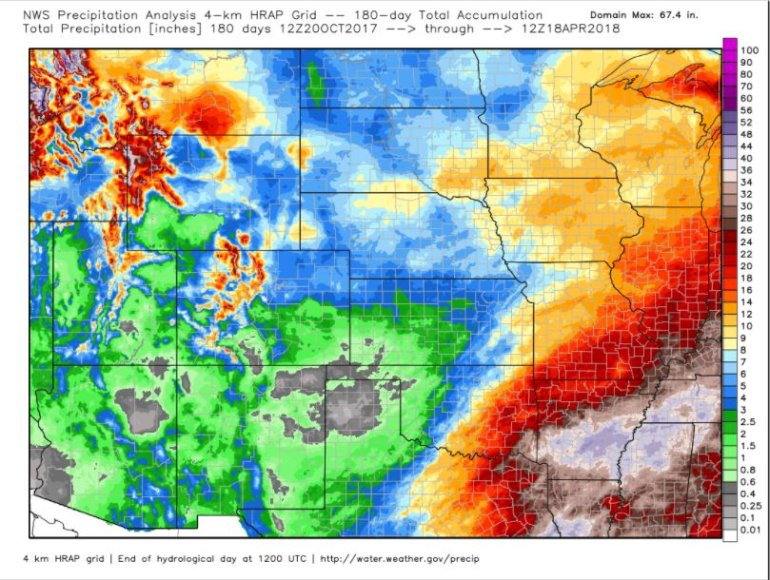 Here is a close-up of TX…notice the huge variation from the Panhandle to far eastern TX…nearly nothing to over 40″ in the last 6 months!
Now some good news…there is going to be some rain, perhaps more than they've seen in months across the TX Panhandle and into western KS/OK too. Here is the rainfall forecast through Saturday.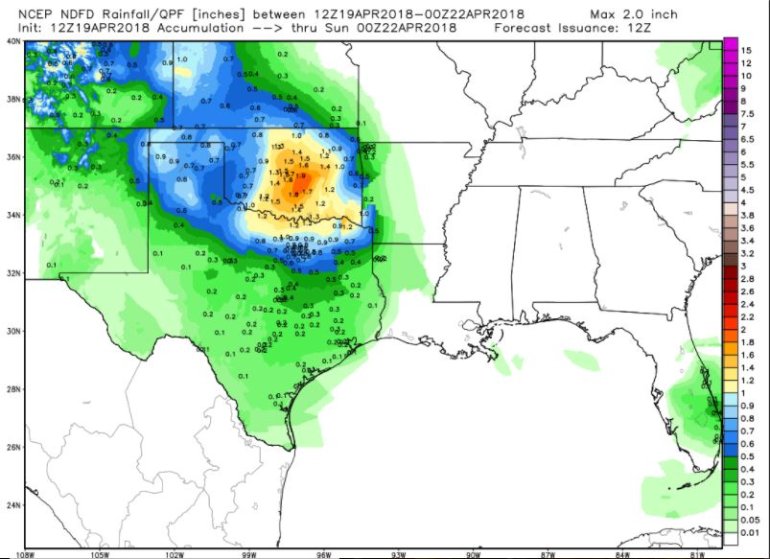 While 1/2-1″ of rain would be a drop in the bucket for Amarillo, when you've had .25″ of moisture this year…and last year through the 18th you had close to 6″…it would be significant.
I would imagine their excited about the prospects down there and instead of forecasting fire weather conditions…they get to forecast something else for a change.
As far as our area goes…while we won't get a lot of rain this weekend…I'm not yet totally confident we'll get nothing either. I could see a path of us fighting patches of light rain or drizzle on Saturday/Sunday in the area…especially from KC southwards. It may not add up to a lot…and there will be drier air below 10,000 feet that should put up a fight to evaporate whatever falls…but I still can't rule out something light being in the area…certainly with a lot of clouds also tending to keep temperatures below average.
Our feature photo comes from Peggy Van Beeber of developing thunderstorms from last week.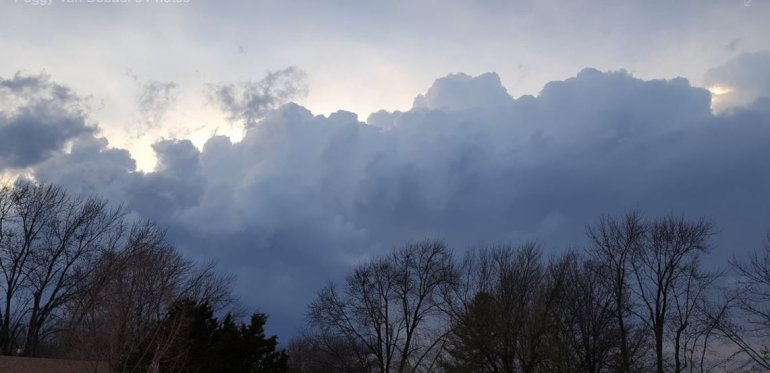 Joe