This is an archived article and the information in the article may be outdated. Please look at the time stamp on the story to see when it was last updated.
Well it came down hard and fast for many areas last night, not everybody got a lot but most of the KC metro area fared decent to great depending on location. KCI ended up with 1.25″ yesterday in a late evening downpour.
Forecast:
Rest of today: Mostly to partly cloudy with a chance of some lunch time onwards showers. The chance is about 20-30% or so. Most areas should be dry. Highs should be in the 80s.
Tonight: At this point only about a 20% chance of some storms. Lows in the 60s.
Tuesday: Partly cloudy and hotter. Highs near 90°. Storm chances about 20-30% for the KC area, although N MO may be more in a favorable spot for storms (potentially severe) later in the afternoon/night.
Discussion:
Let's start with the rain totals…not perfect but at least everybody saw something. An overview from Doppler indications shows areas off to the SE of KC didn't fare as well as areas to the N/W of the I-35 corridor.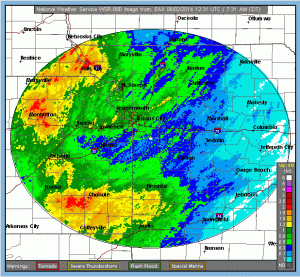 The light green represents 1/2″ totals…now for more specif information via the OP Storm Watch page.
Use the arrows on the side of the images to click through them from north to south.
Today is sort of a tricky day. We've stabilized for now behind the strong wave that moved through…however as we see additional sunshine and since there isn't really much of a cap…we may be able to pop some additional convection later this afternoon. It would probably be random in nature. The surface pattern is rather chaotic so at this point I really can't identify any favored areas should it even happen.
As for the rest of the week…really everything that I wrote in yesterday's discussion pertaining to TUE-SAT continues…there is still potential for additional heavy rainfall towards later Friday into Saturday.
We should cool down towards the end of the week as well.
We're more or less in a favorable pattern for the next 10 days or so for development of thunderstorm complexes…so let's get more widespread rainfall while we can!
I'll be away from the computer quite a bit for the next couple of days. I may try and get a blog together tomorrow but it may not happen. Just an FYI for you.
Joe