This is an archived article and the information in the article may be outdated. Please look at the time stamp on the story to see when it was last updated.
It's no secret that this has mainly been a miserable last month+ in the KC area…as a matter of fact Thursday with temperatures averaging out to exactly "average" was a string breaker. We had 12 straight days of below average temperatures since yesterday. More on that in the discussion. Today's "snow" event should be a non-event. Sunday still needs watching and could be more impactful in the morning hours.
---
---
Forecast: 
Today: Increasing clouds and colder with afternoon highs near 40° but it will feel colder all day because of 10-20+ MPH North winds. We're starting the day near 40° and may actually drop a bit before leveling off today.
Tonight: Perhaps some sleet or a few ice pellets during the evening…minimal to no impacts. Lows tanking through into the record low range on Saturday morning. Record is 18°…we should drop to about 14°
Saturday: Mostly sunny and chilly for early April with highs in the 40s
Sunday: Sleet/snow/mix possible in the AM then mainly cloudy with some rain showers in the afternoon. Need to watch for some slick areas in the AM. We should creep above 32° in the afternoon sometime. Only minor accumulations are likely…under 1″ if that much of snow/sleet. Highs in the 30s. It will be another raw and cold day.
---
---
Discussion:
The snow "thing" today is nothing to worry about it appears. Yesterday I blogged about that. No need to rehash the reasons why.
Sunday will need watching…as a stronger mid level wave comes through the Plains. This one should be more potent that today's weak and unfocused wave…but it too will be zipping through the area…so whatever happens…probably during the 1st part of the day Sunday…will happen quick. My concern is that it should remain below freezing for most of this…so what falls could either be some sort of wintry mix of sleet and snow. It's worth paying attention too.
Meanwhile the cold weather will linger into Tuesday morning…as I mentioned yesterday we may be on record low watch again on Tuesday.
After that there are some decent signs of a few days of warmth although another front will try and slip into the area on Thursday. IF it has some punch…we'll get a one day warm-up on Wednesday, perhaps to near 70°. IF the front doesn't have enough punch…then we've got some 70s and perhaps near 80° weather heading our way towards the end of next week.
About this cold…
So far in 2018…we've had 53 days with below average temperatures. 40 days with above average temperatures and 3 days of average temperatures (including yesterday). As I mentioned at the top…yesterday's "average" day broke a streak of 12 straight colder than average days in KC.
While I expect more of a back and forth into mid-late April…the net average may remain on the cooler side of things…the latest CFS model indicates this potential.
Remember the temperature anomalies are in blue and there are a lot of them…and the scale used above is in °C not F..s.so you can double the scale numbers on the left.
The EURO ensembles more or less agree as well for that time frame…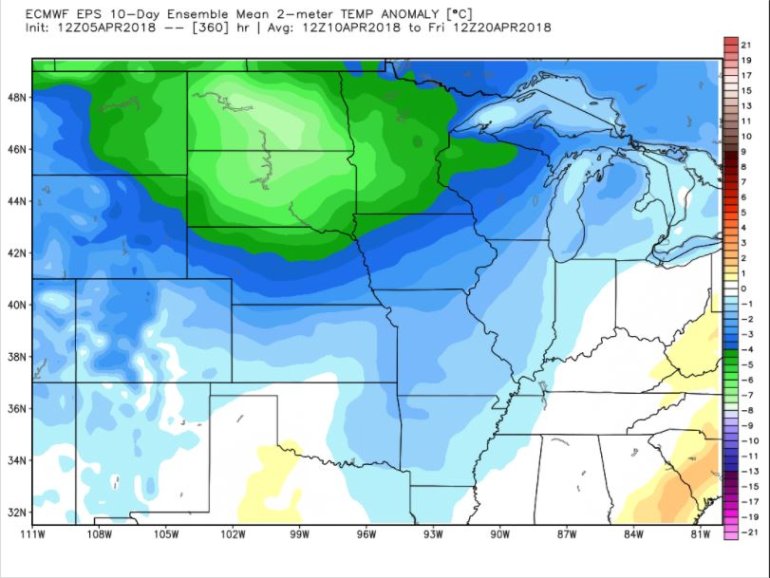 Except they are much more dramatic across the northern Plains region…that is a ton of colder than average air in mid April. Wonder about that…
Also…at some point with these sort of anomalies…there has to be some sort of large storm system. One of those where you have some sort of powerful surface storm…somewhere either in the Plains or the upper Midwest with severe weather on one side and near blizzard conditions on the other side. The "meteorology" of the pattern should dictate that. The EURO is sniffing something later next week…and I'm wondering it it might be on to something…
All that cold air…trying to come southwards…with warmer and warmer weather building in the southern Plains and SE part of the country…March was like February…April seems to be more like March…I wonder if that's a set-up to a few big ticket storms in the central US (somewhere). Big wind machines…dust machines…severe weather machines…snow machines…something to ponder in the next 10-15 days.
How KC plays in the positioning of all that remains to be seen.
Here's something interesting from JAN>MAR there were NO tornadoes recorded in OK…that's only happened 11 times since 1950
Since 1950, Oklahoma has finished Jan/Feb/Mar with 0 tornadoes 11 times, including this year. The latest first tornado was 4/25/1962, according to https://t.co/iyG2FnBR38. Apparently 1987 and 1988 had 0 tornadoes in April. @islivingston @splillo pic.twitter.com/3QyRe6Q9Ub

— Quincy Vagell (@stormchaserQ) April 5, 2018
The season overall has started "slow" again. 145 reports so far…250 is "average" through 4/4 at least. Today could be a rather active day across the southern US…especially the Dixie area.
April is typically when things start going…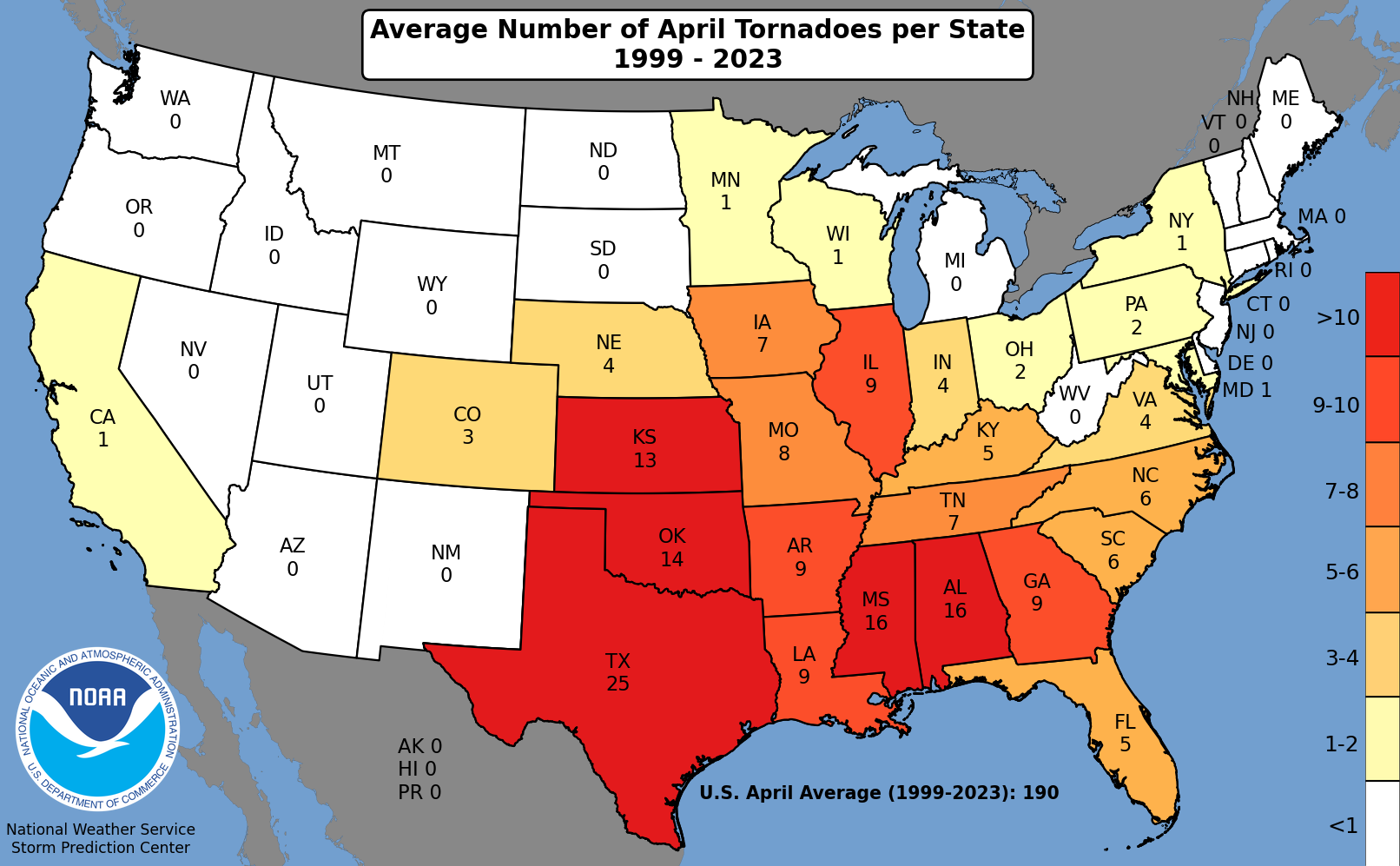 We'll need to watch that late next week system for something more potent when it comes to severe weather
Our feature photo comes from Matthew Reinschmidt of a nice Spring sunset yesterday.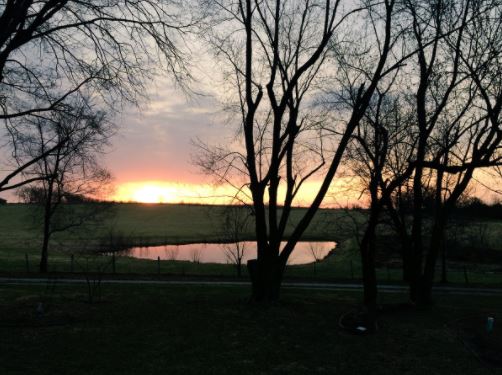 ‏
Joe