This is an archived article and the information in the article may be outdated. Please look at the time stamp on the story to see when it was last updated.
Good afternoon…I'm looking out my window right now…and I see sunshine on the east window…and outside the west window there are raindrops coming down. It's just one of those days in KC. The clouds overall are keeping a lid on the extreme temperatures but regardless of which window I look out of, I know there is a lot of moisture in the air because the dew points are near 75° which is pretty darn thick for us, but with the way the summer has gone, not that unusual it seems these days.
Forecast:
Tonight: Scattered storms are possible overnight into early Monday AM. The rain chance is about 30% for any one spot. Although the better chances may be farther south of KC. Temperatures will remain warm and the dew points will continue to be high with lows in the 70s
Tomorrow: Variable clouds with a chance of some scattered storms into the evening at any time. Rain chance about 30%. Highs should be into the 80s. Dew points still high but will start coming down Tuesday AM…nothing extreme but it should be a bit more tolerable for a couple of days starting Tuesday.
Tuesday: Mostly sunny and pleasant summer weather with highs in the low>mid 80s. Dew points will be closer to about 60-63° which will be rather pleasant overall in KC.
Discussion:
I thought this afternoon we'd touch on the tropics. Things on the Atlantic/Caribbean side have been rather tame so far. We've had 3 named storms for this tropical season (Ana, Bill, and Claudette). Thus far there have been no hurricanes. Here is an image from Unisys showing the activity out there so far in 2015.
In reality though…having only 3 named storms, a storm gets a name when it becomes a tropical storm with sustained winds over 39 MPH, is not unusual though this time of the tropical season. On average there are 3 named storms through the 13th of August. So really this is "average". By now we've typically had at least one hurricane. That hasn't happened.
The peak of the season is still about a month away as well.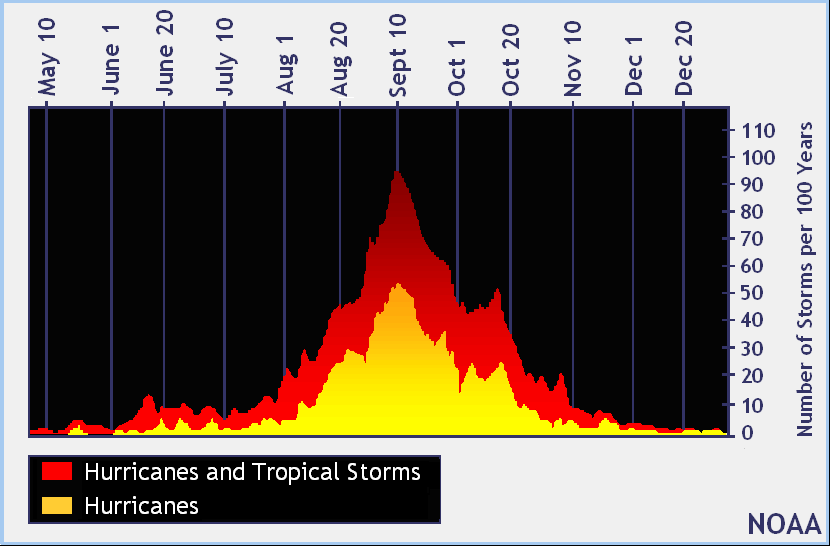 From a climatological standpoint, things are supposed to get much busier over the next 30 days.
The thing is though…that things are actually amiss in the tropics, especially out in the typical breeding grounds of the central and eastern Atlantic Ocean. During the month stronger "tropical waves" come off the African continent and move eastwards slowly gathering strength in some cases, and if so, then becoming named storms.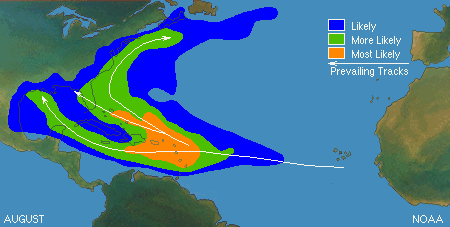 So your asking yourself what's "amiss" in the tropics. Well just like in certain years conditions can be more favorable for an increase in the number of named storms…there are some years (last year and this year) where conditions are less favorable for organized systems.
This year one of the reasons why we're having a tougher time seeing organized systems that have the potential of becoming something more noteworthy is the developing El Nino which is in progress in the equatorial Pacific Ocean. The map below via WeatherBell and notated by myself, shows the sea surface temperatures anomalies across the world. I'm most interested in what's happening in the Pacific closer to the equator and also in the Atlantic north of the equator.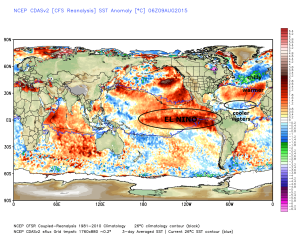 Where you see redder colors, that's warmer than average water and where you see bluer waters, that's cooler than average conditions. Tropical systems don't like to have cooler than average waters to go over. That reduces the amount of potential energy that the systems can ingest in a sense. It would be like a car than needs premium gas that instead is forced to use sub standard less than regular type gas. They can run perhaps but not too efficiently.
It's interesting to note as well the vast expanse of warmer than average sea surface temperatures off the coast of Spain and westwards…that would suggest that IF possible a tropical system might be able to maintain it's strength longer IF it can work it's way into those waters…however the typical breeding ground is farther south.
Over the net 10 days or so the points of genesis of named storms are scattered through a good part of the Atlantic basin…
It's going to be tough to get anything going in the Atlantic region east of the Caribbean islands because of the current atmospheric set-up which I want to talk about next.
That's at the surface…aloft is another matter because El Nino's create unfavorable wind shear in the area where we look for tropical development in the Caribbean. These stronger areas of winds aloft rip apart disturbances that somehow manage to get through the somewhat hostile conditions along their journey between 5-20° north latitude north of the equator on the Atlantic side.
Here is an image via the University of Wisconsin showing the current shear in the Atlantic basin.
If you want to see tropical development you DON'T want to see areas of yellow or red…there is quite a bit of that in the breeding grounds right now, again especially in the Caribbean region.
So let's look at the visible satellite loop and it's both a good thing and a bad thing. The Caribbean region is going through a drought and tropical rains during this time of the year are important…they just don't want the winds/wave associated with the real bad stuff…
Frankly it's a stunningly quiet shot. No disturbances of any note whatsoever. There is a weak upper level feature north of Hispanola but that's about it.
It's no wonder why the forecast for the next 5 days is this from the Tropical Prediction Center.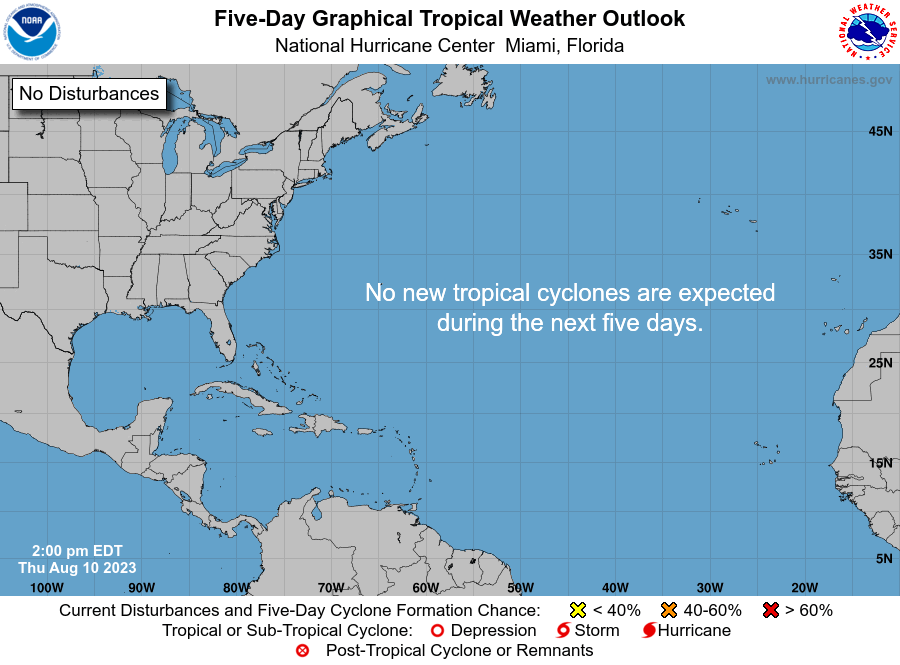 So with all that said the TPC came out with a revised forecast for the rest of the season the other day…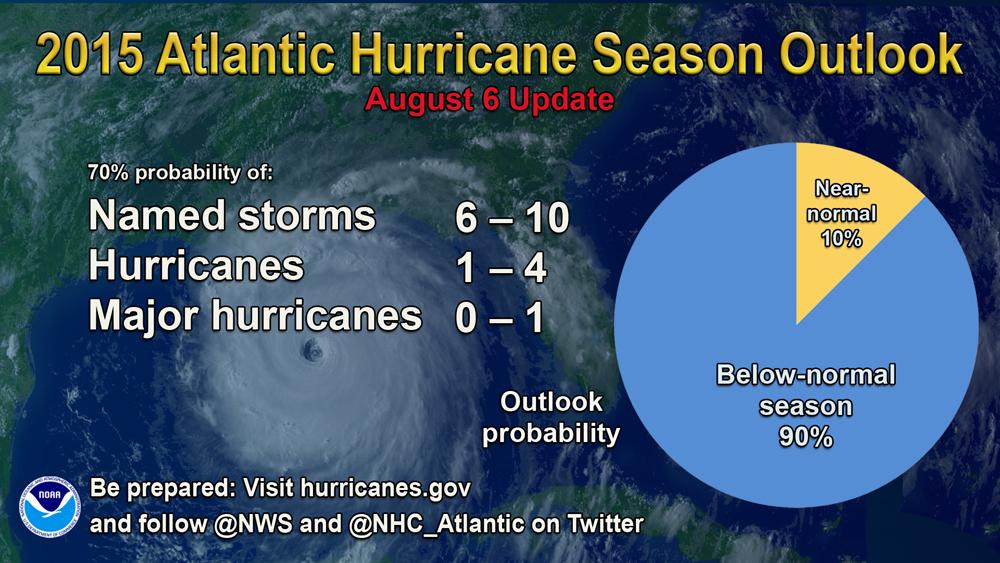 We've already had 3 named storms, as mentioned…so they're expecting at least 3 more…and have forecasted a 90% chance of fewer than average storms which I totally agree with.
With all that said you can't let your guard down about these things if you live near a coastline. The last hurricane to hit Florida, amazingly was more than 10 years ago (Wilma-2005). Since then well over 2 million people have moved to the state and odds are most don't really know what to do when something like a hurricane threatens or don't have past experience in dealing with these types of storms.
Meanwhile in Taiwan a big cyclone by the name of Soudelor hit…with it came a few tornadoes…this is amazing video!
WOW! Among the craziest videos you will see in a while.. From #Taiwan and #Soudelor .. Car picked up by #tornado! https://t.co/T38IPwTcVc

— Brandon Sullivan (@btsullivan91) August 9, 2015
OK that's about it for today…odds are tomorrow is an off day for the blog.
Joe