This is an archived article and the information in the article may be outdated. Please look at the time stamp on the story to see when it was last updated.
A decent but not overly strong cold front is coming through the region this morning. Some fast moving showers will be around but as I talked about last night the rain amounts will be rather minor for KC. Last night before 12AM there were some nice fast moving t/storms over on the MO side, east of KC that created some 1/10″+ totals in some areas as the rain moved quickly ENEwards. The forecast overall is mostly dry and the winds will be busy into Wednesday morning before slackening off for a couple of days.
---
---
Forecast:
Today: Becoming sunny this afternoon with temperatures falling into the 40s then rebounding back to near 50°  this afternoon. The winds will continue to blow from the west today at 25-40 MPH or so.
Tonight: A few clouds but chillier and windy with gusts to 35 MPH possible. Lows closer to 32°
Tuesday: Maybe some brief AM sunshine but turning cloudy with perhaps a few sprinkles or even some renegade flakes. Windy again with gusts to 40 MPH possible.
Wednesday: Better overall with highs around 40° and not as much wind!
---
---
Discussion:
March is a fickle month around these parts…some March's are warm…others are more reminiscent of winter. This one will probably go all over the place. Typically as the warmer air from the south becomes more entrenched…it tries to fight more and more northwards thanks to a slowly retreating jet stream, more sunshine and a warming trend that overtakes the Northern hemisphere. This warming and the contrast between it and the "trying to hold on" colder air in Canada and the Arctic region…creates an environment for stronger surface storms. The east coast can be rather vulnerable to bigger storms (a nod to the warmer ocean waters off the eastern seaboard helps this too) and they got walloped last week…and some of the bigger cities are in line for a heavy snow in a couple of more days.
For the Plains, while the surface storms aren't as deep here usually…they can change the weather considerably. This morning there is a strong surface storm up north of KC proper creating heavy snows in the colder air in the upper Midwest.
To be honest though…I don't think this storm produced as much snow as many were expecting up there.
There is still quite a bit of snow expected up in the Dakotas…we'll see how this plays out.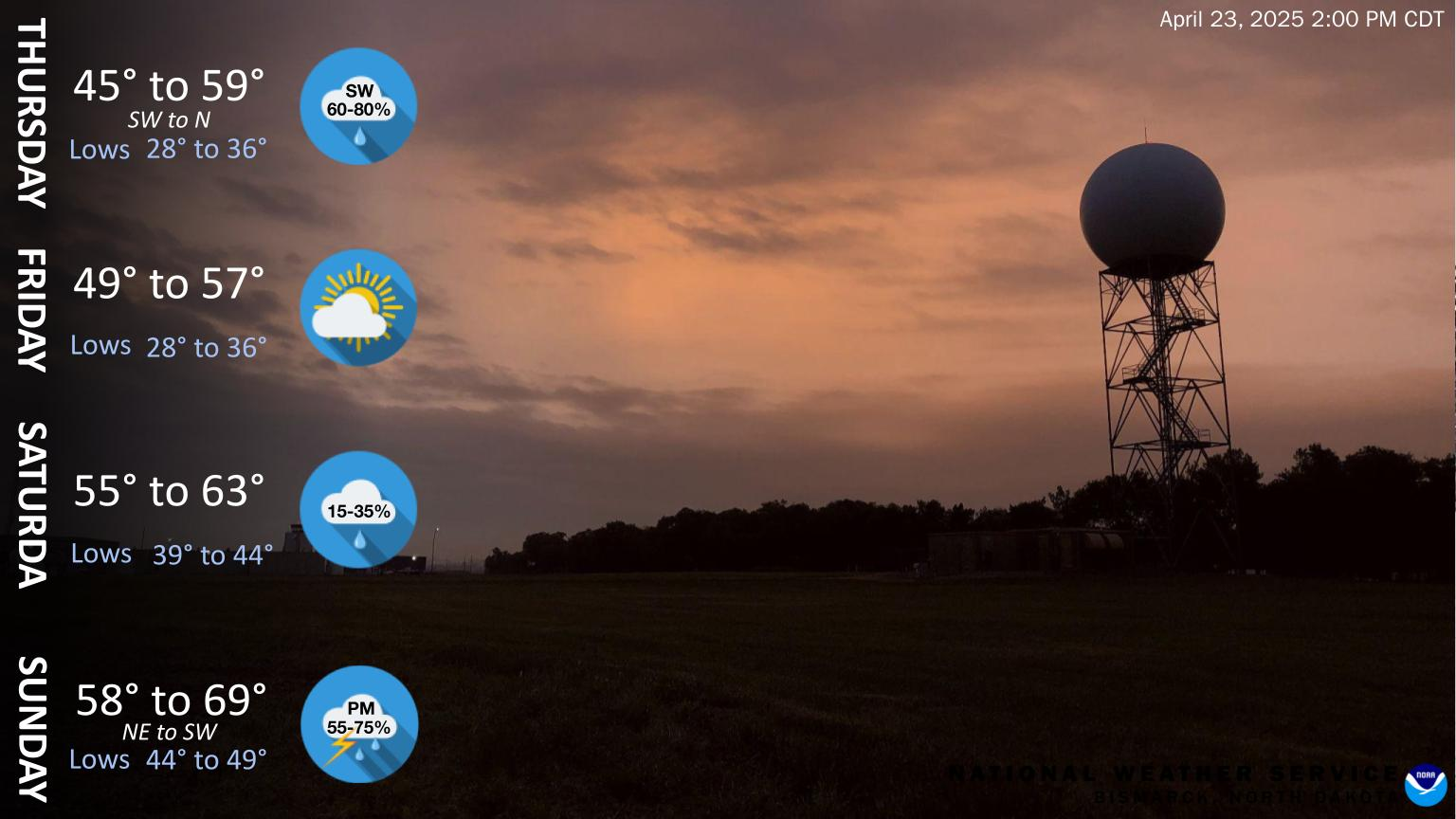 Meanwhile this system will meander through IA tomorrow…then slowly move into the OH Valley Wednesday then eventually turn into another (weaker) but perhaps snowier nor'easter later Wednesday and Thursday. This may bring some significant snows from near NYC up to New England.
For us…it will drag a cold front through the area in the next couple of hours…by 9AM it will have moved through…the 8AM surface map shows this front moving through eastern KS.
Notice the wind shift towards the west and NW…that is the front…
Behind the front skies are rapidly clearing as the early morning satellite picture shows…
So the sunshine will be in abundance today, maybe a few clouds every so often.
With that surface low close to the area and the main upper level part of the storm to the northwest of KC…that puts us into the dry slot of the storm…hence the rapid clearing. This is common and typically, especially when you have this set-up, you get a lot of wind with this type of feature and that's what we're expecting today.
The reason why the wind will be an issue into tomorrow night is that the storm will be wallowing around the upper Midwest for 36 hours or so…hence the winds will continue.
Aside from that, and another system that doesn't look overly impressive for us (right now) towards the weekend…not much else aside from some cooler weather is expected into Thursday, with some moderation FRI>SAT I think.
Today is the start of Severe Weather Awareness week in MO/KS. At FOX 4 we're going to be discussing severe weather this week starting tonight. Tuesday is the anniversary of the big tornado outbreak last year in western MO. Communities such as Oak Grove and the Smithville/Trimble region were hit rather hard by EF2 and EF3 tornadoes. In Oak Grove almost 500 homes were damaged in some way…in some cases destroyed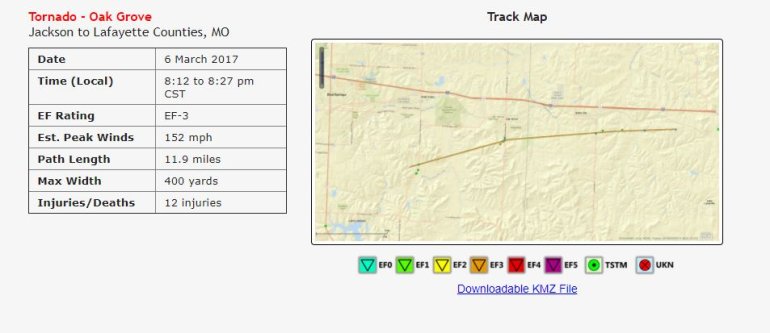 Farther north towards Clay and Clinton counties there was an EF2 tornado that I think sort of fell through the weeds a bit in terms of what it did up there.
Some 60-70 homes had some damage
It was a crazy day…
The graphics above are via the NWS in Pleasant Hill.
So we're kicking things off with a look back to the Oak Grove tornado and how folks there are recovering and perhaps what they would do differently should something similar happen again. We're hoping that you may take some of their words of wisdom to heart in terms of how they responded to what happened and the lessons learned.
These reports will be on at 5/9 PM this week and then replayed at 8AM the following morning.
Tomorrow Karli will look at the difference between straight line winds and tornadic winds. You will also hear the tornado sirens tomorrow as well…although sometimes they cancel that IF the clouds look low and menacing. I'm hoping they can sneak in the late morning one before the clouds get too thick. We'll see,
Our feature photo comes from Joey Martino. He noticed some interesting clouds yesterday. They're called Asperitas clouds…look for the "wave" like appearance
Joe