This is an archived article and the information in the article may be outdated. Please look at the time stamp on the story to see when it was last updated.
Some clarity this morning, but really in all honesty for an areas of snow that won't develop or exist until early Sunday morning…there can be only so much clarity about this next storm. There are guarantees to the forecast…and there are things that are still somewhat questionable. There are indications in the data, as I mentioned last night on the air that a rumble of thunder is NOT out of the question somewhere in the viewing area…and there are strong indications to me that some areas may exceed 6″ of snow. There will be incredible winds with this storm when the cold air dives into the Metro…think near 40 MPH winds..and there will be a rapid temperature drop…from 40° to the 20s.
It will snow…it very well may snow VERY hard…how the KC Metro area plays with this is still somewhat unknown. Sadly it will come to about a 50-75 mile swath of potentially 6-10″ of snow…and where that swath lines up will obviously be the key. Not sure that will have clarity until Saturday night…even then there may be track issues.
What we also know is that the storm will be intensifying and more or less really getting it's act together on top of the region. That adds a wildcard to the snow potential…and is a known heavy snow scenario for at least parts of the area. As I mentioned yesterday that 0-8+" forecast still looks good…useless but good ( ;) )
---
---
Forecast:
Rest of today: Scattered showers but an overall not terrible day. Highs near 50°. A bit cooler east and milder farther west.
Tonight: Fair skies and cool with lows in the 30s
Saturday: Pretty nice and mild…good day to get the lights put out…perhaps some winterizer down…and maybe some dormant seeding. Highs near 60° (with some upside). Great day for traveling (major hint)!
Sunday: Rain>snow sometime between 9AM-12PM…heavy snow for several hours possible. Winds increasing and NOT be a little. This will be a big wind generator with 40+ MPH winds possible. Snow winds down in the early evening. Accumulations likely…a slight lean to the heaviest being north and northeast of Metro…but we're so close to getting in on the worse of the storm in KC proper. Highs dropping into the 20s with wind chills in the single digits
---
---
Discussion:
My goodness this is a fascinating storm. So many of you read the weather blog yesterday…I'm humbled and thanks for checking in with it. I run into more and more people these days who use it for a variety of reasons…and that's wonderful.
So let's talk about things…and there is a lot to talk about.
A Winter Storm Watch has been placed in effect for the Metro and points northwards. The following graphic is LIVE from the NWS…and the blue shade shows the WATCH.
Should a WARNING be issued…some of the counties will light up in a pinker color.
It's NOT out of the question that parts of the area may get placed into a Blizzard Warning…IF that happens a more orangey color will light up in the image above…again this is live information…so no matter when you check with the blog…the map above will update.
So when was the last time we had a Winter Storm Warning for the region…I believe it was in late December of 2015
How about a Blizzard Warning…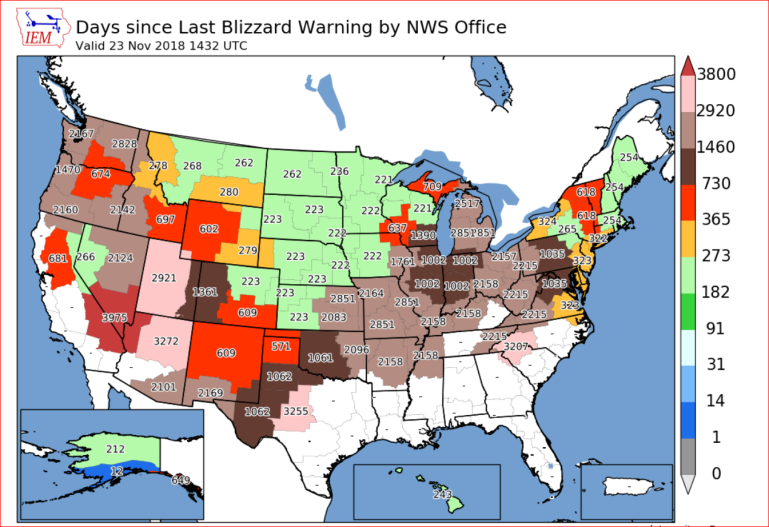 So it's been awhile. What is the technical definition for a blizzard? You need heavy snow rates to reduce visibility to under 1/4 mile for at least 3 hours…and you need strong winds of at least 35 MPH…the trick is the 3 hours straight part though…there have been some blizzards here that "technically" weren't blizzards…but again it's a technical thing.
2) The storm itself will be a bear and data this morning indicates that where ever it really comes down…it will pour down snow. To the tune of 1-2″/hour…with the winds…we can get to blizzard criteria somewhere in the area.
3) The timing of the transition is still somewhat of a question but odds favor somewhere in the 8AM-Noon time period for the I-35 corridor. Faster transition, assuming we go straight from rain to snow…means higher snow potential in KC…there is data this morning showing the Metro getting over 6″ of snow from this. A later transition and we cut those totals significantly…perhaps more than half.
4) At first the snow may be on the wet side…snow-making snow…but as the cold moves in through the atmosphere the snow will get fluffier with higher accumulations possible as the snow ratios increase…that is a player in this situation that perhaps is being overlooked by some out there.
5) Thundersnow(!): Maybe…and I see model indications showing tremendous vertical velocities (rising air) for a winter storm set-up. Talked about this on the air last night…and I still see signals in the model data too for this. Where that occurs…Katy bar the door to totals over 8″…somewhere out there.
6) Commahead snow…this will be the key and how long any one particular area gets into this phase of the storm and the heaviness of that phase of the storm will go a LONG ways in who gets the 4-8″ band. The location of this is still questionable.
7) Winds: Yup and bigtime when the cold air rushes into the area…they will start to fade toward evening. Heavy snows that are blowing around will make road issues even worse…especially in the open areas. Blowing and drifting snow is likely…and the may be 2-3 foot drifts developing (maybe higher) in the area that gets into the snow jackpot totals. Winds may exceed 40 MPH for several hours during the event..at least in gusts.
8) Model data: I don't want to call it flaky because it's been consistent in many things…yes to a significant winter storm…yes to strong winds..yes to falling temperatures…so it's never really "lost" the storm as some models do several days (or more) away from the event.
9) The devil is in the details: And that's the rub…the models have various slightly north or slightly south liquid totals. That' the rub…50-75 miles one way or the other gives the Metro 1-2″ or 4-8″…obviously a difference in impacts and effects…
I don't want to show you the snow maps the algorithms are generating…but I do want to show you the "liquid" equivalent because it may be worth monitoring. There are issues with the snow maps…some don't take into account the changing profile of colder air moving in…some just do a strict 10:1 snow ratio…1″ of liquid equals 10″ of snow. That's not good in many cases…especially this one. Some other algorithms do factor this in better.
So here is what I'm thinking…and this may be worth remembering…let's play with a conversion from liquid to snow by around 9-10AM along the I-35 corridor. Now lets say the 1st inch of snow will melt off or be slushy because of the mild weather on Saturday and the "warmer" ground conditions…now lets see how much "liquid" comes down from roughly 9AM>3PM.
So let's look at this mornings NAM model…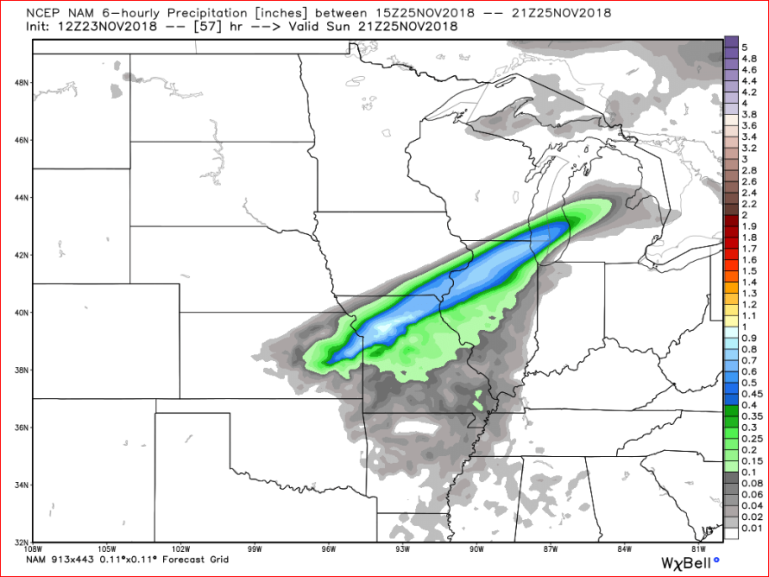 Yes this is a snow jackpot…
Now the hi res NAM…notice the subtle changes…a slight northeast pull towards the heaviest amounts…again this is liquid and not total snow…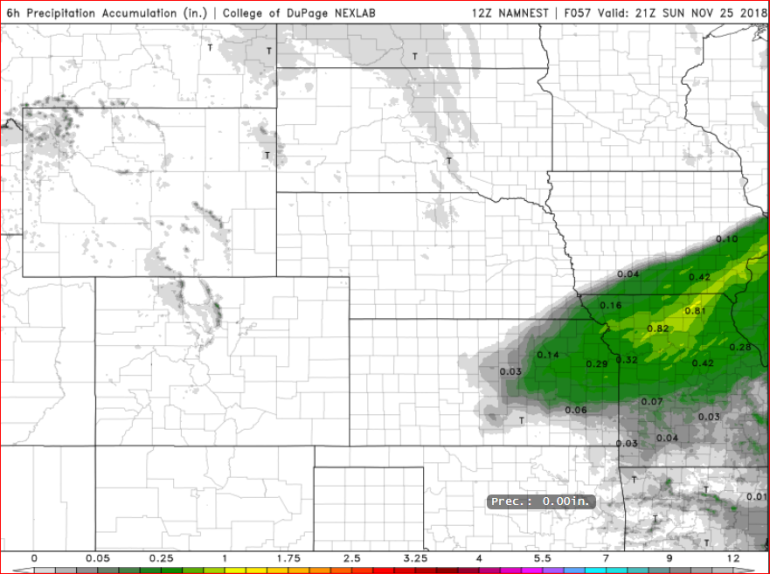 and finally the new GFS is a big ole monkey wrench as it takes the surface low well north towards I-70 again after having the storm tracking well south…
That is a big ole non-event (aside from the cold and the wind) for the KC area…maybe some icy roads in the transition.
Let's dive deeper…
Comparing the NAM model (KC bullseye) and the GFS model (KC whiff mostly). Let's go up to about 18,000 feet and look at what we refer to as the 500 mb level. It's a great way of tracking the disturbances that generate lift and sinking air. Simply the sharper the "U" shape in the black lines the stronger the disturbance is…note the change in that and the location of the dip…the GFS is MUCH farther north and faster that the NAM…which is slower and stronger.
[protected-iframe id="b5c67202c84f147c096f45074840cd93-28016812-27967000″ info="https://cdn.knightlab.com/libs/juxtapose/latest/embed/index.html?uid=aab8aa2a-ef39-11e8-9dba-0edaf8f81e27″ width="100%" height="783″ frameborder="0″ class="juxtapose"]
Use the slider above…and go to the right (GFS) and the left (NAM)
BIG difference.
Which is right? Maybe neither but the GFS has accelerated things so much I'm not confident sure that is the more accurate model with a dynamic and intensifying storm system.
10) What do I think? If had had to put out a snow map thing morning…I'm sort of in the 2-5″ frame of mind from south to north in the KC Metro area…with 4-8″ north and northeast of KC. Here is a far too early snow potential map.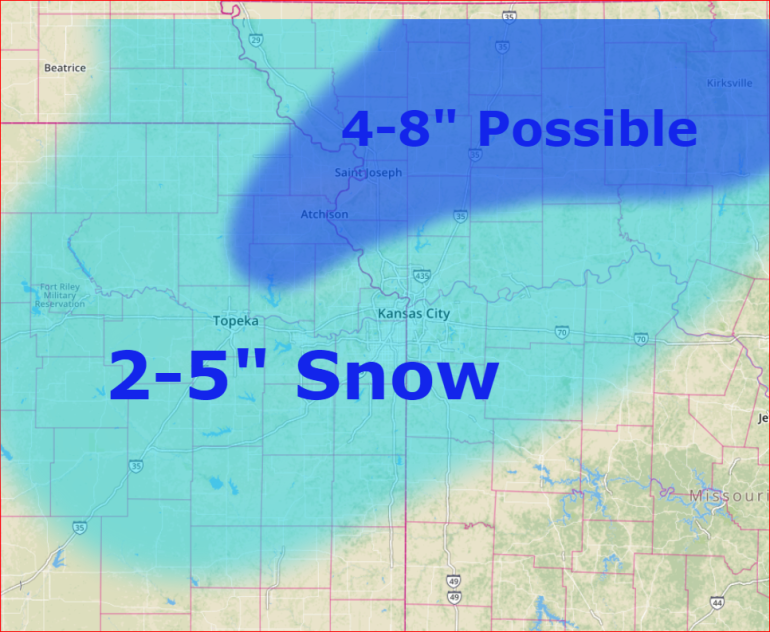 Areas southeast of KC may be closer to the 1-3″ range…while northern parts of the Metro…up into Platte Co and even into NE KS have higher potential.
Again you can see how a 1-2 county shift south or north has HUGE impacts in what you experience. It's just the way it is and hopefully we can have more confidence in how things play out as the weekend unfolds…but I feel it's my job to at least get something out there at this point…I might have normally waited till tonight…but with the high impacts and the holiday I feel it's prudent to get something out this morning.
We'll see how well (or not) this does.
OK I'm typed out…we're in a weird position today news-wise…and it's driving me crazy. we have no newscasts for the rest of the day/night…all because of sports. So this blog will continue to be updated as I see fit with new information even though I'm technically off today. I do have some errands to get around to…so as usual you can keep in touch with me via Twitter @fox4wx
Our feature photo comes from Heather Quisenberry Vukas‎ in Tonganoxie
Joe