This is an archived article and the information in the article may be outdated. Please look at the time stamp on the story to see when it was last updated.
Got to admit, watching all those storms around my house last night with lightning and rain was a bit frustrating. I had very little but some areas had some pretty darn good downpours and there were some strong winds and hail with some of the stronger storms and while there are still a few small renegade showers out there this AM, the focus for the next 5-10 days will be on the cool weather (for this time of the year) heading into the Plains states, while the searing heat backs into the western part of the country till further notice.
After waiting as long as I could for some decent rain, I'll probably start dragging the sprinklers around over the next few days as any additional rainfall will be tough to come by. The chances are a bit better for some scattered MO side showers through the weekend, but overall it looks dry and cool after today.
Here is a look at the EURO high temperature anomalies over the next 10 days…pretty impressive when 1) you think where we were last year at this time and 2) that we may be talking about near record lows next week in the KC area…that is pretty darn good for early July.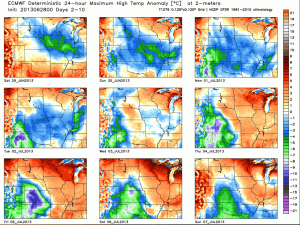 Maybe some closer to average highs later next week but overall that is NOT a hot weather pattern for this part of the country…
Meanwhile out west…a different story, especially this weekend…
Now some info from Flagstaff in N AZ…
even the PAC NW won't be spared from the heat…
So basically the heat is west and we're comfortable into the middle of next week….with NO serious heat waves expected through mid July here.
Joe