This is an archived article and the information in the article may be outdated. Please look at the time stamp on the story to see when it was last updated.
Looking a my rain gauge this AM shows another 6/10″ so far…another good rain for areas south of I-70…north of there and especially in the area of the region that seem sto virtually get missed every time by these batches of rain and it's the same old song.
Once you get N/NE of KC proper the rainfall has been paltry yet again and as I wrote yesterday, that may do it for the week so I'm not expecting much more out of this system for areas to the N/NE of the metro. Here is a look at the doppler totals and you can clearly see who got missed out again with the rain.
Once you got east of I-29 north of the metro the rain tallies really shrunk fast. This area has repeatedly been lagging the rainfall that areas south of the I-70 corridor have enjoyed for the last several weeks and today is once again no exception. Very unfortunate for there ongoing drought situation up there.
I see little hope for additional rainfall for this region, or really many others after today for at least 7+ days and maybe longer. Take a look at the EURO forecasted rainfall for the next 10 days…click on that image to make it larger.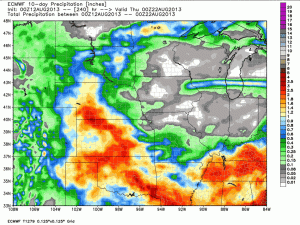 That's it for today…really after today the weather looks wonderful for mid-August and really for any day of the year with temperatures expected to be near 80° for the rest of the week and some absolutely ideal weather evenings ahead. The Royals weather looks fabulous for WED afternoon too! In August…who would've thought that? Just another something magical about things right now when it comes to baseball around here! Go Royals!
Joe