This is an archived article and the information in the article may be outdated. Please look at the time stamp on the story to see when it was last updated.
We're waking up to plenty of gray skies in the region and the clouds will continue to be with us for the next few hours before breaking up into partly cloudy skies during the afternoon. The main focus for the blog will be the continuing risk of severe weather through the Plains states, and closer to KC on Sunday. Tomorrow though there will be some strong storms across the western Plains states that should produce some tornadic activity. This rough weather will be well towards the west of the region and not threaten KC. There will be a weak disturbance moving our way tomorrow night that may create some scattered showers/t-storms tomorrow evening. Here is what the SPC is thinking about tomorrow…showing the highest risk of severe weather.
Our concerns continue to be focused on Sunday. This well advertised potential has been my focus since last weekend so hopefully whatever happens won't be a surprise to any of our readers/viewers.
There are still questions about how this is going to evolve but there are some strong indications that 1) there will be plenty of moisture available for the storms to feed on…dewpoints should be into the 60s. 2) despite any storm activity on Saturday night, odds favor a decent amount of sunshine on Sunday allowing the instability to build with the increasing heat. Highs on Sunday should make in into the 80s. 3) There will be shortwaves nearby on the KS side….
It's still though sort of a weird set-up in my opinion and something still looks a little off to me. Not that I'm saying that nothing will happen here…but something just looks a little off. Our latest NAM model would suggest a possible earlier round of storms (after lunch), associated with a shortwave moving through KS…should this occur there is the potential of the atmosphere then getting very contaminated with clouds and that the instability won't be as great closer to KC. Also there is the potential of some sort of weak trof that would alter the surface wind fields and reduce the convergence somewhat nearby. Should the latter two things come together…I do wonder what sort of line we can get. Here is a look at the hi-res WRF that just cam out for Sunday @ 7PM…showing two areas of storms, a severe cluster in NE KS and then more activity in OK.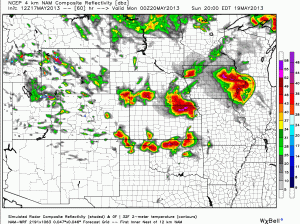 Now here is the surface map forecast for the same timeframe…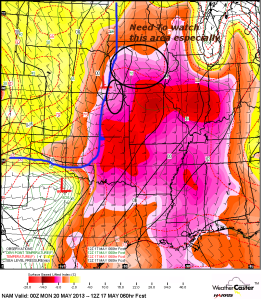 Again to re-iterate there are some things that don't look right to me at this point, and that may quickly change over the next 24 hours…so again I want all of you to be thinking about severe weather over the weekend, and especially later on Sunday. These things typically don't show themselves that well till the day of so let's not let our guard down concerning the potential that exists…there again are a lot of players on the field and now we need to see how they try and come together. The SPC is still very bullish on the potential.
I'll continue to keep the blog updated over the weekend, with one update tomorrow and probably at least two on Sunday.
Joe