This is an archived article and the information in the article may be outdated. Please look at the time stamp on the story to see when it was last updated.
As is mostly typical around the region things are really starting to dry out around here. This is really no surprise because while the rainfall amounts from June-August average 13.57″…usually a good chunk of that comes from thunderstorms and we know how varied that can go through the region…sometimes you get them and other times you don't. We were doing pretty OK in many areas till the middle of June…since then things are shutting down, and I'm not hopeful that it will change much over the next 10 days, despite a very weird system that is going to alter our forecast significantly…and maybe (but not certain) increase the rain chances next week…but by no means am I sold on this prospect at this point.
I'll write a bit more about all this in a few minutes but I wanted to share some research I've been doing concerning precipitation trends in the area. This is somewhat limited but I think sort of interesting. We all know how dry it was last year…some 16″+ below average (avg being 38.86″). I did a blog a week or so ago showing some of the longer range deficits in the region and I showed this image that I thought was interesting…
These are the deficits (mostly) in rainfall since mid July of 2010.
I decided to delve deeper and longer through the numbers…and find the deficits going back to the year 2000. As a base for average I used 38.86″ which is our average over a 30 year period from 1980-2010. Here is the data starting with the year then the deficit then the cumulative deficit.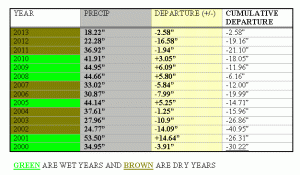 Click on this image to make it more readable.
So what can we gather, and in the weather world 13+ years is a small sample size…I may continue to do more research and number crunching on this over the weekend…maybe take it back to 1980 or so…well we have had some wet years in there…really we split between the total number of wet/dry years…but what is somewhat interesting is that when we're dry…we're really dry and when wet, except for 2001…we just sort of above average. So the end result is that the wet years don't have enough oomph to balance out the dry year deficits.
On a more short term basis, since 1/1/2010 we're running some 18.05″ below average in precipitation!
I bring all this up because the latest drought report came out today and here is the information…
All this of course may be worsened on a slow basis unless something even weirder can happen on a widespread basis with this weird storm that is actually going to move WEST from the OH Valley area and move towards the region by the end of the weekend. What is interesting about this…is that the drier air that has moved in today, with dewpoints in the 50s will actually get stuck here, and as the upper level storm moves in the storm's circulation will actually drag in drier air at the surface through the weekend from the Great Lakes area.
Take a look at what the NAM model does with this weird scenario. Follow the disturbance splitting off the main trof in the east and then consolidating in OH and "retrograding" or moving from the east to the west.
So it's possible that with an upper level storm in the area we still miss out on the rain because we're not soupy enough. My thoughts are that by Tuesday we should start to see the atmosphere moisten up enough (perhaps significantly) that at least some scattered convection would be possible + the atmosphere will be somewhat more unstable. the problem is that by then the upper level storm has drifted so far away from area that there would be no forcing to generate any storms except for sun's heat. So that's why we may not get widespread stuff out of this. Let's hope that changes though because we're really drying out now.
Here is the forecast off the EURO model for the next 10 days or so…and it's not looking pretty at all. I'm usually the last to go drag the sprinklers around my house…but in an effort for now to give some of my baby grass a drink and keep it going I've been doing exactly that for the last couple of days.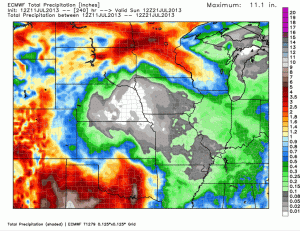 What this anomalous system for July will do though is totally back the heat off to the west and NW of here…as a result instead of worrying about temperatures near 95° next week we may instead be more in the 85-90° or so…with increasing humidity levels starting on Tuesday especially.  The good news (not for us necessarily) is that this should really help out the monsoon situation across the SW part of the country.
That's it for today. Thanks for reading the FOX 4 Weather Blog. By the way, Mike T and I will be in Paola on Saturday @ 10:30 AM-Noon or so in support of the NOAA Weather Radios. Stop by at the PriceChopper (309 N. Hospital Drive) down there and we'd love to say hi to all of you!
Joe