This is an archived article and the information in the article may be outdated. Please look at the time stamp on the story to see when it was last updated.
Again in case you haven't heard…School Day @ The K has been postponed to June 12th. There are more details about that here in terms of what you can do with tickets etc. There was no perfect solution to cancelling the show, that's why we've never done it before in the history of School Day (some 15 years) but safety as well as the kids enjoyment are the most important thing to the Royals and Fox 4 and with temperatures in the 30s, wind chills in the lower 20s and potential a very cold rain falling it just wouldn't be good. Again we apologize for the inconvenience and hope at least some of you will join us for Summer School Day @ The K on June 12th. Here is a link for more information about the postponement and tickets etc.
Now through 6AM THU: Colder air funneling in as I type this (5:30 PM). So far there has been no rain (maybe a couple of sprinkles). There may be some thundershower activity developing over the next several hours, especially towards the S/SE of the metro. The rain tonight though will be more scattered till early tomorrow AM when some more rain moves through. Temperatures will fall through the 50s into the 40° territory towards daybreak.
Thursday: A cold light rain/sprinkles develop, the heavier rains may not move in till the afternoon. Wind chills in the 20s and north winds of 15-25 MPH blow
Tomorrow PM/Night: There may be some mixing of the precip to some flakes of snow in the area especially later in the afternoon hours or at night. Temperatures in the middle 30s. (our actual high for the day will occur early in the AM just after midnight-so tomorrow's high will be deceiving). There is the potential based on the new data that we may see a period of all snow tomorrow night in the KC area. The snow should it fall MAY be heavy enough with temperatures between 32-35° to create some accumulations, especially on the grassy areas in the KC Metro area. The late afternoon data still suggests the potential of at least some accumulations (record snowfall) during the evening/overnight/early FRI AM time-frame.)
Friday: Some light rain is possible during the day as the upper level storm starts to form nearby. Temperatures should be around 40° or so. Miserable at times for early May.
Here is the 5PM surface map showing the front moving through and the contrast in the temperatures. We're talking some 50° from one side of the front to the other.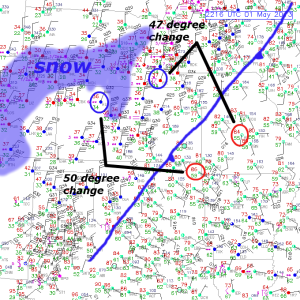 I've outlined the snow areas towards the western Plains states. Accumulations in W NE has been up to 6″ so far. Again to emphasis(!) the myth that it's too warm for the snow to stick is NOT right in my opinion. It's sticking out there! All it has to do is snow hard enough so that the warm ground is overcome by the snowfall rates. This can happen tomorrow night!!!!!!! Especially on the KS side at least. It's very difficult to predict a weather phenomena in KC that has never happened before (for the most part) except in 1907!
Now back to the AM blog…
OK onto the world of bizzaro weather. We're still warm and will stay warm for the next 6-8 hours or so, through later this afternoon, but after that we shift into this cold airmass that is pushing through the Plains as I type. It's snowing all over the place across central and western NE right now…it seems that when the temperature drops to 34° the snow starts to fall.
Here is the early morning surface map showing the front to the north of the KC Metro area which will slowly settle south through the day.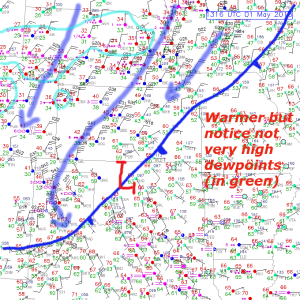 The air ahead of the front while warming into the 70s to near 80° in places today will be terribly unstable but with the front moving in anytime after 3-6PM there may be at least some t/storms forming. In reality the bulk of the rain that moves our way will be behind the front and that will move through the area tonight into tomorrow early afternoon as temperatures are tanking. We'll go from close to 80° today to close to 35° tomorrow with wind chills in the 20-25° range…so it will feel almost 60° colder tomorrow compared to this afternoon!
Heck if you think that is a trip on the wild side. How about Amarillo, TX. On Tuesday they hit 97° (breaking the record of 93°). Their low yesterday was 62° (which was a record warm low temperature) and look at their forecast for tomorrow…
To those who say that you can't get accumulations of snow in May because of the sun angle/warm ground temperatures…I beg to differ. IF the snow is coming down hard enough, especially if it is at night…it will accumulate. For some near KC it's not out of the question that there could be some minor accumulations IF the snow is coming down hard enough. The models though are certainly going overboard with the snowfall accumulation with this look through 1PM on Friday…
First I can't believe that I needed to post that map on 5/1. Second it's WAYYYYYY overdone. The snow ratios with temperatures closer to 34° would be more like 5:1 or so and the models can't figure that aspect out…but you can see why at least some areas, especially just N/NW of KC might end up with some sort of slushy something. Just incredible. See my previous blogs for the rarity of these situations in May.
OK now the next question is after this transition is done what happens next. Well, as expected for about 5 days now and unusual upper level storm will develop nearby. There are still some questions about where but it's looking more and more like this phenomena will happen close to KC. As that happen s early Friday into Friday afternoon, what precip is out there may again try to turn into snow. At least it may be snowing aloft, whether or not it makes it to the ground is still a tough call and really depends on where the core of the future upper level storm is located. If it's closer to IA (which I thought yesterday) we'll just have a cloudy and at times rainy Friday and Saturday I thought this scenario might be more in play yesterday). The data today suggests more strongly that this will be closer to KC placing a colder atmosphere closer to KC as well. The GFS is still persistent on a farther south track taking this core towards Ft Smith, AR.which would as it wraps up to our south actually bring in milder air aloft from the east and wrap it towards KC on FRI. This would eliminate the snowflakes from forming aloft. So a lot of what happens on FRI and SAT and even to a degree on SUN will be determined where the upper level low forms.
Over this past weekend I talked about the potential of record cold highs coming later this week…that is still very much in play. I've gone through May and I can't find any day with highs in the 30s in our weather history. In wonder about that one day in 1907 where we had a record snowfall here in KC, but at least at first glance I can't find one. So IF that happens tomorrow or Friday it will be a once in a lifetime (and then some) phenomena. I just confirmed with the NWS in Pleasant Hill that the ALL TIME COLDEST HIGH TEMPERATURE for KC in May is 43° set on 5/5/1944. Assuming tomorrow and or FRI will be below that we'll set an ALL TIME cold high temperature in May!
There are more amazing stats/records that this storm will establish in the middle third of the country over the next several days. More on that as it develops!
Joe