This is an archived article and the information in the article may be outdated. Please look at the time stamp on the story to see when it was last updated.
+++9PM Update+++
Rainfall varied as usual through the region from none to over 1″ in spots. Winds were the big deal with this with reports of 60 MPH winds, especially on the north side and a report of near 80MPH winds in Topeka. There were several semis blown off the road along hiway 75 near Topeka earlier.
Here are some rainfall reports from Platte/JOCO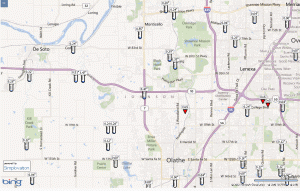 The late night will see storms moving towards Central MO as our weather closer to KC settles down nicely. Hopefully you got some nice rain tonight. Sadly many got little to none.
++++5:30 Update++++
The SPC has placed most of the region from KC westwards under a Severe T/Storm Watch till 1AM Thursday morning.
Storms may be able to generate wind gusts of 60 MPH.
++++++
Not surprisingly, most areas this AM missed out on the rainfall, with the exception of N MO, mainly north of 36 highway where additional rain fell. I wouldn't be surprised that when the new drought report comes out tomorrow, that there may be some minor improvement across far N MO close to the IA border. For most other areas of MO and KS, the report will not be good. More on that tomorrow.
We still have an opportunity for additional convection later today/tonight as a wave moves towards the N of the region. There are storms now near and east of Omaha and with readings today topping off in the 95-100° range and with a warm front setting up to the immediate west of the KC area and with the atmosphere not strongly capped, there is a chance that at least some scattered storms may form in the region especially across NW MO and NE KS. Those storms then should move towards the SE at a pretty decent clip as the mid level winds strength to push the storms along.
The atmosphere in the lowest 10K feet is pretty dry, although here at the surface it is not as dry as yesterday. Our surface dewpoints are in the 60° range today as opposed tot he 40s yesterday. So any storms that are generated will have the ability of producing some gusty outflow winds and maybe some severe weather, again especially to the N of the metro. The SPC is watching this carefully this afternoon and issued an area to be watched.
As of 1PM our temperature is 92° @ KCI and Downtown KC. So we're certainly heating on up. At this point looking at a close up satellite of MO, I'm not seeing any evidence of cumulus cloud growth in the area of concern. that may change after 4-5PM or so with temperatures up there in the 95-100° range.
The rainfall deficit continues to grow on a daily basis. KCI had a trace of rainfall so far today.  During this time of the year we average just shy of 1″ of rain/week. The other day I did some research to find out when was the last time we had 1″ of rain in a calendar day. Not surprisingly it's been awhile.
KCI: 6/11
Downtown: 6/11
Pleasant Hill: 6/21
Lees Summit: 6/21
Olathe: 6/21
St Joseph: 6/20
Chillicothe: 6/16
Sedalia: 4/29(!)
Lawrence: 6/21
IF we get nothing today, and many may not, I really don't see another opportunity coming for awhile. We will cool cool nicely on FRI/SAT…and again may threaten record lows on Saturday AM with an outside chance even on Friday AM. We also should start to run towards 100° again by the middle of next week although there might be somewhat higher dewpoints TUE/WED of next week keeping highs in the upper 90s.
Let's keep our fingers crossed for later today/tonight
Joe