This is an archived article and the information in the article may be outdated. Please look at the time stamp on the story to see when it was last updated.
I continue to be fascinated by what's going on across the country and how minor all the affects are going to be on KC. aside from a little rain tonight and more wind through the rest of the weekend…it's a fascinating weekend in the USA from a weather standpoint. We'll start with the blizzard back east that is slowly winding down across the eastern reaches of New England. As I expected a couple of days ago, the storm has an eye-like feature on it and it's now on display as it moves farther off into the NW Atlantic Ocean. Take a look at the early afternoon satellite picture of the storm.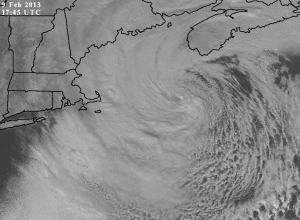 If you look carefully directly east of Cape Cod you can see the center of the storm. Another fascinating thing about the storm is that there are still thunderstorms forming around/near the center of the storm.
There are very impressive snowfall totals and when you think that this happened for some areas in about 15-21 hours or so the numbers are more impressive. The highest total so far comes from Milford, CT with 38″. Although with all the blowing and drifting going on, I'm surprised anybody can get a reliable total. Boston is up to 24.9″ which is their 5th highest total in their weather history. Portland, Maine has 31.9″ (biggest ever) and it's still snowing there. Concord, NH is up to 24″, their 2nd highest total. Here is a great graphic from the NWS showing a lot of snow totals.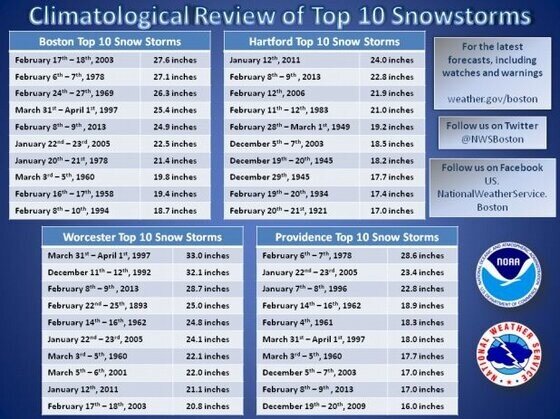 Scenes like this are becoming common across New England today with all the wind. Boston reported a wind gust to 92 MPH very early this AM. Wow!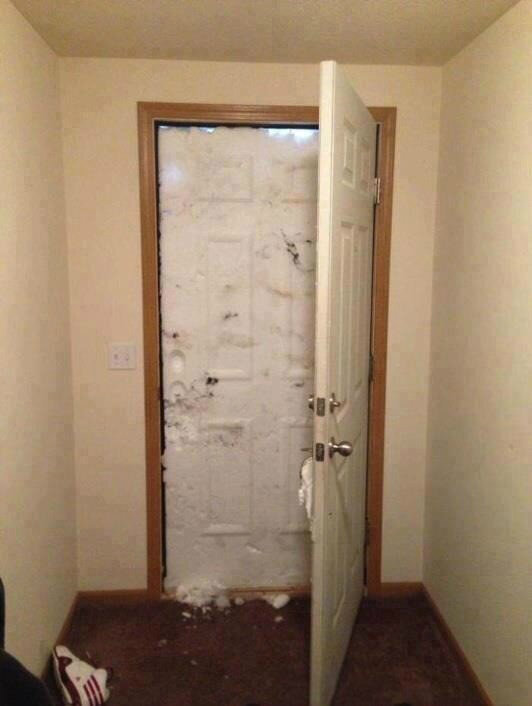 (from @barrabest)
This was the scene earlier this AM in Boston.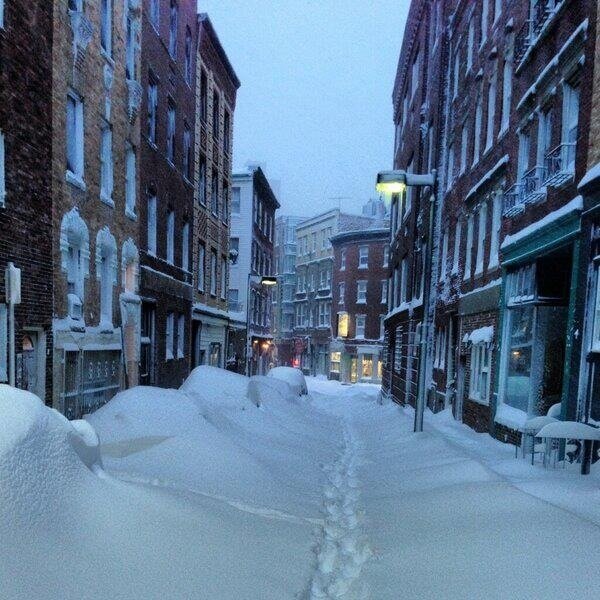 (from @ZoomRadar)
There have been some 650K customers without power from NJ through ME. Most are in RI and CT and while driving bans have been in effect, they are being lifted later today, if they haven't already.
The New York City area had between 6-15″ or so, but out on Long Island amounts were closer to 30″ at the NWS-Upton (Long Island) office. Here is a picture from there.
That's a lot of snow!
Here is a map showing the totals received as of 1PM or so this afternoon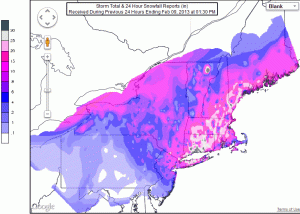 and a closer up image into the Northeast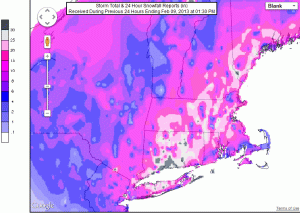 5 states had at least one community with totals of 30″ or higher, including NY, CT, NH, MA and ME.
If you have family up there or are curious to find out more on the snow totals, here is a great link and google map application that is being updated routinely. Be aware that there are some older reports on there, hence some lower snow totals in instances.
Interesting to see the effects of the "travel ban" that was issued in MA…only 30 people ended up needing rescuing while on Long Island with no travel ban, hundreds were stranded on the roads due to the snow and the wind. Something that I'm sure other cities/states will be thinking about in the future.
OK so that's one blizzard winding down, but another is in the process of developing and that's associated with our next storm system that will give us about 6 hours of rain chances overnight and then more wind tomorrow.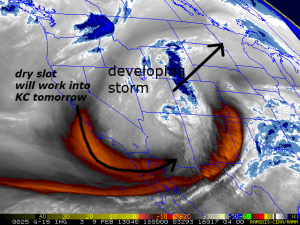 For us the best window for rain will be from about Midnight through daybreak, after that the dry slot will overtake the area, since the storm will be NW of the region and we'll turn windy and mild for awhile tomorrow AM.
Not a lot is expected with this whole thing. here is the higher-res NAM model showing the totals, perhaps on the MO side towards the east of KC there could be more, from Chillicothe to Columbia and eastwards. (image from Penn State)
Meanwhile in the colder air, we're talking blizzard conditions for the western and northern Plains states.
So all this weather and just some fast moving rain showers for KC.
Joe