This is an archived article and the information in the article may be outdated. Please look at the time stamp on the story to see when it was last updated.
Well we didn't quite get down to record levels…our low this AM was 58° and the record was 55° set back in 2004. Regardless it was a great morning out there and with plenty of sunshine today we should top off in the 85-90° range with comfortable for August humidity levels. Clouds will start to increase tonight. Those clouds may play a factor in the potential of seeing some meteors as the Perseid meteor show is supposed to peak tonight with upwards of 50-100 meteors possible per hour. The best time to view this is after midnight tonight. The problem with that is there should be a bank of clouds moving this way with the potential of a few embedded showers zipping through part of the area. The rain won't be heavy, but a renegade shower is possible. For more on the meteor shower here.
You should try and get away from the city lights, let your eyes adjust to the darkness and hope for clear skies and look to the NE. Here is a diagram courtesy of Sky and Telescope.
Hopefully the clouds hold off for a little while later tonight.
Tomorrow we should briefly heat up in to the middle 90s as a cold front approaches. The problem is that the pleasantly dry airmass on top of us now, won't have time to get more moist before the front gets here. dewpoints down through central TX are in the mid-upper 50s and that air will be brought to us tomorrow. Lower dewpoints, weak convergence and upper energy passing well to the north of the region doesn't excite me to the potential for some rain in the area. I do think there may be some storms in the region but the chances of any one place getting any rainfall to me at this point is only about 30% and that could be a push. The higher chances look to be on the MO side, especially closer to the IA border.
Here is the forecast map off the NAM for tomorrow @ 7PM.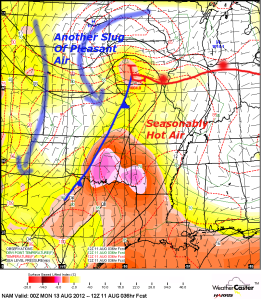 We should see about a 10 degree drop in the highs on Monday before we moderate on Tuesday…heat up to around 95-100° on Wednesday and then see our next change later WED into Thursday. That change actually shows promise for bringing a bit more rain intot he region.
Speaking of which, how much rain do we need to break the drought. A LOT! Check out the map below.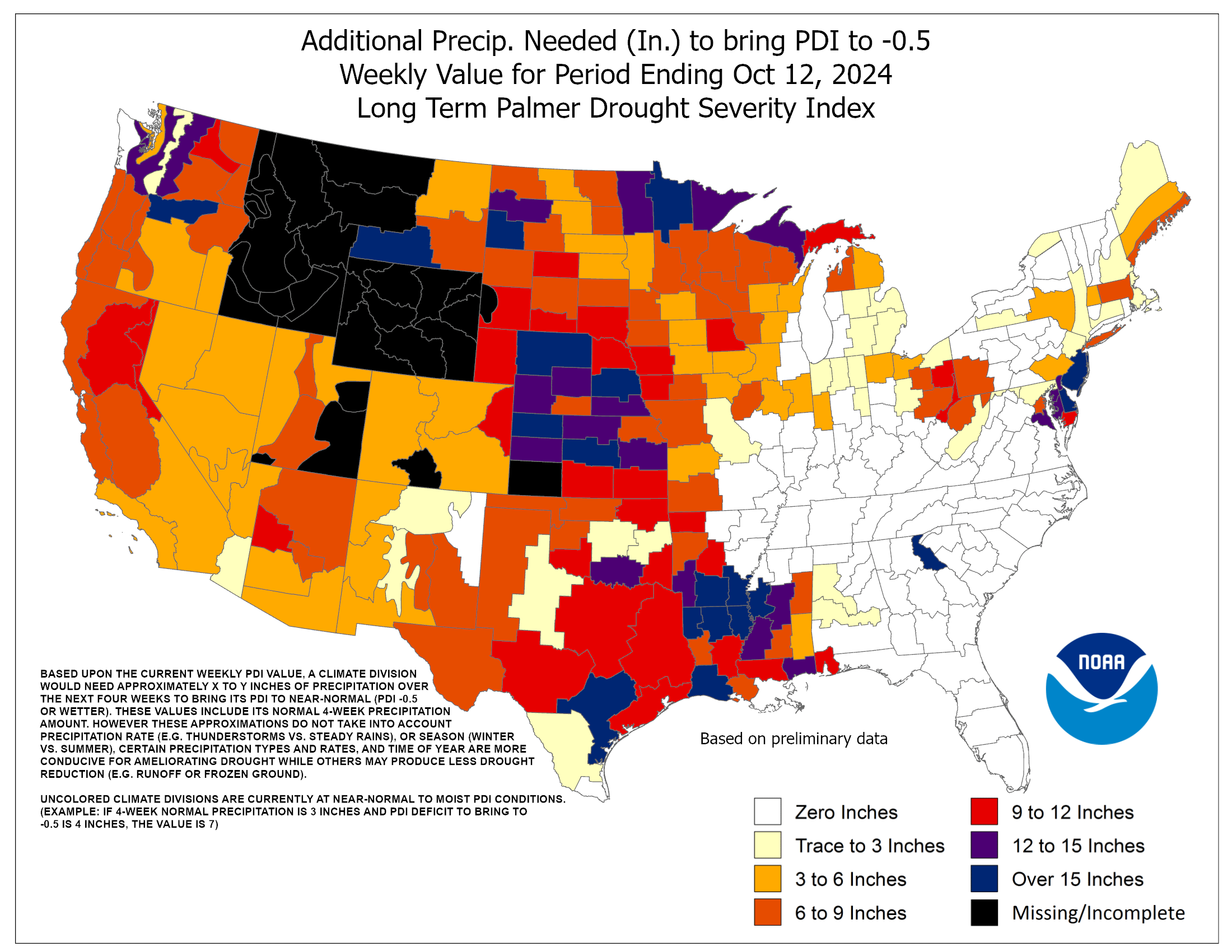 Basically we're now looking at about 12-15″+ of rainfall needed to break this thing. We've seen some heavy rainfall totals in the past. Sometimes you can get 4-8″ of rain out of one event if you have training rainfall areas. The problem with that is that there would be so much runoff that a lot of that water would go to the ponds, lakes and streams. What is needed is some nice gentle rains spread out over the course of 1-3 months that get us to those numbers. We know that rarely happens in the late summer and fall season (to that degree). Fall by the way, as defined as September to November, on average brings us about 10″ of rainfall over the course of the 3 months. We're going to need to at least double that to start chipping away at this thing. Pretty unlikely, unless we can get an assist from some weakened tropical storm/hurricane that dumps a bunch of rain on us.
That's it for today. There are signs we may make another run of a few days towards or above 100 towards the 22nd-25th or so. Heads up.
Joe