This is an archived article and the information in the article may be outdated. Please look at the time stamp on the story to see when it was last updated.
I was excited this morning to look at the satellite images this afternoon and see the snowcover from space, and the pictures to me is a vivid one. We all know how close we were to a nice snow event for the metro, and while the SE side of the metro had about an inch or so, one county away, amounts were double to triple that (2-3″). We knew we would be on the edge of this, but frankly until the event started, it's awfully tough to say how that whole thing was going to play out.
Here are the snow reports from the NWS…
Now let's go up about 22K miles into space and see what the satellite view of those numbers look like.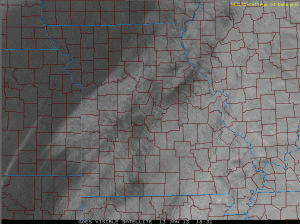 You can see the NW side of the "storm" stretching from Carroll-Lafayette-SE Jackson to Cass Co on the MO side into SE Miami and SE Anderson Co and points SEwards. by the way, look a little farther west to that thin pencil line of snow across SE KS…bizarre! My thoughts are that was going to be our NWestern snow extent IF you drew that line up into the metro area. IF that would've happened the forecast would've been spot on, but for whatever reason the storm (wind energy) morphed as it was traveling to the NE…perhaps the dry air working into the region at the same time played a role in this. Who knows…the NWS just released this close-up view.
This is going to be a tough week I think for forecasting temperatures, I have no clue when the next time will be for us to talk about some sort of decent to significant storm, that may be weeks away, but the highs and lows for the next 10 days will be challenging. We're going to see different airmasses slide through the area starting with today's cold airmass. As of this writing we're only around 22° which is sort of impressive when you consider that there really isn't any snowcover to to our immediate NW until you get to the Lincoln, NE area. This colder airmass will modify over the next couple of days, but highs should stay below average through Tuesday, before we start to warm-up a bit on Wednesday and then warm-up more on Friday and Saturday. We are going into WNW flow, which is typically very dry for us, and may result in downsloping winds off the Rockies, allowing our temperatures to potentially pop into the 50s somewhere in there.
As this is occurring arctic air will start to load up again towards Canada and will need to be watched. There appears to be a good chance some of this air gets to our neck of the woods, but how much and whether or not most is deflected towards the Lakes area and NE part of the country (most likely) remains to be seen.
Hey, here is a weird weather record set already today. Mt Washington, in New Hampshire set an all-time January high today of 48°. As that was happening Mexico City was 46°. They were warmer than Orlando, LA, San Diego and Phoenix, AZ during the early AM hours.
Have a great Sunday and enjoy your week!
Joe