This is an archived article and the information in the article may be outdated. Please look at the time stamp on the story to see when it was last updated.
For snow lovers, at least for a change, the snow is in the same region. That has been even a struggle for the last couple of months it seems like. This was an impressively wet storm for the Plains states. For the most part it's been in the form of liquid precipitation, but there was a nice swath of snow from CO through IA with this thing and as the images below show, CO especially got hit good. Denver set a record yesterday with 15″ of snow, not only for the date but also for the entire month of FEB on any calendar date. That's pretty impressive for Denver. There were some totals exceeding 50″ in the foothills of CO.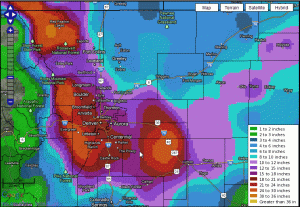 As the storm moved into the Plains states it lost a bit of it's punch but still produced some heavy snow in NE.
It's still snowing up there, lightly, according to most reports as of this typing. The surface storm has now moved towards Central MO and into the W TN Valley. there may be 2 surface storms with this looking at the data. As a result our winds have switched towards the north and the temperatures are steady in the upper 30s and will drop a few degrees heading towards this evening.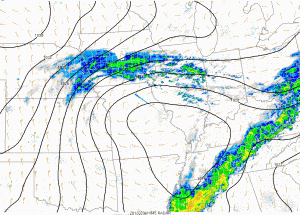 Click on all those graphics to make them larger.
The snow that is up towards the I-80 corridor has produced 2-6″ of snow in IA and 6-10″ around the Omaha area. So close yet so far. Parts of the NW tip of MO have seen close to 1″ or so of snowfall. Lincoln, NE has been hard hit with 4000 power outages reported so far.
The upper level energy (in SE NE now) for this snow is SLOWLY drifting towards the SSE and weakening. It should continue this as it approached KC and may come almost directly on top of the city by tomorrow AM. The snow area that's along the I-80 corridor now will slowly shrink and break up as it comes towards KC after midnight tonight. There may be some flakes in town, but IF there will be additional accums, my feeling is that it would be in areas closer to the MO/IA border. Perhaps another 2″ is doable up there. One thing that the metro needs to pay attention too would be the road temps as they ddrop to near freezing. That typically doesn't create too many problems, but the farther north you travel, watch those bridges and overpasses especially.
Tomorrow should be marked by clearing skies and highs near 45°. I should be able to show you a rather dramatic satellite picture showing the extensive snowfield across the north and out towards the west of the area.
The next piece of energy sitting out in NV right now, may turn into our next small weather maker on Tuesday with the potential for some snow or mixed precipitation. This little feature will need to be watched because I can see how we might be able to sneak in little accumulation on this one. There won't be a lot of moisture for this to work with however so I can't get too excited about it at this point.
From there we'll see some chillier weather towards the end of the week, followed by a warm-up sometime next weekend I think.
Have a great Saturday and weekend for that matter. If things need updating I'll get an update on the blog this evening. Also I should be able to get an earlier blog together for you tomorrow by 9AM.
Joe