This is an archived article and the information in the article may be outdated. Please look at the time stamp on the story to see when it was last updated.
Before I get into the latest data for you, I did do a brief comparison of JAN 2006 (our warmest JAN ever) and JAN 2012 that I wanted to show you. As you know I love giving you perspective on the weather. There is no doubt everybody realizes that what we're experiencing this winter so far isn't quite right. When I read something or hear something, whether here or elsewhere, about people commenting on the mildness of the winter I always like to look and see if we've done this before. One thing I've learned is that people have a short recollection when it comes to weather. that's why I wanted to delve into JAN 2006 a bit more, because in reality, as I wrote about yesterday…that JAN was more than twice as warm as this past January. Click on the following image to make it larger.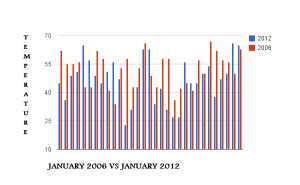 What I did was compared the HIGH temperatures from both months. The RED lines represent the highs for JAN 2006 and the BLUE lines represent the HIGHS from 2012.
Remember JAN 2012 was about 6+° and JAN 2006 was more than 15.5° above average (really an astounding number when you think about it). I counted just 8 days that JAN 2012 was warmer than JAN 2006. Again remember the feeling about how warm it was over the past month. Now think about the fact that JAN 2006 had 23 days even warmer, and many of those substantially so! Again perspective is what I'm trying to give you here.
I also think that we may not remember that as well, because that previous DEC (2005) we had 11″ of snowfall! After that though the snow essentially stopped with only 2.3″ for the rest of the season. Contrast that to this season where we've had little snowfall at all. So the winter was roaring then stopped 6 years ago and this year the winter isn't even meowing yet (my 3 cats would be pleased with my cat reference there :) )
Anyway, just something to think about as your reading today.
There hasn't been a lot of change this afternoon in terms of what I talked about this AM. Here is the NAM thought concerning the rainfall totals.
Here is the GFS idea as well.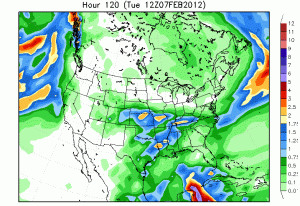 Finally I thought I'd show you what they're expecting out to the west of here. Needless to say travel along I-70 and I-80 will not be possible beginning tomorrow PM.
So far the Denver area has had 34.4″ of snowfall this winter season.
Here is the AM blog…
+++++++++++++++++++++++++++++++++++++++++
It's no secret that the moisture is needed. Strangely, during a normal winter I'd be concerned that a lot of the rain that we would get for this time of the year would have a tougher time soaking into the soil because the soil would be frozen. That certainly will not be the case this time though. The last time we had a good soaking rain was way back on DEC 19th-20th when we had about 1.35″ of moisture. That was the last storm in what turned out to be a rather wet period of about 6 weeks in KC.  With no other storms coming in the foreseeable future, this soaker will probably have to do us for awhile. No doubt this rain will put a smile on the faces of many farmers around these parts to help recharge the drying ponds and irrigation ponds that are slowly withering away.
The computer models have been on the uptick with the amounts of rainfall in these parts. Here is one of the latest Microcast models that just ran here at the station. It seems to sort of freak out a bit for areas SE of KC. Tough to imagine that areas near the lakes will see almost 5″ of rainfall. Amounts though may easily exceed 2″ down there.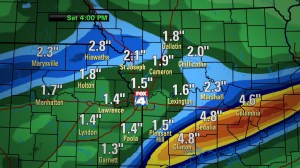 Those amounts are about double the amounts that were indicated in yesterday's blog posting. Also there has been a trend to slow down the storm even more, and move it essentially along the I-70 corridor. This would do a couple of things. 1) Prolong the rain through SAT adding to the potential totals…2) Allow some colder air to wrap into the storm on the backside a bit farther southwards. Perhaps allowing NW MO and NC MO to pick up some accumulating snowfall from essentially the I-80 corridor towards Des Moines southwards to the MO/IA border. IF you are traveling up I-29/35 into far N MO or E NE or S IA, watch the weather carefully. There is the increasing potential for a major snowstorm not that far away. Here is the latest snowfall forecast, which is likely somewhat overdone because there will be transition issues between the rain and snow up there, but it is certainly something to pay attention to!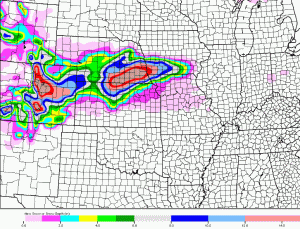 Click on that image to make it larger.
Finally here is the latest NAM model with the projected rainfall forecast.
I've noticed numerous cases this season where this model has really overestimated the amount of rainfall a day or two out. The model then figures things out as we get to about 12 hours away, so my suspicion would be that the model will cut these totals by 1/3 to 1/2 before tomorrow's rain begins. Regardless, it does appear more likely that this could be a nice 1-2″ rainfall event for the region.
IF we are to get some flakes of snow here, that would probably NOT happen till late Saturday or SAT night and at this point no accumulations are likely in the metro. We'll need to watch areas farther N and NW however.
I'll have another update during the middle of the afternoon
Joe