This is an archived article and the information in the article may be outdated. Please look at the time stamp on the story to see when it was last updated.
Good morning…today's weather blog entries will be a work in progress type thing as there will be numerous updates as the weather dictates. It's also a good day to remind you that you can follow me on Twitter for the latest weather information as well. Last night, since I felt that the our viewing area would be safe from a severe weather threat for the most part at least, I decided to go the the Missouri Mavericks hockey game. I kept an eye on the latest radar and warnings coming out for the KS side and I was able to alert our twitter followers about the latest warnings that were being issued for the KS side.
There were several funnel cloud reports and multiple large hail reports from a few of the counties in E KS. It seemed Osage County was under some sort of warning for about 3-4 straight hours! Here is a look @ some of the hail video from StormChasingVideo.com.
There was one brief tornado touchdown near Americus, KS. Here is another video from our Reed and our friends @ Tornadovideos.net. They will be appearing this year @ School Day @ The K!
Here are the reports from yesterday, with a nice cluster in E KS.
The storms barely moved, which ended up being a good thing for the metro as we may have had to deal with some of the large hail producing storms.
As far as today goes, right now we are enshrouded in cloudcover. Temperatures are in the 60-65° range and will really need to warm up later today for us to realize a more significant severe weather threat. In reality, my feeling is that the best chance of some severe weather may be across NW MO, NE KS, SE NE and S IA near the MO border. Here is a look at the RUC for 7PM this evening. I've outlined the area where at this point I'd be more concerned about rotating storms. One thing for sure, it's going to be a long process up there because they are worked over right now, but with warm, unstable air being fed from the south into this region later today or tonight, they may get primed for something "interesting".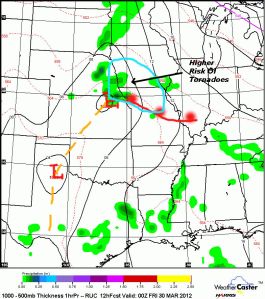 For the metro, my feeling is that the risk of severe weather, mainly wind and hail, will be on the increase this evening through midnight. Unlike yesterday, what storms form on the KS side, should move a bit more today. Probably towards the NE at around 20-30 MPH.
I'll have more later this afternoon.
Joe