This is an archived article and the information in the article may be outdated. Please look at the time stamp on the story to see when it was last updated.
2PM Update:
The latest data continues to come in and I've looked over the EURO/GFS and NAM models as well as the "ensembles" of those models and I also just checked in with the newly enhanced Canadian model as well. There are important trends that have developed. 1) would be that the risk of a significant ice storm (as in freezing rain) is continuing to go down. 2) The risk of some sort of snow/sleet storm continues to go up. 3) Surface temperatures through early THU PM should stay below freezing but then go above freezing late in the day or even in the evening as the surface low comes close to KC. 4) Areas farther south from KC (Sedalia/Clinton/Butler/Pleasanton etc) have more of a chance of ice/rain switchover. 5) Should there be a blanket of snow on the ground later on Saturday AM our temps should be in the single digits. 6) The worst of the storm appears to be from Thursday AM through 10AM THU then we should rapidly shut down the precipitation of significance.
Just so you know…the record for snowfall on February 21st is 5.1″ set back 3 years ago in 2010. Also for those who are screaming hype…unless you have difficulty getting around in the snow or don't like to be out in that type of weather…you'll be just fine getting out and about in the metro no later than Friday afternoon for most of you. We live in modern times and unless you are in an area that doesn't get plowed or tends to have longer issues than another are in getting plowed you'll be just fine. YOU DO NOT need to empty the store shelves for this storm. It will NOT be a blizzard for us. There is certainly a segment of our population that is more sensitive to nasty weather than others, but for the vast majority of you…again you'll get out and about by Friday.
Now that I've gotten that off my chest let's get into the maps. The amount of snowfall is still a major question because of the potential of sleet cutting down in the totals. I don't want to rehash my previous blogs about that but it's a concern. There isn't any real correlation that I know of saying something to the effect that 1″ of sleet equals ___ inches of snow so we have to try and figure out when the snow starts, how much comes down, when we transition (assuming we do) and when we switch back. The storm is still off the coast of the PAC NW.
and will droop southwards towards N CA by tomorrow AM. There are no real changes in the track from yesterday…and its still to the NW of here (core of the storm aloft). Typically we don't get a lot of snow in these scenarios but the storm is forecasted to be structured a bit differently which is somewhat perplexing in the big scheme of things. This storm also will not be the biggest storm in terms of precipitation amounts we've seen this winter…I still think we're looking at amounts in the 1/2″ to 1 1/4″ range. Healthy for sure and certainly welcome.
The main thrust of snow should be in advance of the storm itself, initially there may be some dry air for the snow to overcome as it moves our way later Wednesday night, but as that falling precipitation evaporates it will cool the atmospheric column a bit and allow what follows to stay in the snow/sleet family.
The area furthest north is more likely to see the higher snow totals (NW MO and NE KS). Storms like this will have a fast moving dry slot as written about yesterday so the period of "heaviest" precipitation is limited to about 12 hours I think. Here is the GFS portrayal of the potential snow…showing about 6-10″ in the region.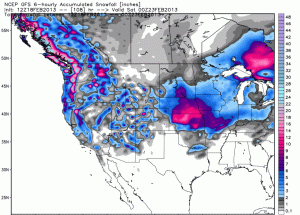 Here is the Canadian model sort of the same idea but reducing the snow totals for us a bit in KC proper.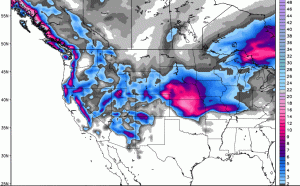 Both models suggest NC KS and NE look to fare best from a snow standpoint…and this area would welcome it due to the ongoing drought that's worse out there believe it or not. Here is a look at our suite of model data for snowfall forecasting. You'll need to click on these images to make them larger.

Again take these maps with a somewhat grain of salt involved. I think the models get a better idea of what happens Tuesday evening as the storm will be ashore. Right now though it does look like we'll have enough snow to shovel and plow regardless of transition issues.
4PM Update map…wanted to stick in the EURO  for the afternoon…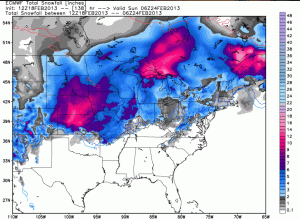 What bothers me about this storm:
1) I hate that it's going so far to the NW of here…the dry slot is an issue for us to really get a ton of precip out of this. We'll have to rely on a process called warm air advection which can give you decent snow totals if things work out
2) The sleet potential. If we're getting 3-6 hours of sleet then the snow totals will be a fraction of their potential. Should the storm suck in more warm air above the surface than I think it will…and we get some sort of freezing rain out of this the snow numbers come down farther
3) Initially there is a LOT of dry air for the leading edge of the storm to overcome…
4) Probably a bunch of other things that I'm not thinking about right now.
So with all that said here is my updated timeline for you.
Wednesday: Highs near 30-35° with increasing clouds
Wednesday night : Clouds lower and thicken fast…perhaps some snow/sleet developing (accumulations possible) changing more to sleet as the night moves along. Temperatures steady 26-29°. The duration of the snow will be critical to potential accumulations obviously.
Thursday 12AM-9AM: Snow/sleet (moderate/heavy at times) This may be a large chunk of the storm's precipitation. Temperatures steady 26-29°
Thursday 9AM-1PM: Snow/Sleet winds down to some freezing drizzle/mist. Temperatures start rising to freezing because of the dry slot taking over.
Thursday 1PM-6PM: Dry slot of the storm moves into the region effectively shutting down the significant moisture…temperatures go above freezing later in the afternoon. We could see some melting until the surface low passes…then temperatures will fall again refreezing what's on the ground.
Final snow accumulations: Too early to calculate for the KC area.
Ice accumulations: Doubtful now but still too early to say that with 100% confidence
Sleet accumulations: Too early to calculate.
Now let's get back to the AM blog.
+++++++++++++++++++++++
What I think I'm going to do today is split this blog into two parts….one will deal with what's going on today and the other with the likely winter storm that will affect the region mostly on Thursday with all sorts of winter weather potential including heavy snows/areas of heavy sleet/some freezing rain and perhaps just liquid rain/drizzle. So the whole gamut is in store. I'll also be updating the blog again early this afternoon…probably before 2PM or so with more information about the storm on Thursday.
So with all that said, let's deal with the cold front that will be slicing into the region as the morning wears on. This front is close by as of this writing and a low stratus deck of clouds has moved into parts of the area, especially from KC southwards. This is indicative of the gulf moisture that has made a serious run up the I-35 corridor and points area last night and this early Monday morning. dewpoints are in the upper 40s across SE KS now and that "thicker" low level moisture will get shunted to the SE of the metro as the front barrels through in a few more hours. There may be some showers popping up (developing right on top of the I-35 corridor) over the next few hours, but as mentioned all weekend long I think the better chances will be SE of the metro for the rest of the day today. As of 8AM there is nothing on radar, but again a few things map "pop" before lunch-time.
behind the front as you can see from the map below, the temperatures are in RED, it is colder and that chillier air, aided by gusty NW/NNW winds will flow into the area this afternoon so temperatures will max out in the lower 50s (about where we are now) before dropping to near 40 later this afternoon with wind chills in the 30s.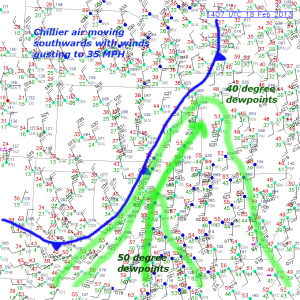 Regardless of what happens today, KCI has already topped off at 54°. I wouldn't expect much more than that for them, but I guess IF there are some breaks in the clouds from the metro and points south of here before the cold front gets to areas like Sedalia or Clinton that temperatures could go up about 5° today.
It will be colder than average Tuesday as well as Wednesday.
There there is our storm for Thursday. Nothing has really changed that much in the data thus far. The risk of a prolonged period of freezing rain may have dropped some for the KC area as it appears the risk of snow/sleet has increased. Areas farther north towards NE KS and NW MO north of 36 highway have better chances of a majority of snow and perhaps minor (very) sleet totals. I think this graphic from the NWS in Pleasant Hill says it best for now.
and from the office in Topeka…
I will add onto this blog early this afternoon with my updated timeline for the upcoming winter storm. Everything still points to this being the most significant winter storm to affect the region as a whole since March of 2011. So we're talking 2 years but as a reminder last winter was nothing for us so that statement really isn't breaking any new territory.
I also want to mention, as a way to ease some concern perhaps in those of you who get a little more anxious about storms like this…when talking about these types of storms with all sorts of transitions in the region, you probably either want all snow or all sleet or some sort of combination. What all of us don't want is the freezing rain aspect of this, especially if that aspect amounts to 1/2″ of ice plus. That, for some, conjures up memories of the terrible ice storm from 10 years ago or so (it still doesn't feel like that long ago for some reason). Anyway the snow and the ice, while very inconvenient, are not as huge a concern for the power lines as the freezing rain is. At this point, as I mentioned earlier the chances of that for the metro (ice) are somewhat diminished. With all that said though everything is on the table for this storm from a precipitation type standpoint and we'll be tracking it for the next several days.
I also want to mention so far this month we're running 4+° above average and today we'll add a bit more to that. I'll be interested in seeing how that number comes down in about 1 week or so with the colder weather likely. I also should mention that temperatures are going to be VERY tricky to forecast for the next several days for the late week and weekend as a lot will depend on the extent of the snowfield through the Plains and whether or not we have some or a lot here. We could have some pretty chilly AMs heading into the weekend IF there is snow on the ground.
OK that's it for now. I'll add on to the blog this afternoon so check in again after lunch and perhaps again later this afternoon with more maps as my time permits today.
Joe
Joe