It's a wet start to our Wednesday in the area today with widespread rain and thunderstorms out there. The rain goes back towards central Kansas, so it will take awhile to work through the region.
The rain is light to heavy and enough to create some localized flooding in poor drainage areas. The atmosphere also has a LOT of moisture in it so it won't take much to create areas of heavy rain.
The rain will wind down early this afternoon and we should dry out afterwards with cooler than average temperatures again today. Overall, temperatures will continue to be seasonable most days. We've peaked for our average highs and now start to see the slow fall that will continue into January.
++++++++++++++++++++++++++++++++++++++++++++++++++++++++++++
One sentence forecast: Rain and storms around this morning before drier weather shifts into the area this afternoon.
++++++++++++++++++++++++++++++++++++++++++++++++++++++++++++
Forecast
Today: Rain ends with variable PM clouds and cool temperatures. Highs into the 70s. Perhaps near 80 if we get enough PM clearing.
Tonight: Fair skies and cooler with lows in the lower 60s
Tomorrow: Not bad with highs in the mid 80s with decent (by August standards) humidity levels
Friday: Hotter and muggier with temperatures approaching 90°.
++++++++++++++++++++++++++++++++++++++++++++++++++++++++++++
Discussion
It's a soaking rain in the region today with some thunder and lightning out there as well. Let's start with radar from Pleasant Hill.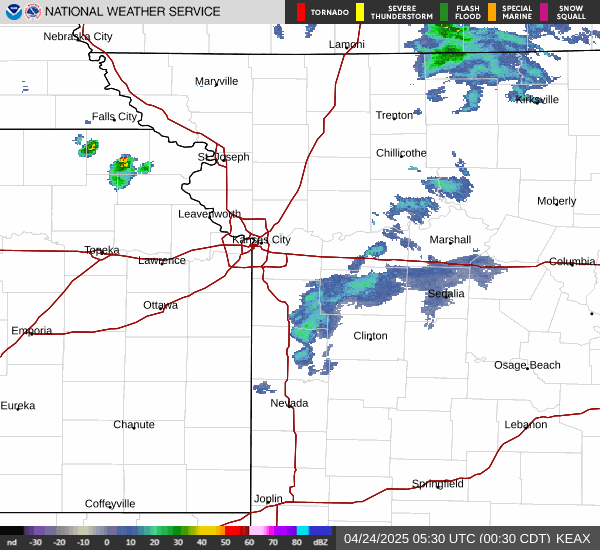 As I type this blog there is a disturbance east of Emporia shifting eastwards. The heaviest rains appear to be setting up north of 435 on the southside of the Metro towards northern Platte County. This area may easily see over 2-3″ of rain if that band is persistent for any length of time this morning.
Here are some rain reports so far through 9AM
This disturbance will leave the area near or after lunch and we should see some clearing after that. With all this going on though, we'll have another day with temperatures below average is a lock.
The average is in the 88° range and today we should fall well short of that. Areas towards southern MO may see some additional stronger to severe storms later this afternoon.
This is our 54th coolest start to August and since June 1st it's our 59th coolest summer in KC based on weather records going back to the late 1880s. So essentially in the top half of cooler summers so far (meteorological summer).
Once we start getting more sunshine tomorrow, and especially with south winds returning on Friday, this moisture will be evaporating and that will turn into steam heat and muggy weather to finish the rest of the week.
There will be additional chances of storms down the road as well including Friday night into early Saturday and Sunday as well. So it's not a dry forecast for awhile.
We'll have repeated storm and rain chances to keep the grass pretty happy. The ups and downs for temperatures will continue as well with a few nice temperature days mixed in with the typical steam heat days. There are some signs that later next week may get pretty toasty again.
More on that tomorrow.
Here are some tidbits I thought were interesting:
Florida has been crazy warm/hot and humid. This morning some areas have a heat index of 110+° at 9AM their time. That is crazy for them.
Miami set a record on Tuesday for its highest heat index… 113°. This is being propelled by the crazy warm ocean and bay waters around most of southern Florida this year.
Naples tied an August record on Tuesday for the hottest temperature.
Here is additional data concerning July.
Not only the hottest July… but the hottest month worldwide on record.
Some details…
July 2023 – Surface air temperature highlights
The global average temperature for July 2023 is confirmed to be the highest on record for any month.
The month was 0.72°C warmer than the 1991-2020 average for July, and 0.33°C warmer than the previous warmest month, July 2019.
The month is estimated to have been around 1.5°C warmer than the average for 1850-1900.
Heatwaves were experienced in multiple regions of the Northern Hemisphere, including southern Europe. Well-above average temperatures occurred over several South American countries and around much of Antarctica.
July 2023 – Sea surface temperature highlights
Global average sea surface temperatures* continued to rise, after a long period of unusually high temperatures since April 2023, reaching record high levels in July
For the month as a whole, global average sea surface temperatures were 0.51°C above the 1991-2020 average. The North Atlantic was 1.05°C above average in July, as temperatures in the northeastern part of the basin remained above average, and unusually high temperatures developed in the northwestern Atlantic.
Marine heatwaves developed south of Greenland and in the Labrador Sea, in the Caribbean basin, and across the Mediterranean Sea
El Niño conditions continued to develop over the equatorial eastern Pacific.
(Via the World Meteorological Office-WMO)
There is some fascinating discussion in the climate community about perhaps a part of this being caused by the Hunga-Tonga volcano that occurred back in 2020.
This volcano released a tremendous amount of water vapor into the atmosphere. Typically volcanos can cool the earths climate because of the aerosols that are released into the upper atmosphere that reflect some of the sun's energy and prevent warming, BUT this volcano was an undersea volcano, and when it erupted it sent a crazy amount of water vapor into the upper part of the atmosphere.
This is rare.
We know water vapor is a greenhouse gas…
Research is being done on this and its affects on climate. My thought is that there is one, but how much is unknown.
I've seen climate scientists say a very minor effect and others say that it could be a bigger effect. We just don't know for sure yet. There are some papers out that HAVE NOT been peer reviewed, so I hesitate to put a lot of emphasis into this yet.
It is fascinating, however, jumping to end-game climate decisions based on this is probably not very wise. It also doesn't take into account all the warming that was happening on a global scale well before the volcano at any rate.
Meanwhile, in Hawaii a hurricane is passing well south of the islands, BUT the trade winds are going pretty good and that has resulted in numerous wildfires burning and worsening.
OK that's it for today.. The feature photo is from Lonnie Knox from Adrian, MO of the sunrise before the rains came this morning.
Joe