KANSAS CITY, Mo. — Temperatures today won't be quite as mild as yesterday, but still not too bad, just a bit below average overall. The main thing for the rest of the week is below-average highs as I mentioned in yesterday's blog.
The mornings won't be overly cold; the average low is around 32 degrees. And with so many clouds expected this week, we won't see much of a temperature drop at night.
Today's blog is going to dive in on the effects of all this mild weather of late and really for the winter as a whole. It's affecting things.
Have you noticed some of the grass getting greener pretty quickly? This started about 10 days ago. Yesterday I noticed that lots of trees are now coming out of hibernation with buds getting ready to start busting loose with flowers.
Another way this is apparent is from the early start to the allergy season around these parts (and elsewhere). There is a price to pay for the wet, mild weather we've seen this winter.
++++++++++++++++++++++++++++++++++++++++++++++
Forecast
Today: Lots of clouds with intervals of sunshine expected with highs near 50 degrees. There is a chance of some showers this evening. Blustery as well adding a bit to the air.
Tonight: Showers end this evening, then cloudy with lows in the 40-degree range.
Tomorrow: Cloudy with perhaps some drizzle or mist at times. Highs in the mid-40s.
Thursday: A better chance of some rain with highs again in the mid-40s.
++++++++++++++++++++++++++++++++++++++++++++++
Discussion
So we all know it's been overall a mild winter. If we were to take away those four-to-five days around Christmas and before, we'd probably be higher up on the following chart.
Take a look at the period from Dec. 1 through Sunday (March 5) in terms of average temperatures.
Also look at the top 20 above again. I've also highlighted all the years in the Top 20 that we've been so mild since 2000. This is the ninth time this century: nine times out of 23 years. It's almost as if something is going on with the winters around here.
This is even more apparent when looking purely at high temperatures during the same time frame, except instead of being ranked 12th, now we surge to seventh-warmest:
Between the added daylight now, and these warm temperatures, the flora is thinking spring. You can see the flora respond with an earlier "green-up" compared to what typically happens.
There is actually data and research to this called "phenology" studies cyclic and seasonal natural phenomena, especially in relation to climate and plant and animal life.
So from that definition we can calculate how ahead or behind parts of the country are to "greening up." The National Phenology Network has been working on this for quite some time and can determine, based on the flora
, how the green up is doing from year to year and then relate it to average.
Here is the data for this year: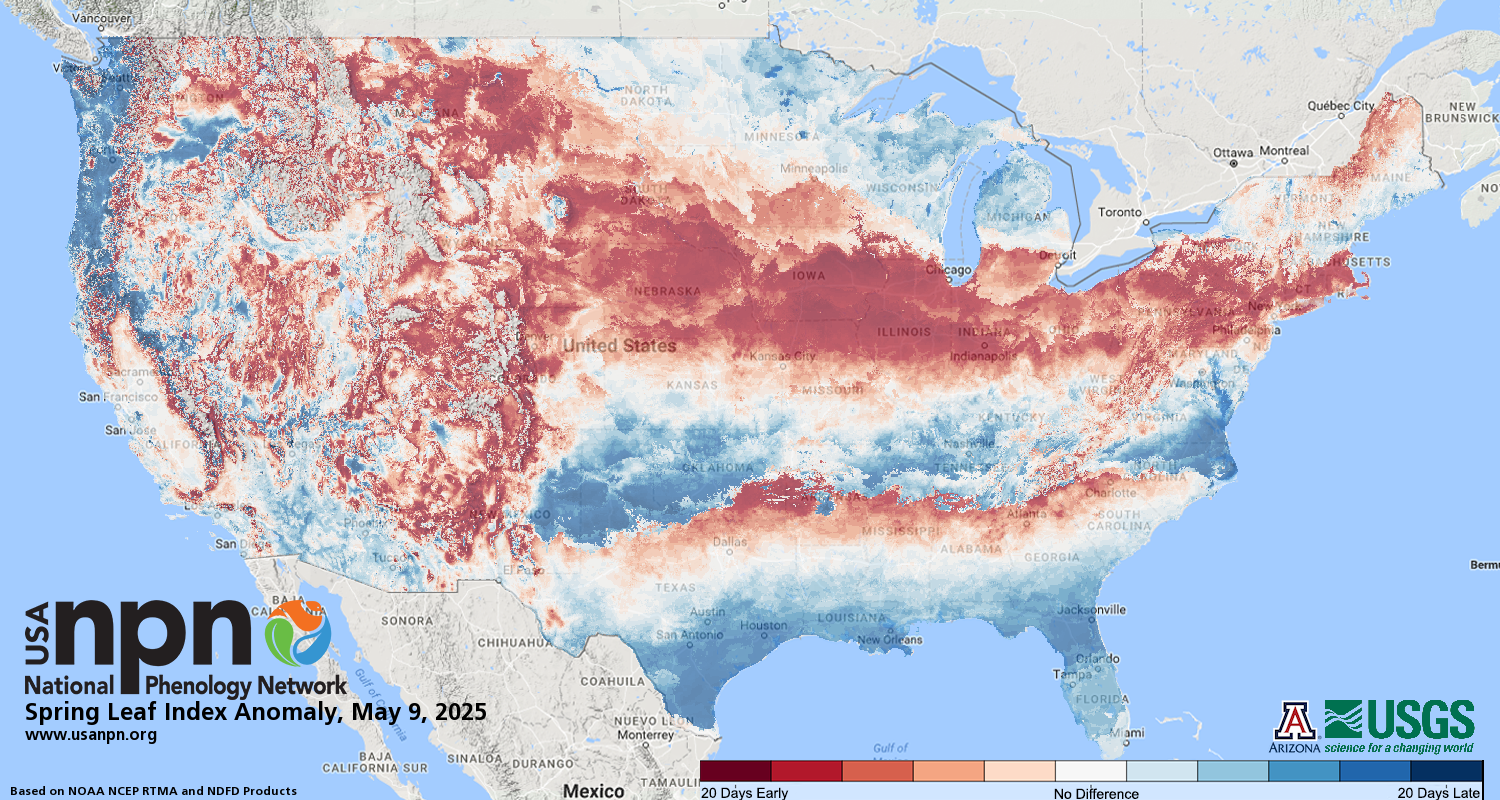 The red colors are advanced green up compared to average. The bluish colors are delayed greening.
This green up is averaging about 10 days faster this year compared to previous years for the KC area. Some areas, for example toward the Ohio Valley region, are running about three weeks ahead of schedule, which is very significant, especially if there is a late-season freeze.
Orchards, in particular, can be VERY vulnerable to this, and goodness knows we have quite a few orchards in the region, especially on the Missouri side.
Take a look at the closer in data from the NPN.
So you're starting to see it as you're driving around if you look carefully.
You may also be feeling it. Take a look at the allergy report:
Yikes. That's pretty impressive and not so great news for those sensitive to allergens in the air. Tree pollens typically are elevated when trees are showing signs of budding out, and that's where we are now.
Also when we get a south wind like yesterday gusting to 40 mph, we can import pollens from the south where it's been even warmer this winter compared to average.
The next map shows the anomalies from meteorological winter: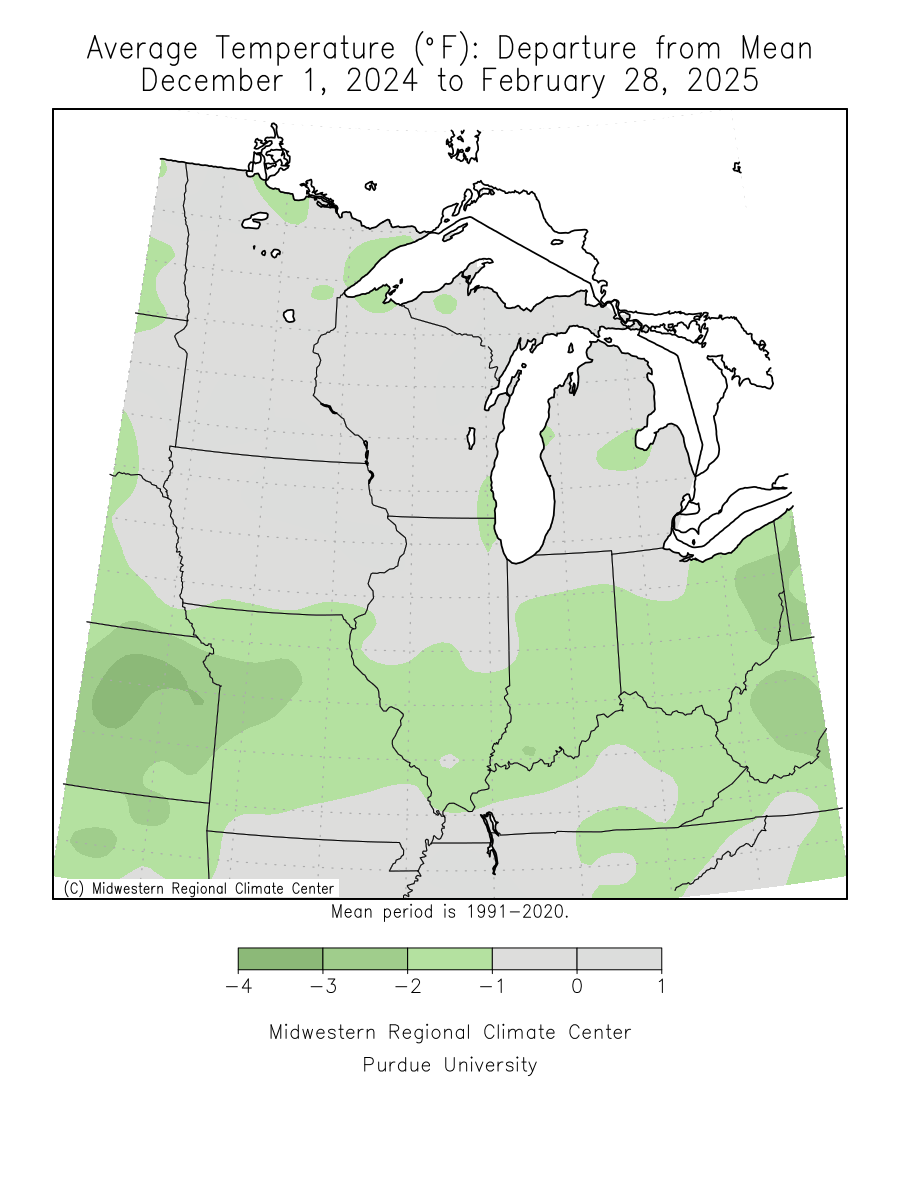 So this warm weather is definitely a thing in many different ways.
These next 5-10 days overall will trend cool. There may be a day or two in there with milder weather, but generally cool. We'll see if that slows things down at all.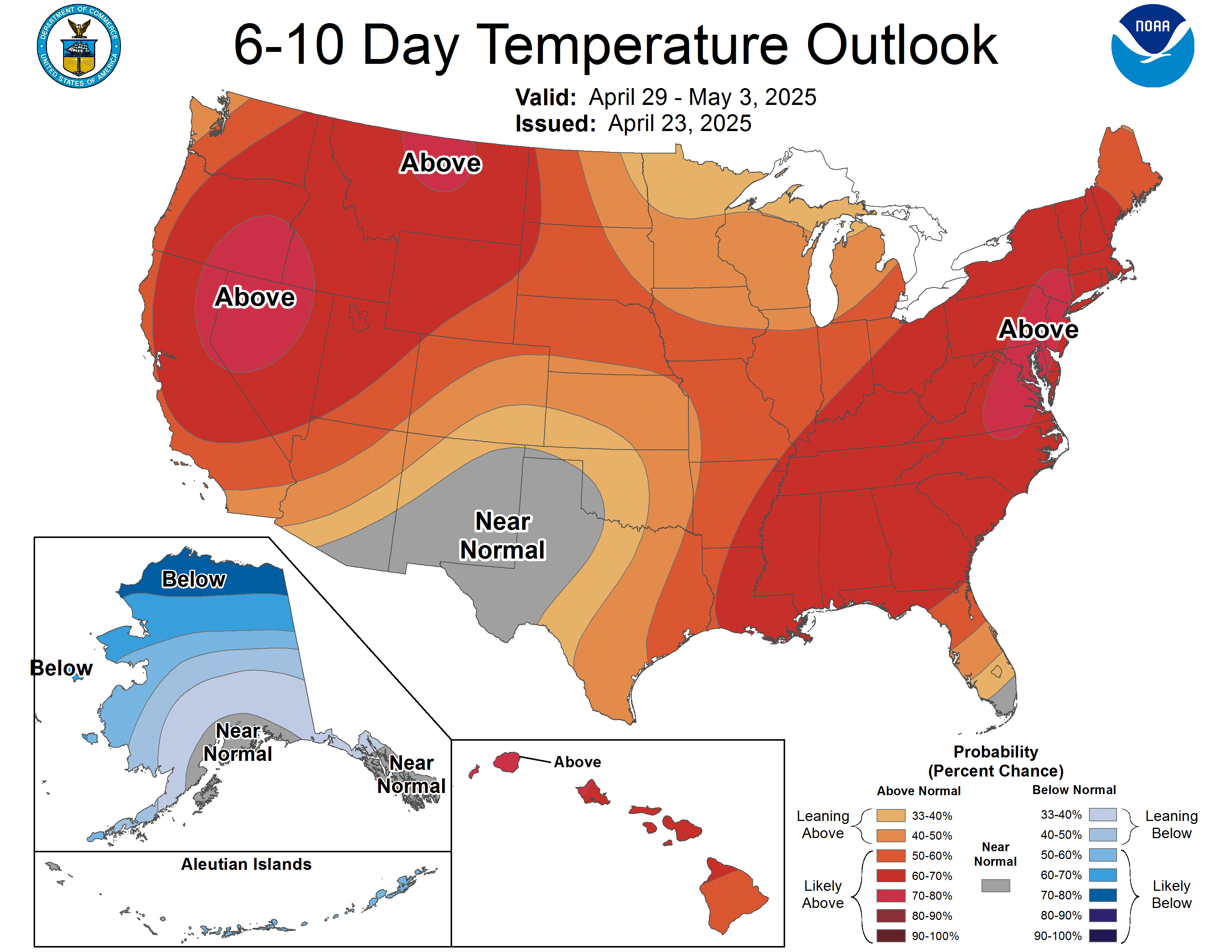 The feature photo comes from Ben and his drone. Gorgeous last night.
Joe