Some areas are starting sort of cloudy today with patches of a low gray overcast out there. Some areas are enjoying sunshine.
Overall though, at least from a temperature standpoint, it's not too bad out there with readings early this morning near 55° to start the day. The average low is about 20° chillier.
The first 6 days of November, much like almost every other month this year are trending warmer than average and essentially there isn't any significant cold air coming our way for quite some time.
So far we're about 2° above average this month and that's mostly because of a well below average day on the 1st.
It's also been pretty dry. There were some light showers/drizzle around on Saturday, and the same thing may happen again tomorrow…but there aren't any big storms coming towards the region for quite some time.
+++++++++++++++++++++++++++++++++++++++++++++++++++++
One sentence forecast: Clouds and sunshine today and mild weather continues with a SE breeze developing.
+++++++++++++++++++++++++++++++++++++++++++++++++++++
Forecast:
Today: Variable clouds and mild with highs 70-75°
Tonight: Partly cloudy and mild with lows in the lower to mid 50s
Tomorrow: There may be a few showers/sprinkles out there but overall mostly cloudy and mild with highs in the mid 60s
Thursday: Partly to mostly sunny and cooler with highs in the mid 50s
+++++++++++++++++++++++++++++++++++++++++++++++++++++
Discussion:
So let's start with this…so you get a general idea of a trend coming towards the region…the 8-14 day outlook. You can see the dates towards the top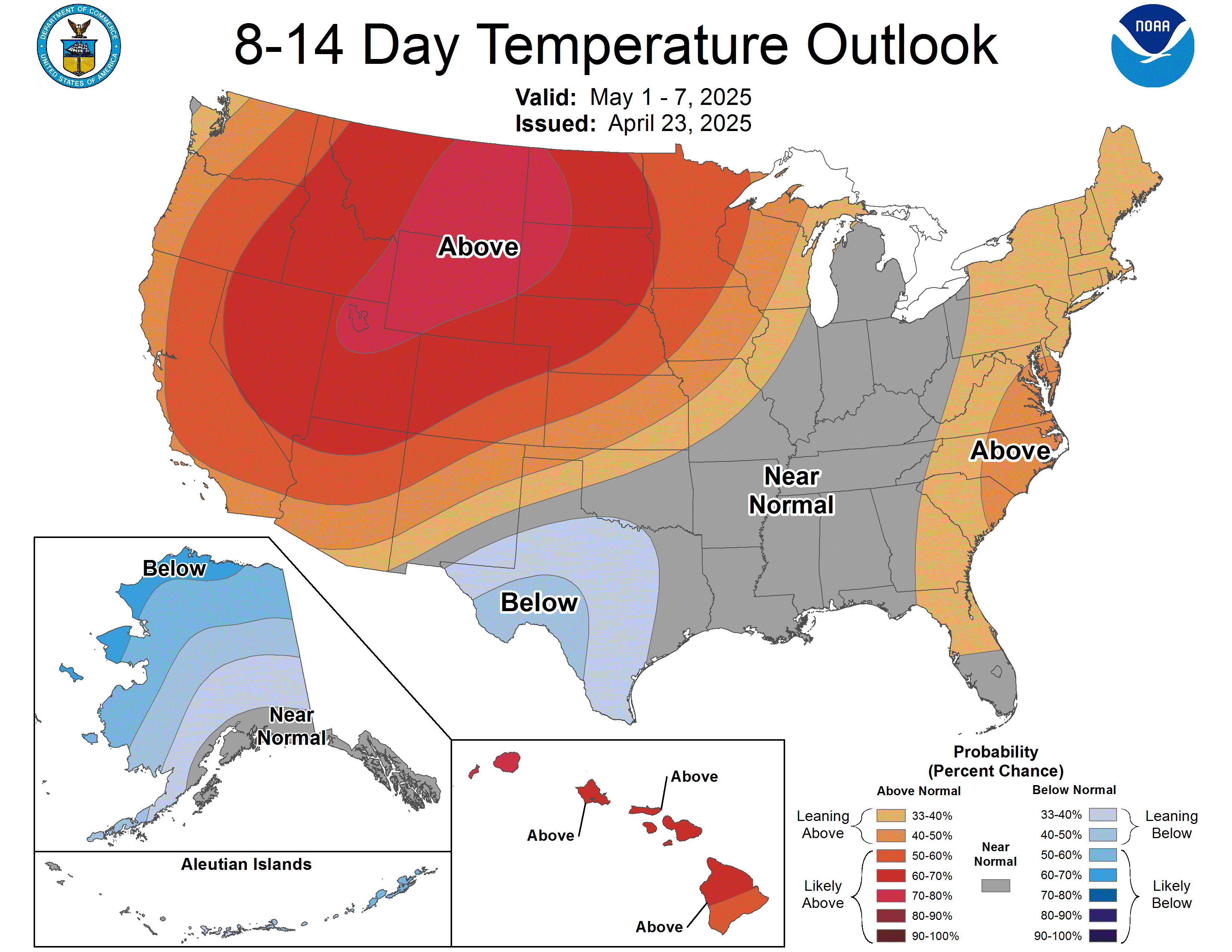 So yeah…you get an idea of what's ahead for next week.
While we're only about 2° above average for the month right now…we're going to really add to that over the next 10+ days I think.
The overall trends, at least just above the surface in terms of temperature anomalies shape up like this…for days 5-10…
and for days 10-15…taking us towards Thanksgiving week
Notice on that map how the anomalies are trending closer to average…there are decent signs of at least some cooler air working our way towards the region perhaps towards the early part of Thanksgiving week…a long ways away though.
The "general" pattern overall is mostly west to east…we call this "zonal flow". During the fall season especially this typically means mild days and cooler nights.
What it DOES NOT mean though is no cold fronts. There will be periodic fronts slipping into the region but typically with this flow…the air that arrives from the north isn't overly chilly. Perhaps a cooler day here or there that doesn't last for more than 24-36 hours before that cooler air mass is shoved away.
With the "general" flow being from the west to the east and also a rather fast flow too…this also keeps rain chances (or snow chances) to a minimum.
There is a front sliding into the region tomorrow…but the moisture that we have out there today (in the form of lower clouds) is rather shallow, only a few thousand feet up, so it's not a great set-up for a lot of widespread rain.
There may be some showers out there…some sprinkles in the afternoon tomorrow, but aside from that nothing too heavy is expected.
After that…again not too much is coming for quite some time. There may be something else next Wednesday but the general model ideas are very dry overall for the next 10+ days. The run from the EURO model into next Thursday
The run from the GFS model into Thanksgiving eve
That's very little rain…and likely no snow.
The Deep South may be set up for additional needed moisture.
With this type of flow aloft…colder air in Canada is rather transient in nature…there isn't a lot of time for a deep cold air mass to build up up there and since that is typically our source of significant cold…if its not deeply cold up there…tough to get deeply and long lasting cold down here.
So from that standpoint it appears most of November is going to be above average…and I would be surprised if at the end of the month we're not above average for the month overall.
Onwards…
One of the biggest questions I get, are about clouds…what kind of clouds are we seeing etc. I saw this yesterday cross my twitter feed (@fox4wx) and I thought it might be a good reference for you down the road to tell you what kind of clouds you are looking at.
Next up…a change in the way winter weather warnings are conveyed.
Starting this winter…there is going to be a change to the criteria of issuing a winter storm warning. Previously this was issued when a suspected 6″ snowstorm was heading towards the region…that threshold is being reduced to 5″. It can also be issued for a winter combination of snow, sleet or ice as well.
This may increase the frequency of winter storm warnings issued locally. I actually support this change.
Snow frequency of over 5″ are coming down as the climate warms.
If the metro gets over 4-5″ it is pretty noteworthy and a definite pain to be on the roads etc.
If this helps Metro cities/communities ratchet up their preparations and responses to the storm, then that may not be a bad thing.
Here is the national breakdown…notice that the criteria does change from place to place. A 1-2″ snow in the Deep South and Southeast will trigger a winter storm warning, while areas into western MI need to have at least 8″ snows to trigger that type of warning.
Now let's see if we can get a winter storm or two to trigger this lower threshold!
The feature photo is from Ethan Johnson…and it's a pretty one with a sunset and planes.
Joe