Today we're finishing off August on a high note of weather in the area. Just delightful will be the rule today with pleasant temperatures this afternoon and this evening, much like yesterday and overall we're setting up for some nice, but hotter weather, for the holiday weekend.
The dry weather will be continuing at least into Tuesday and there may be some rain chances sneaking into the forecast later Tuesday or Tuesday night with scattered storms, but the three-day weekend looks pretty dry overall.
Just remember the building heat, that despite less oppressive humidity levels, will still be somewhat intense out there in the full sunshine.
+++++++++++++++++++++++++++++++++++++++++++++++++++++++++++
One sentence forecast: More of the same today with temperatures trending just a bit below average this afternoon with a gradual warming trend this weekend.
+++++++++++++++++++++++++++++++++++++++++++++++++++++++++++
Forecast
Today: Sunny and pleasant with highs in the low to mid 80s
Tonight: Fair and pleasant with lows near 60°
Tomorrow: A bit warmer with highs in the mid-to-upper 80s
Weekend: Sunny and hotter with highs in the 88-93° range.
Monday: A few more clouds with highs 90-95°
+++++++++++++++++++++++++++++++++++++++++++++++++++++++++++
Discussion
Today is the last day of meteorological summer in KC! Meteorologists break down the seasons a bit differently for data purposes. Summer for us is June 1st to the end of August, which is today.
So how did summer go around these parts?
It ended up tied for 57th place for the 57th coolest summer in KC weather record history. Records go back to the late 1880s. There is a small chance that what happens today may bring this to 53rd coolest.
It was our 60th wettest as well. Remember all this is for KCI the official weather keeping station for KC.
With folks having the tendency of recency bias though I'm guessing many are thinking this has been a brutal summer, especially after what happened last week, but remember the week before last week was perfect and this week is pretty darn close to perfect too.
We had 13 days with high lower than 80°
55 days with highs in the 80s
22 days with highs in the 90s
1 day with highs at or above 100
So far this year we're up to 29 days with highs 90° or higher. The average is 41.
We should add a few more over the next seven days or so at least.
Overall the summer will trend a bit above average for temperatures though. June was .8° above average… July was .9° below average and this month will finish around 1.1 or 1.2° above average.
So overall more or less a wash. That heat wave last week pushed the August averages into the plus category for sure.
Nationally here is how the summer has about wrapped up.
From a rain standpoint…
West central OK had themselves some rain
Speaking of which… impressive rain totals from the storm which was a fast mover once hitting the coast.
Speaking of that storm… from a recorded wind gust perspective…
There were some brief tornadoes and at one point last night when I was looking at radar from NC… you could see numerous waterspout indicators in the Atlantic Ocean, which was something fascinating to look at. That's pretty common in these scenarios. Most don't make it to land but some can and there were a few.
Another tropical storm developed last night… Jose…but that will stay well out to see.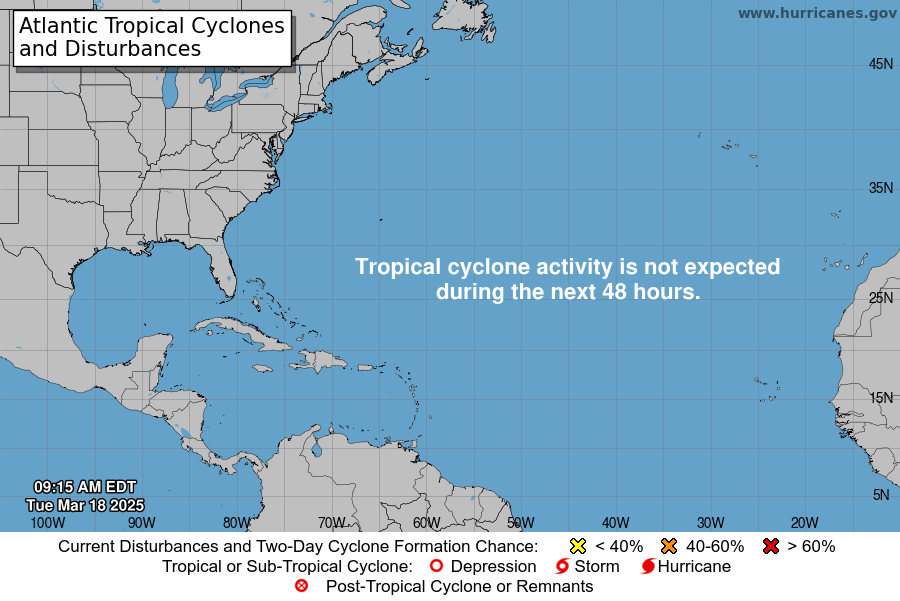 That next X out towards Africa may become Katia then the one after that may become Lee which is modeled to be a strong potential hurricane when it comes off and develops from Africa next week.
By the way, if Katia forms by 7PM tonight, and it may try to, into a tropical storm, that would be the 7th named storm this month… the most since 2012 in August
Since we're about to flip the month… my guess is September trends warm locally and perhaps drier than average as well. We average 4″ of rain in September.
Mason McCall with the feature photo of the Super Blue moon from last night.
Joe