KANSAS CITY, Mo. — It's a damp start to the day in the region with showers around. Temperatures have remained relatively mild overnight thanks to strong winds, and today we should see temperatures recover somewhat before a strong cold front moves in this afternoon.
That front will send temperatures tanking and it will feel considerably colder later today compared to this morning. As the colder air moves in with some moisture left over behind this front, a fast-moving band of wind-blown snow is possible between 7-10 p.m. or so.
It may snow hard for a bit of time, and with the crashing temperatures I have been wondering about some coatings on snow out there, especially from the metro north and westwards. Also, there's the potential of wet surfaces freezing (mainly bridges and overpasses) this evening for a few hours.
It's one of those buckle up sort of days; another shot of cold air comes into the region for the weekend as well. March has not been warm these last 10 days or so.
+++++++++++++++++++++++++++++++++++++++++++++++++++++
Kansas City Forecast
Today: Rain with mild weather and gusty winds this morning, then showers with colder temperatures this afternoon with strong winds. Temperatures fall from the 50s to the 30s later today.
Tonight: A couple of hours of snow are possible this evening, then partly cloudy skies with blustery conditions and colder temperatures. Lows by morning in the mid-20s.
Tomorrow: Sunny in the morning with blustery winds all day. Temperatures recover into the lower 40s and during the afternoon there is a small chance of a few rain/snow/graupel showers somewhere out there.
Saturday: Sunny and very cold for mid-March. Highs in the lower 30s.
Sunday: Cold with highs in the mid to upper 30s.
++++++++++++++++++++++++++++++++++++++++++++++++++++++
Discussion
Let's start with the surface map. it's a dynamic one with a strong cold front moving through the Plains this morning.
Ahead of the front, strong south winds will allow us to get into the 50s today. Behind the front we'll see temperatures crashing into the 30s and then 20s.
This front will move into the region around lunchtime today from northwest to southeast through the metro.
Here is a look at the forecasted temperatures:
Then by 6 p.m.:
There should be a few hours of lull after the front comes in and before the backside snow arrives. This would be roughly between 4-6 p.m.
Then after that, a line of snow should be out west and coming this way so that by 8 p.m. or so we have this look.
We'll see how that band holds together as it comes eastwards. It may try to break up somewhat, but we should see some windblown snow moving through.
By 10 p.m. to midnight, the temperatures will be dropping to below 32 degrees. If things are still wet, or perhaps in a few areas white with a minor coating of snow, we'll need to watch for some black ice forming, especially on bridges and overpasses.
The snow aspect of this won't last long and the strong winds behind the front will serve to help to dry out the pavement, so it may not be a huge issue, but I'd rather mention it than not mention it at this point so that no one is surprised by the potential.
Tomorrow will be a blustery and colder day. We'll start with sunshine, but clouds will be coming in from the northwest. As temperatures try to warm up to near 40 degrees and with a cold pocket of air aloft, the atmosphere may support a few showers developing. The next question will be what form will those showers take on because the atmosphere overall will be supportive of snow.
Temperatures may be able to recover to near 40 degrees so the flakes aloft may try to melt a bit coming down. We could also get some graupel showers as well with this set up. While the coverage should be spotty, it won't surprise me in the afternoon to see something showing up on radar.
After that, it's just a cold weekend with temperatures running 20 to 25 degrees below average for highs and lows really.
Next week will be up and down as well, although more 50s are likely, so that's a good thing.
Weather around the U.S.
Meanwhile…
Not surprisingly, the drought in many areas of the west is shrinking by the week. See how it's changed over the last couple of months:
Today there is a risk of severe storms down in the southern US…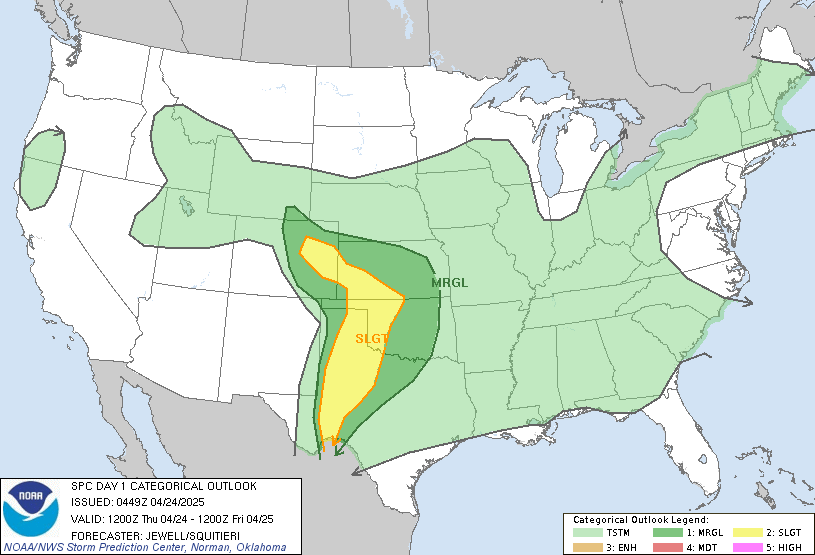 This includes some tornadic potential in northeast Texas. Winds and hail should be the main items though for the stronger storms down there.
Last week I was writing about the earlier spring green-up/allergy start this year. The Washington Post has this data visual showing how this year compares to others for the KC area.
Here is a look at how things have gone this year through yesterday. Anything in the red is above average and the blue below average.
Lots of red in there, hence the earlier spring compared to average.
Next there's this:
This next item I thought was fascinating and may deserve a blog on it's own. It shows how the snow amounts over the course of the year and through various months of the year has changed over the course of decades. Definite trends downwards in our region.
The feature photo is from Ben and his drone. Always cool shots!
No blog tomorrow. St. Patrick's Day parade duties happen first thing in the morning, so have a great weekend and I'll be tracking the snows arrival this evening for you.
Joe