KANSAS CITY, Mo. — Not exactly a great start to the day in the region with a large area of rain moving through to start the morning off.
The rain is mostly light, but it will be with us off and on through most of the morning before ending briefly around lunch. There may be a second brief and quick-hitting area of showers with a few rumbles after that as colder air gets ready to move through the region.
Temperatures overnight slowly rose and some are starting their day near 60 degrees as a warm front is slowly moving northwards this morning. Areas toward far northern Missouri are colder.
The good news is that the colder air mass to our north and west will be short lived: in later today and gone by Saturday afternoon. Then we again go through the cycle of warming back up with another stronger area of low pressure coming on Monday morning.
Active and wet overall, though not really white.
++++++++++++++++++++++++++++++++++++++++++++++++++++
Kansas City Forecast
Today: Cloudy with rain this morning and then quick-hitting showers/storms after lunch. Temperatures will be mild with highs in the mid-60s. Breezy as well.
Tonight: Turning colder as the front moves through later this afternoon. Lows by morning in the mid-20s and windy. Wind chills into the teens by daybreak as well.
Tomorrow: Sunny and colder with highs near 32 degrees. Blustery as well.
Friday: Increasing clouds with a chance of some light freezing drizzle or light rain toward evening and overnight. Highs in the mid-30s after we start out near 12 degrees in the morning.
+++++++++++++++++++++++++++++++++++++++++++++++++++++
Discussion
The surface weather map this morning tells the story:
This area of low pressure will be passing through this afternoon. Once the winds switch toward the west and northwest later today, that colder air to the north of here will be sweeping into the region, hence the falling temperatures.
So we have roughly this look to temperatures at 12 p.m.:
At 6 p.m.:
At 12 a.m. Thursday:
From one air mass to the other.
As we transition during the middle of the afternoon there may be a secondary small area of rain developing, perhaps a few rumbles zipping through. The timing appears to be roughly from 2-4 p.m. for that to happen.
I doubt there is any severe weather due to a lack of strong instability in the region despite the unseasonably mild air this morning. There just won't be time to get very unstable between wave one this morning and the second chance.
Then the colder air pours in with increasing winds as well, a nice transition to a colder air mass.
That's what we're in for tomorrow and Friday into Saturday morning.
Then it goes and we moderate well into the 40s on Saturday and milder on Sunday.
The next system for the end of the weekend and early next week will potentially give us more moisture and it may impact our later Sunday activities/plans.
Weather around the U.S.
This system is fascinating out west today and tomorrow, bringing the first known Blizzard Warning to the mountains of southern California around the Los Angeles area. As a matter of fact, it may be the first blizzard warning issued by the National Weather Service in the LA area!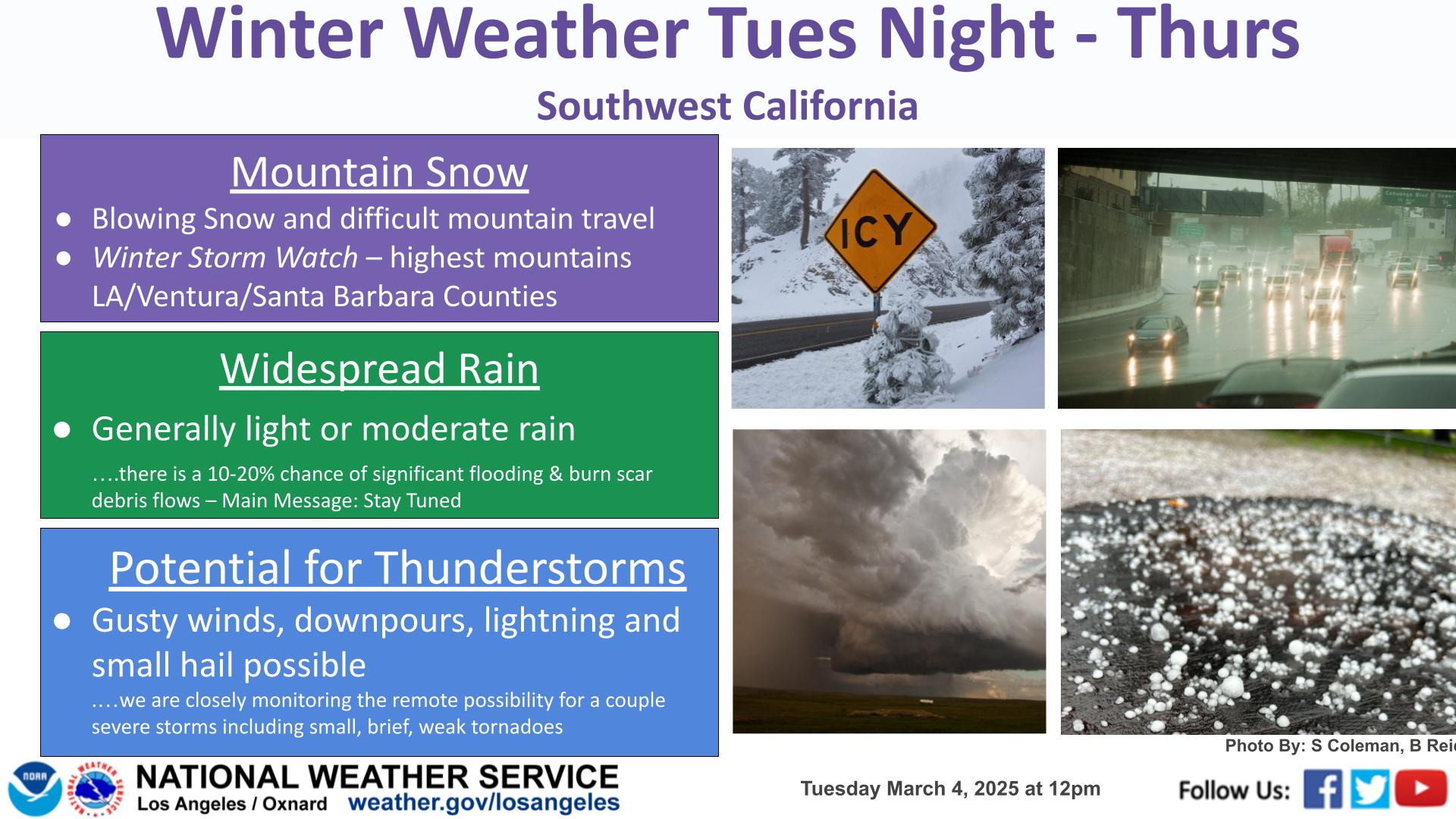 This will also be a generous rain maker too for California.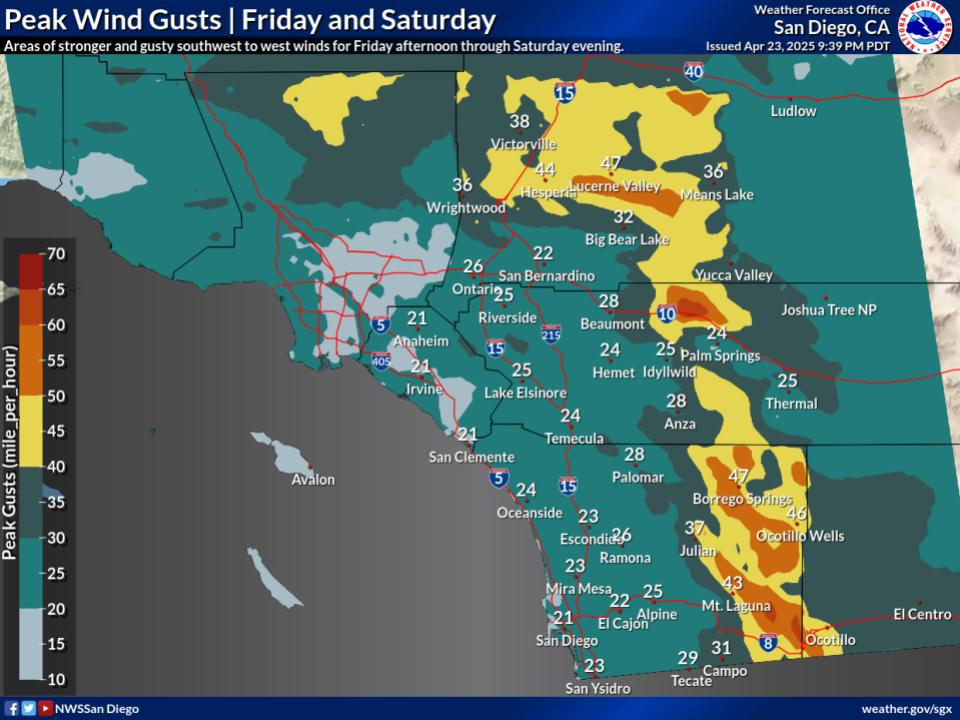 Farther north toward San Francisco, the cold storm will drop snow levels to only 500 feet. It's not out of the question that flakes may fall in San Francisco which is VERY rare.
So Winter Storm Warnings (and worse) are in effect from the western U.S. to the northern U.S.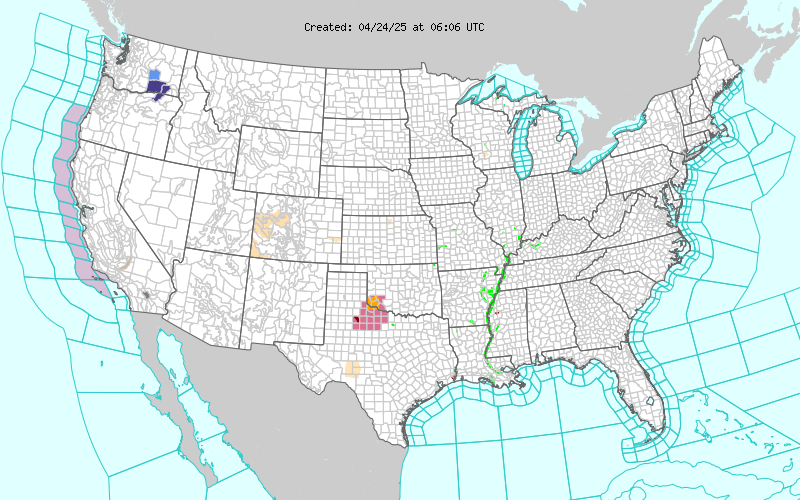 Quite the next few days in the world of weather, and a lot of wind as well in the southwest U.S. region from Arizona to Texas.
Between now and Saturday morning:
The northern Plains though get shellacked!
Out west with the second storm that I alluded too earlier, lots of moisture for them, including snow in the mountains and perhaps some of the lower terrain in northern California.
And lots of overall precipitation out there, too!
More on that western storm tomorrow and Friday.
The feature photo comes from Ben and his drone from yesterday's sunset.
Joe