It was sort of sad yesterday, not that I was expecting rain…but just watching radar and seeing how what few echoes there were out there faded as they approached the Lawrence area.
There were two disturbances spinning around…one in northern MO and another towards southern MO…and there were big rains down towards SE KS and SW MO.
Once again though, KC missed out, and today odds favor more sunshine moving into the region and that will again allow temperatures to push 80° by later this afternoon.
Rain chances don't look all that great until perhaps Saturday. There may be a few storms here and there though before that but at this point widespread coverage isn't likely till whatever happens on Saturday into Saturday night.
KCI has only had 3/10″ of rain this month and is running 2.3″ below average for September so far…after today that will be closer to 2.5″ below average. Needless to say more rain is needed.
+++++++++++++++++++++++++++++++++++++++++++++++++++++++++
One sentence forecast: Turning partly cloudy today and remaining mild. Highs near 80°with Lighter winds compared to yesterday
+++++++++++++++++++++++++++++++++++++++++++++++++++++++++
Forecast:
Today: Not too bad today with increasing sunshine and highs closer to 80°. Winds won't be as gusty as yesterday but breezy afternoon conditions expected.
Tonight: Fair skies and cool with lows in the upper 50s
Tomorrow: Partly cloudy and mild with highs in the lower 80s. There may be some evening showers or storms somewhere out there.
Friday: About the same with a small chance of a few showers or storms. Warmer with highs in the lower 80s.
++++++++++++++++++++++++++++++++++++++++++++++++++++++++++
Discussion:
As I mentioned in the last blog…trying to break a dry weather pattern can be tough around these parts. This continues to be true as our small chances are having a tough time producing anything all that significant.
Some were lucky on Saturday with that line of storms that produced that locally heavy rains, but many areas missed out on that.
So here we are again about to have some nice fall weather. There are hints of color showing up in some of the trees these days, many though are responding more to the drought stress than actual fall transitions, so I do wonder how this will play into the fall colors around these parts over the coming weeks.
We're getting the cooler mornings and the nicer days but the younger trees especially need moisture and as we know that has been an issue for awhile around these parts.
Today there is an upper level disturbance out towards central MO.
Rain is out there…but not here.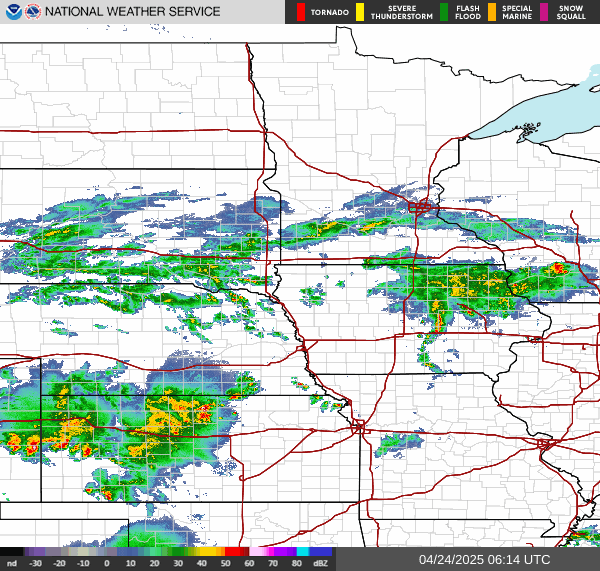 Odds are we don't see any rain today either.
The next chance of "something" is later tomorrow…there is some weak lift coming through the Plains region…and there should be some weak lift out there with temperatures in the lower 80s possibly…maybe some rain can fire up on the KS side and spread towards the region in the evening or overnight tomorrow night. Maybe.
There are some models bringing in 1/2″-1 1/12″ of rain tomorrow night. We'll see about that. At least that's something on the table.
Then on Friday odds would be it should be pretty quiet for the area and pleasantly warm.
The trick to the forecast is Saturday as hotter for September air stats advancing northwards aided by stronger winds like yesterday. Initially there may be scattered showers and storms in the morning for a few hours…then we heat up well into the 80s with gusty south winds to 30 MPH.
This will be ahead of a slow moving front that will move towards the State Line at some point Saturday night. This should trigger a line of storms…potentially strong heading towards the region.
All of this is connected to an upper level storm that will be moving through the Central Plains into early next week. That will be the key to several things including any rain chances on Sunday and then Monday of next week. IF we can be in the right spot…this could provide quite a bit of rain to the region.
As we take you into up into the atmosphere late Saturday…you can see the upper level low (ULL) and the surface low pressure areas which are connected by a cold front of sorts.
That ULL will be waffling around the Plains and where it meanders too may dictate the rain chances here for several days.
This front that is pushing towards us will be a weak front in terms of temperature contrasts…we may be well into the 80s on Saturday and then still near or above 80 on Sunday depending on how this plays out. Remember average is closer to 75°.
ULL's that meander around the area have a tendency to keep fronts from pushing far enough away to prevent us from totally drying out. This is problematic. The remedy of that is to get enough stronger storms at some point later Saturday to help push the front away from the region and allow more stability to move in for the game on Sunday.
So in a sense what happens on Saturday may dictate what happens on Sunday to some extent. Hopefully in the end we get some needed rains and I do think we will overall. I'm planning on putting down some fertilizer before the weekend to hopefully get that into the soil when the rains come.
By the way yesterday there was an interesting landspout out in western KS near Rush Center.
Landspouts are in some ways like a tornado. Their part of the same family really but are formed differently. A landspout sees it's rotation form closer to the ground and then upwards, whereas a tornado has it's origins of rotation in the clouds above. There sort of similar to waterspouts.
The feature photo comes from @avgeekmason and Kaden with the sunset shot from KCI last night.
Joe