Good to be back home, after some time away due to a family death. When I last left you I wrote about a potentially important and wet storm that was coming our way in about a week or so.
Well, Mother Nature delivered in a big way for some areas with the best coverage of rain in the KC metro at least since mid August, and more rain is coming towards the region today and tonight.
Almost 2″ has fallen at KCI and more is ahead for today…some areas have had quite a bit more. And more is ahead over the coming days with another 1-2+" likely.
Then the focus will be on arctic air migrating southwards that will come into play later in the weekend and especially next week.
The colder air comes in two waves…one starting Friday and the bulk on Sunday. There may be a third push of colder air next week as well. Our temperatures this month are almost 4° above average but we're going to wipe come of that out over the last few days of October.
+++++++++++++++++++++++++++++++++++++++++++++++++++++++++
One sentence forecast: Rain and thunderstorms are with us for most of the day today with steady temperatures in the 60s
+++++++++++++++++++++++++++++++++++++++++++++++++++++++++
Forecast:
Today: Rainy and seasonable with temperatures in the mid 60s
Tonight: Showers and storms possible with lows near 60°
Tomorrow: Rain possible in the morning then drier in the afternoon. Highs may approach 70°
Friday: Turning colder in the afternoon with some rain likely. Temperatures may start the day in the upper 60s SE of KC while NW MO is in the mid 40s. Colder air will overspread the region during the day with blustery winds as well.
+++++++++++++++++++++++++++++++++++++++++++++++++++++++++
Discussion:
Well we've gone from drought to heavier rains to drought and now we're we've got a bunch of rain out there.
These last 24 hours have been very beneficial for the lakes and ponds etc. You can broadly see where the heaviest rains of over 1.5″ has set up over the past 24 hours.
Rainfall totals of over 4″ have been widespread for areas on the SW side of the Metro with close to 9″ totals towards Emporia! I've contoured in the 4″ totals
NW MO and NE KS though have missed out mostly with amounts so far well under 1/4″.
The morning surface map shows a stalled frontal system nearby.
Warm and juicy air is bring brought northwards into that front and it's getting lifted. Hence the repeated areas of rain rain and thunderstorm activity that has been around.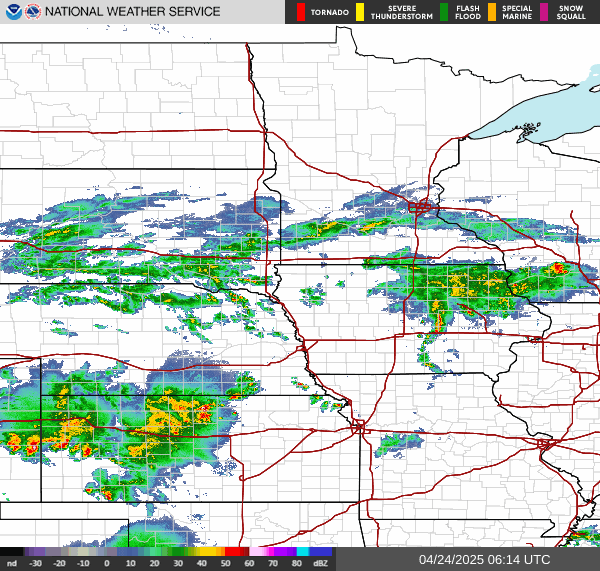 That front will lift farther north over the next 24 hours…keeping our region in the warm sector and eventually by tomorrow afternoon shutting down the rain for the most part.
The lifting frontal zone will be the result of a diving shot of chillier air that will move into the region 1st thing Friday morning. So we should remain mild till that colder air slices the region before lunch on Friday.
Friday will be one of those days where parts of the area (northern MO) are in the low to mid 40s while other parts of the region (towards the Lakes) may be in the mid 70s+. Eventually the colder air wins the battle for all and the chillier air spreads southwards.
Lighter rains will be the main precipitation from this transition.
Then the colder air spills in. Saturday will struggle with highs only in the 40s mainly with rain developing as the day moves along. Then the arctic air comes into the region later Saturday into Sunday morning.
With the colder air coming into the region…and as the atmosphere continues to chill down…it will become more supportive for the rain to potentially mix with some wet snowflakes or ice pellets during the morning on Sunday.
Temperatures farther up towards 10,000 feet may hold back the snowflake formation (since they may remain above 32° through noon). Although that is certainly not set in stone right now.
Whatever falls though will likely not accumulate.
Colder air will continue to seep into the region Sunday and remain with us likely into the middle of next week so the start of November will be a chilly one for sure.
Finally last night Hurricane Otis made landfall near Acapulco, Mexico. Otis was a tropical storm that rapidly and unexpectedly intensified into a category 5 hurricane hours before landfall. This intense strengthening wasn't expected and wasn't good for that part of Mexico.
It turned into the strongest hurricane on record to hit Mexico…at the end…165 MPH winds at landfall
This area was devastated by the storm and early pictures of damage are pretty bad.
This is the biggest fear for hurricanes…an unsuspecting tropical storm that in a period of less than a day, when it's approaching a city…goes through this unexpected rapid intensification.
Precautions can't be fully taken and people are trapped in place with nowhere to go or evacuate, too.
The feature photo comes from Alison Soja out in Shawnee
Joe