It's a pretty morning in the region with the fog in the low lying areas dissipating quickly. The sun will shine brightly today and it will heat up as well as a typical August air mass is in place in the region this afternoon.
That air mass does have some moisture in it obviously, and hotter air is building southwest of the region and tomorrow may turn into a pretty sultry day in the region with heat indices approaching 100°, or higher in some areas again.
With that said, there are numerous chances of additional rains over the next 5 days. There may be some scattered storms overnight towards the north or northeast of the Metro and then tomorrow evening and night there may be a few other areas of storms to contend with. Finally on Sunday other storms may be an issue.
Rain never really leaves the forecast for any length of time.
+++++++++++++++++++++++++++++++++++++++++++++++++++++++++
One sentence forecast: A typical summer day today with seasonable temperatures and usual August humidity levels.
+++++++++++++++++++++++++++++++++++++++++++++++++++++++++
Forecast:
Today: Sunny and seasonable with highs in the upper 80s.
Tonight: Isolated storms possible toward the north or northeast. Mild with lows near 70°
Tomorrow: Hot and more humid with highs in the lower 90s. There may be some evening storms into the overnight hours. Some of those storms could be locally strong or severe. Heat indices near or above 100°
Saturday: Partly cloudy and seasonable with highs near 90°
Sunday: Rain chances may be a bit more widespread. Highs in the mid 80s
+++++++++++++++++++++++++++++++++++++++++++++++++++++++++
Discussion:
So we're seen quite a bit of rain these last few weeks.
On the Kansas side it's actually been more impressive.
This has led to some nice improvements in the drought situation. While some obviously still need more rains…and more are coming, there has been a reduction in the worst of the drought.
The drought monitor helps us see how drought conditions are improving or worsening. Here is the change from last week to this week.
To be honest I'm surprised that things locally haven't improved more. It should be noted that these reports are known for VERY slow changes to conditions despite decent rains. The information included doesn't take into account rains after Tuesday. So that heavy event for parts of the Metro yesterday will be included in next weeks data.
Areas though towards the SE of the region though certainly still need rain. The drought is still considered severe to extreme from southern Jackson Co through the Lakes region and south through the Joplin area.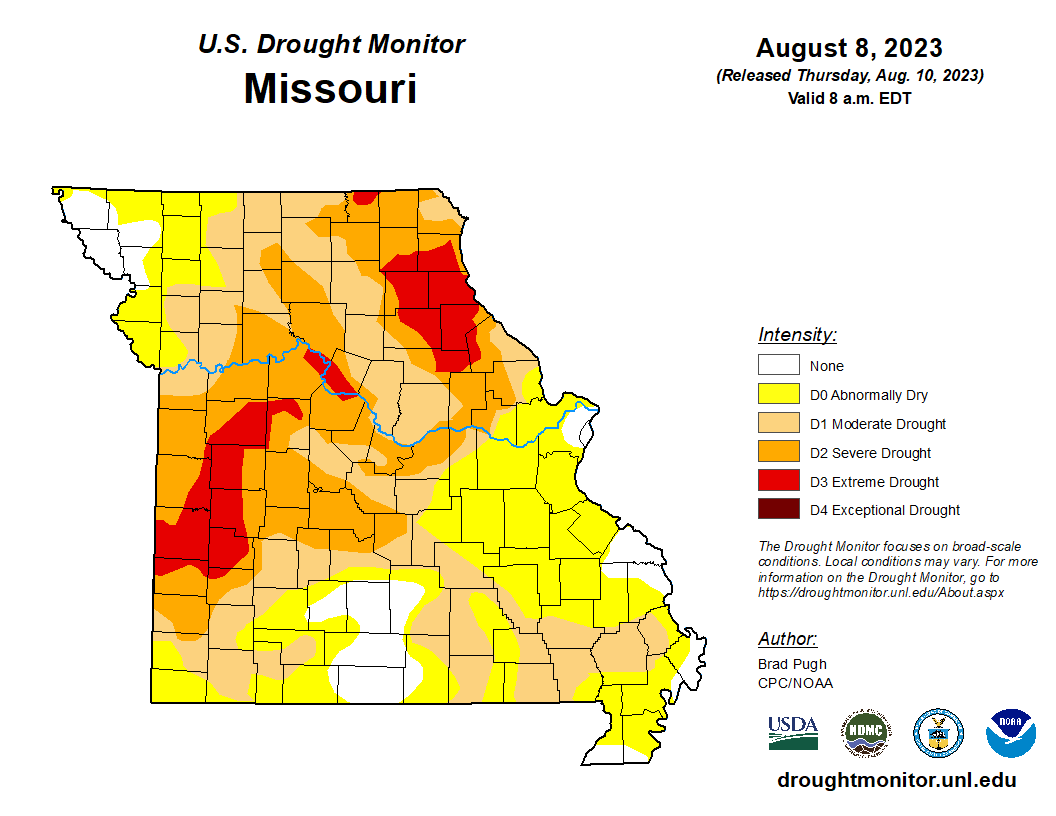 On the KS side there is still some nasty drought out across central KS and down towards the SE KS area where the drought still is "exceptional".
So overall the drought is improving in many areas but rain is still needed for a good part of the region. The next decent chance, Friday evening or night, and while all of the are won't get storms…some may and some of those storms could be strong.
Hotter air will be in the region tomorrow with quite a bit of instability out there. A weak front will be moving into the air mass later in the day. The higher chances of storms developing seem to be towards the north or northwest of the region and then dropping into the area during the later evening and overnight hours.
The storms may produce stronger winds and larger hail where they initially form then transition more towards higher winds where they end up going. For the Metro…perhaps the higher threat is stronger winds tomorrow night.
The current day 2 forecast for Friday from SPC has us in a level 1 risk of severe storms.
I won't be surprised if this gets an adjustment to a level 2 risk for more areas closer to the Metro or at least towards NE KS and NW MO.
Then Saturday overall should be OK…seasonable.
The next chance after that will be on Sunday with additional rain/storms possible during the day. This potentially could be a bit more of a widespread area of rain and that could mean cooler temperatures that what I'm thinking right now.
There are decent signals that most of next week will be drier as we initially start out pretty comfortable and then heat up a bit. Overall though the heat doesn't look to be anything more that what is average for us for the middle of August (give or take a few). There also may be some below average highs in there especially early in the week.
So overall it's really not too bad at all by August standards.
Finally some tidbits…
From Florida where yesterday Miami set a new heat index record of 114°, breaking the record of 113° set on Tuesday.
The feature photo comes from Darius T of a nice sunset!
Joe