It's a sunny and muggy start to the day in the region with some hot weather developing in the region as the morning moves along. This heat combined with the dew points that will be in the lower 70s (or perhaps a bit higher depending on the wind speeds today) will create very sultry conditions out there.
Heat indices will be popping to near 100° and some areas may see the heat index approach 105-110°, especially south and west of the Metro.
This will all lead to instability and that instability will be focusing on a weak boundary that will be approaching NW MO and NE KS. That should be the catalyst for storms to rapidly form before sunset.
Those storms will likely be severe in spots with winds and hail being the two main threats, along with locally heavy rains.
Another chance of storms (severity is a question for the Metro) will arrive on Sunday as well. It's funny how we had so little sever weather in the typical severe weather "season" and now July and August are cranking out the storms left and right.
On the bright side, we are getting the rains and that is helpful to continue to ease the drought conditions that are still out there, especially south and east of the I-35 corridor.
++++++++++++++++++++++++++++++++++++++++++++++++++++++++++
One sentence forecast: Sultry afternoon with strong to severe storms popping after 6PM or so
++++++++++++++++++++++++++++++++++++++++++++++++++++++++++
Forecast
Today: Mostly sunny and hot. Highs in the lower to mid-90s in spots. Heat indices near or above 100°. Storms are possible this evening. Those storms may be strong to severe as well.
Tonight: Storms end before 12AM. Then partly cloudy and mild with lows in the 70° range
Tomorrow: Sunny and hot with highs near 90°
Sunday: Increasing clouds with showers/storms possible before lunch. Not as hot with highs in the lower to middle 80s. IF the storms wait till later in the day they may be stronger.
+++++++++++++++++++++++++++++++++++++++++++++++++++++++++++
Discussion
It's been a fascinating summer. A day here and there with some sultry conditions and lately it's getting broken up by storms and rain that then temper the heat a bit. That again will be the set-up heading towards the weekend.
Today will be a seasonably hot August day, with highs running about 5° above average. The dew points will be in the lower 70s so the mugginess will definitely be there. There should be a bit of a breeze as well, so that may provide a bit of relief if you're out and about.
All of this though will contribute to loads of instability percolating in the atmosphere. This instability will need a focus though to get the thunderstorms to form and there should be one entering the region later today.
It's a weak boundary… not really a front. Just a wind shift line that will be nudging into NW MO and NE KS before sunset.
That should be all we need to set the atmosphere into motion because there will be a ton of instability out there to be tapped into which is what this next chart shows.
Notice the instability is "pooling" near that boundary so as convection generates, likely up north first, it will likely develop quickly. Then the storms come together and generate pools of rain cooled air, Once that happens they start diving towards the SSE and SE. This is where the wind threat starts to become and issue and even one of or morning models are showing the wind gusts associated with this set-up in localized areas.
Here is the HRRR model showing clusters of stronger gusts (this is cumulative)
NOTE: The placement of the strongest gusts could really be anywhere but winds in excess of 60-70 MPH are possible with this set-up in some localized areas.
There also could be some large than quarter sized hail with these storms as well. So severe weather is very much on the table with this set-up.
Here is the latest from the SPC. As I told you yesterday the SPC did indeed pull that level 2 risk of severe weather into NW MO and NE KS.
So it should be an eventful evening out there. If you know anyone with outdoor plans, including the Royals game or even a later night Missouri State Fair plan, make sure they're aware of what's going on.
Tomorrow should be calmer but because this really isn't much of a front. There will be minor temperature changes tomorrow. Probably into the upper 80s to near 90°.
Sundays' set-up.
This one is a bit murkier to me. I'm not convinced that we're going to be maximizing our potential instability, especially IF clouds and rain get here earlier in the day. Should that happen it would be tough to get the stronger storms. There will be a disturbance coming our way to start the day. This next map shows the disturbance down towards western NM tomorrow morning. It will then ride with the flow up into the western Plains and then eastbound
How this messes up the set-up or not will dictate the severe weather risk for Sunday. A slower arrival or a lack of rain/clouds for the first part of the day will create more instability to potentially be tapped into. IF that comes to fruition then we could see additional strong to severe storms in the afternoon.
The SPC has placed the area into a level 2 risk of severe storms.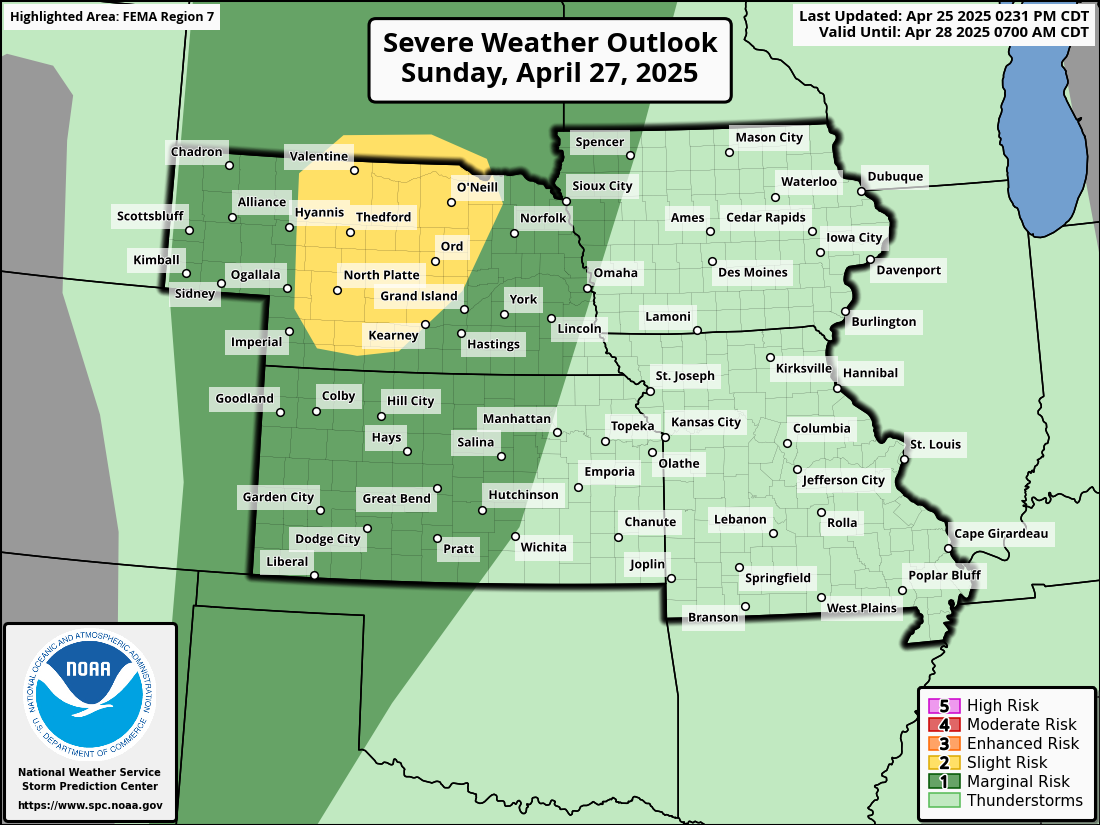 Winds and hail are on the table there as well. We'll need to see though how the atmosphere sets up because there is a non-zero chance of a tornado depending on the set-up and various boundaries around the region.
Next week will be a calmer week overall with perhaps some storms later in the week. You should notice cooler and hopefully drier air in place for Monday and Tuesday before it gets a bit muggier on Wednesday.
Finally some tidbits…
On the warm weather note… this is interesting to me: The number of cities that are setting record warm lows. That is a very difficult record to be set typically.
Oh the Perseids are this weekend and typically peak. Tomorrow night may be the best chance to see a meteor or two but you know the drill. Get away from city lights…let your eyes adjust etc. No promises.
The video and toll of the fires in Maui is just tragic.
This is interesting and perhaps indicates a lessor affect of Hurricane Dora to creating the fire conditions on Maui.
Thought I'd leave you with a tranquil scene down towards Hillsdale Lake. I'll watch the storms for you tonight and I'm working again tomorrow night.
The feature photo is from RisingEaglePhotography
@RisingEagle2022
Joe